Countdown set to launch Rocket Town
Countdown Enterprises, Inc. Press Release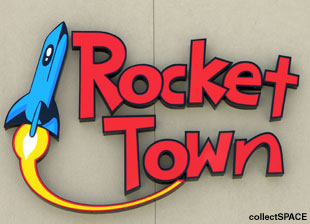 June 28, 2004 -- Countdown Enterprises, Inc. announced today the July 5th opening of Rocket Town™, a space souvenir and memorabilia superstore located just three miles west of NASA's Johnson Space Center in Houston, Texas. Rocket Town offers visitors a chance to shop in-person for the same large selection of space apparel, collectibles and gifts that Countdown Creations has been offering online since 1997.

In addition to its wide assortment of products, Rocket Town offers interactive attractions designed to provide the public -- and children in particular -- hands-on space experiences. Visitors to Rocket Town can try performing an experiment in the Destiny Space Station Laboratory, a replica of the inside of the International Space Station's science module currently orbiting 240 miles above Earth.

At Rocket Town's Mission Control Center, the public can witness live missions as they unfold in space, as well as preview space DVDs, videos and software for sale.

And, at the EVA Encounter, visitors will find themselves space walking for the ultimate photo opportunity.

Rocket Town's focus is as much on education as it is on fun. "Future astronauts will require a broad background in science and engineering. In addition to our realistic space toys, we have developed a line of science kits that teach the principles of chemistry, biology, rocketry, robotics, and engineering," said Countdown Enterprises' President and Founder Scott Bleisath, who has trained astronauts for the past 17 years.

To celebrate its grand opening, Rocket Town will host the following special events:

Saturday, July 10, 1:00-3:00pm -
The first person to explore both space and sea, Mercury astronaut Scott Carpenter will sign autographs and pose for photographs. Carpenter piloted the second American manned orbital flight, Mercury-Atlas 7, on May 24, 1962. Inside the Aurora 7 spacecraft, he orbited the Earth three times. In 1965, Carpenter participated in the Navy's Man-in the-Sea Project as an Aquanaut in the SEALAB II program off the coast of La Jolla, California. During the 45-day experiment, Carpenter spent 30 days working on the ocean floor.

Saturday, July 17, 10:00am and 1:00pm -
Have a blast with our friends from Mad Science as they entertain and amaze during two interactive science shows! Experience the wilder side of rocket science as Mad Science staff bring out-of-this-world experiments to life. PLUS, free gifts and balloons for children under the age of twelve.

Saturday, July 24, 1:00-3:00pm -
Space Shuttle Commander and Ansari X PRIZE Chief Judge Rick Searfoss will sign free autographs and pose for photographs. Searfoss piloted two Space Shuttle missions and commanded a third, with over 939 hours in space and 5,400 hours flying time in 61 different types of aircraft. In April of last year, Searfoss was named judge of the X PRIZE, a contest to award $10 million to the first team to fly a privately financed reusable three-person spaceship to an altitude of 62 miles-and repeat the trip within two weeks.

Friday, July 16 - Saturday, July 24 -
For the 35th anniversary of Apollo 11, Rocket Town will be replaying the mission as it happened in the Mission Control Center. A special book signing with EECOM Sy Liebergot ("Apollo EECOM"), Alan Shepard biographer Neal Thompson ("Light This Candle") and others will soon be announced. Watch the Rocket Town website for details on this and other events soon!

Rocket Town is located at 528 W. Bay Area Blvd. in Webster, Texas, in the new Webster Plaza Shopping Center. Opening July 3rd, Rocket Town's hours of are 9:00am to 9:00pm Monday through Saturday.

About Countdown Enterprises, Inc.
Established in 1997, Countdown Enterprises has been selling printed space-theme T-shirts and embroidered mission apparel online as Countdown Creations. The company's expanded product line includes toys, books, DVDs, and rare memorabilia. Countdown's clients include NASA, the astronauts and their families, the National Space Society and the Association of Space Explorers.

Through a partnership with collectSPACE, Rocket Town will present for sale rare and one-of-a-kind space flown artifacts in a museum-like display. cS Editor and Founder Robert Pearlman is also VP of Countdown Enterprises.

© 2022 collectSPACE.com All rights reserved.
Questions? E-mail contact@collectspace.com