June 26, 2018
— A small toy dog is about to become a trailblazer in outer space, helping to commemorate the 50th anniversary of a trails system here on Earth.

Seaman, Jr., a plush replica of the Newfoundland working dog that traversed the western United States as a part of the Lewis and Clark Expedition in the early 1800s, is being launched by NASA to the International Space Station to mark the half century since the creation of the National Trails System in 1968. The doll's mission marks the first time the National Park Service (NPS) has sent something into space.

"Seaman went from a cross-continental dog to an intergalactic dog — what a difference 200 years can make!" said Park Ranger Ashley Danielson, a volunteer and partnership specialist with the Lewis and Clark National Historic Trail, citing a comment posted to the trail's Facebook page.

Seaman, Jr.'s spaceflight is the result of an ongoing partnership between the NPS and NASA. Though it is the first NPS object to launch into space, the two agencies have worked together on the Earth to Sky professional development program and most recently, on activities surrounding the 2017 total solar eclipse that was visible across the United States.

The Seaman, Jr. toy is scheduled to lift off to the space station on Friday (June 29) along with supplies and science experiments packed on board SpaceX's CRS-15 Dragon cargo spacecraft. The dog will join the space station's Expedition 56 crew for four months on orbit before returning to Earth in November.

"We feel so excited that we have been able to continue the partnership with NASA in this way," Danielson told collectSPACE in an interview. "I am really excited for people around the country to learn more about the Lewis and Clark Expedition and more about the trail itself, how it is still a part of our history and that there is a lot that we can still learn, and that there are connections between the Lewis and Clark story and NASA."

One such link is the use of a tool common to both 19th and 21st century explorers.

"One particular experiment [on the station] that might be of interest to Seaman, Jr. is Sextant Navigation," said Kevin Metrocavage, NASA's space station operations manager, at a joint NPS-NASA media briefing on Tuesday (Jan. 26). "A sextant is a handheld tool that is used to measure the angle between an astronomical object and the horizon for the purposes of celestial navigation. You may recognize this from the Lewis and Clark Expedition, where they also used this navigational tool."

"The International Space Station crew will be testing one of these sextants to see if future explorers could use this mechanism during navigational emergencies," he said.

The Lewis and Clark Expedition, led by Meriwether Lewis and William Clark from May 1804 to September 1806, sought a water passage across the United States to the Pacific Ocean. Prior to departing, Lewis purchased a Newfoundland dog to assist him on the long journey.

"Part of the reason Seaman was chosen to go on the expedition is because the Newfoundland dog is such a hardy species of dog. It is a really big dog that could actually do work," explained Danielson. "He wasn't a pet for anyone on that trail. He was working, he was gathering food — perhaps even his own food — but he was a watch dog and so many other things."

"So maybe the astronauts will take solace in knowing that they have their own mini watch dog while he is up there in space," she said.

During Seaman Jr.'s time on orbit, his astronaut crewmates will survey the Lewis and Clark National Historic Trail and National Trails System, sharing photographs of what they see from 250 miles (400 kilometers) above the planet.

The Lewis and Clark National Historic Trail extends 3,700 miles (6,000 km) across 11 states, from Wood River, Illinois to the mouth of the Columbia River near Astoria, Oregon. It follows the outbound and inbound routes that the two explorers followed.

The National Trails System, established by legislation on Oct. 2, 1968, consists of 30 national scenic and historic trails, as well as more than 1,000 local recreational trails and several side or connecting trails spread across all 50 states.

Seaman Jr.'s journey to the space station celebrates both the 50th anniversary of the National Trails System and the 60th anniversary of NASA, which was founded on Oct. 1, 1958.

In addition to its next four months in space, Seaman, Jr. was also sent on a tour of NASA's centers to "train" for its mission. Four other Newfoundland dog plush dolls, named Rocky, Harper, Dakota and Keelie (or collectively with Seaman, Jr., the Lewis and Clark Pups), will travel this summer to 150 stops along the Lewis and Clark National Historic Trail, joining in the celebration of the National Trails System half-centennial.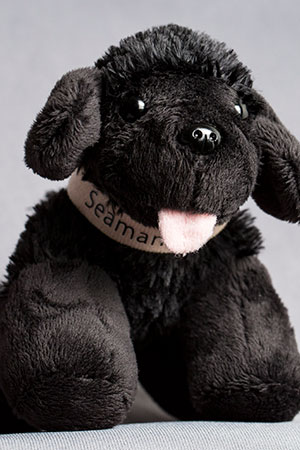 A toy dog named Seaman Jr. , representing the Newfoundland that accompanied Lewis and Clark on their expedition in the 1800s, is launching to the International Space Station to mark 50 years since the creation of the National Trails System and the 60th anniversary of NASA. (NASA/Aubrey Gemignani)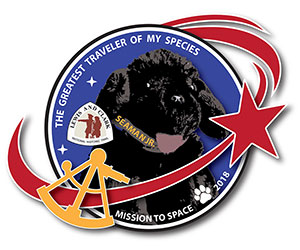 The mission patch for Seaman Jr.'s space station mission includes a sextant and the reported inscription from the real Seaman's collar, "The greatest traveler of my species." (National Park Service)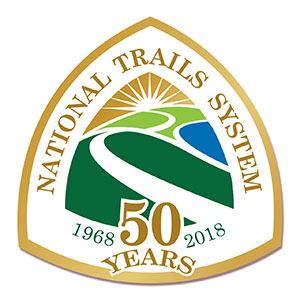 National Trails System 50 Years logo. (National Park Service)