June 24, 2012
— China achieved its first-ever manually controlled space docking on Sunday (June 24), when its Shenzhou 9 piloted spacecraft and unmanned Tiangong-1 lab module connected together in Earth orbit. The docking moved the country a step forward in its plans to establish a space station within the decade.

The docking demonstration was the second orbital link-up for China's Shenzhou 9, which first arrived at Tiangong-1 under automated control on June 18. The capsule's crew, Jing Haipeng, Liu Wang and China's first woman in space Liu Yang, lived and worked aboard the "Heavenly Palace" for six days before leaving to perform the manual docking at 11:15 p.m. EDT (0315 GMT) on Saturday (June 23).

Undocking under autonomous control, Shenzhou 9 backed away from the Tiangong-1 module to a distance of about 1,300 feet (400 meters). Liu Wang took over control of the reapproaching craft when the two were about 460 feet (140 meters) apart.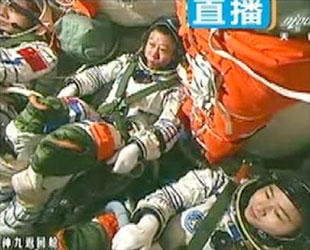 Still TV frame showing Liu Wang (center) manually controlling the Shenzhou 9 spacecraft with crewmates Jing (left) and Liu.
(CCTV)
Assisted by his crewmates, Liu reconnected Shenzhou 9 with Tiangong-1 at 12:48 a.m. EDT (0448 GMT) Sunday.

Shortly after the docking, the three astronauts greeted the ground support team via camera, waving hand in hand.

"[The successful docking] means China has completely grasped space rendezvous and docking technologies and the country is fully capable of transferring humans and cargo to an orbiter in space, which is essential for building a space station," the state-run Xinhua news service wrote.

Shenzhou 9 is China's fourth manned spaceflight and the second of the country's missions to visit the Tiangong-1 module. China achieved its first-ever docking of any type last year, when the unmanned Shenzhou 8 connected with the space lab module under autonomous control.

With Shenzhou 9, China became only the third country to accomplish a crewed docking, after the United States and Russia.

Taikonauts on Tiangong-1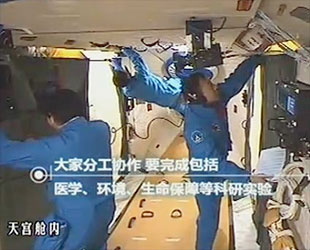 Shenzhou 9 crew working aboard the Tiangong-1 module.
(CCTV)
Jing, Liu and Liu reentered the Tiangong-1 module after completing the successful manual docking demonstration. They are expected to remain on board the orbiting module for another five days before returning to Earth on June 29.

During their first six days aboard the laboratory, the three Chinese astronauts, or "taikonauts," were reported to have completed five out of the 10 medical experiments planned for their mission. The tests, which were said to be China's first physiological space studies, included microbiological and cardiovascular experiments.

Liu Wang also conducted the first-ever manual control of a Chinese spacecraft, changing the orientation of the 60-foot (18 meter) long complex formed by the docked Shenzhou 9 and Tiangong-1.

The crew demonstrated tasks associated with day to day life in space, including riding a stationery exercise bicycle, eating specially prepared meals and sending and receiving e-mail with the ground.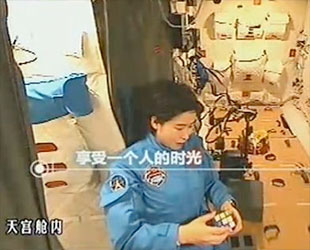 Liu Yang, China's first woman in space, seen here playing with a Rubik's Cube puzzle aboard the Tiangong-1 lab module.
(CCTV)
The three taikonauts worked in shifts, with one staying up while the other two slept in the case of an emergency. The Tiangong-1 is equipped with two crew sleep stations.

Video broadcast from aboard Tiangong-1 showed the crew during their off-time performing microgravity somersaults, playing with a Rubik's Cube puzzle and speaking with their families. On Friday (June 22), Liu Wang greeted his wife for her birthday by playing a harmonica from space.

Steps toward a station

The Shenzhou 9 mission, having demonstrated automated and manual-controlled dockings, as well as the ability to maneuver in orbit and rendezvous with other spacecraft, has advanced China's stated plans to establish a crewed space station by 2020.

"The automated docking and manual docking are both essential and they serve as a backup for each other," the Xinhua news service quoted Zhou Jianping, chief designer for China's manned space program, as saying.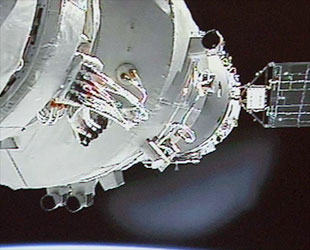 China's Tiangong-1 prototype space station (left) and Shenzhou 9 capsule are docked under manual control, June 24, 2012.
(CCTV)
Following the Shenzhou 9 crew's return to Earth later this week, China intends to send one more crewed mission to Tiangong-1. Shenzhou 10 is expected to launch with three more astronauts within a year. Reports have said the flight could come before the end of this year.

Tiangong-1, which was launched in September 2011, will then be deorbited and destroyed during its re-entry into the Earth's atmosphere.

Two more Tiangong lab modules are planned for launch between 2014 and 2018 before China begins to assemble its first space station. Though China is still designing the complex, it is expected that the orbiting laboratory will be significantly smaller than the International Space Station.