June 23, 2013
— Neil Armstrong, after touching down on the moon in 1969, radioed to Earth, "Houston, Tranquility Base here, the Eagle has landed." More than four decades later and 10 months after Armstrong died, the "Houston" that he was calling – NASA's Johnson Space Center in Texas – paid tribute to the first moonwalker by dedicating a tree in his honor.

A plaque and a concrete replica of a bootprint like the type Armstrong left on the moon were placed at the base of a mature oak tree, which will now stand in memory of the Gemini and Apollo astronaut. The tree was dedicated on Thursday (June 20), following a memorial service attended by members of Armstrong's family and many of his NASA colleagues.

"This live oak is a simple, elegant solution to [providing] a place where my family can come, or I can bring my kids when they are especially missing their grandpa Neil," Rick Armstrong said of the tree honoring his father.

Neil Armstrong died Aug. 25, 2012, at age 82. His remains were committed to the Atlantic Ocean during a Navy burial at sea the following month.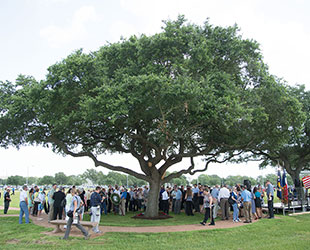 The live oak tree dedicated to Neil Armstrong is part of Johnson Space Center's Astronaut Memorial Grove in Houston.
(NASA)
Chosen with NASA's second group of astronauts in 1962, Armstrong launched twice to space. He flew as command pilot of the 1966 Gemini 8 mission and then led the first manned lunar landing in July 1969.

Armstrong's Apollo 11 crew mates, Buzz Aldrin and Mike Collins joined those paying tribute to their commander at the Johnson Space Center.

"I will be eternally grateful to be so fortunate that my opportunity to fly to the moon and land was under the command of Neil Armstrong — perhaps the best test pilot America's ever seen and the epitome of a space man," Aldrin said.

"He did the whole world proud," remarked Collins. "He was definitely the right choice to be the commander of the first lunar landing — he was the best."

History never changed this man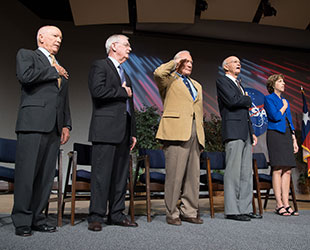 Apollo flight directors Gerry Griffin and Glynn Lunney, Apollo 11 astronauts Buzz Aldrin and Michael Collins, and Johnson Space Center's director Ellen Ochoa take part in a memorial service for first moonwalker Neil Armstrong on June 20, 2013.
(NASA)
Glynn Lunney, an Apollo flight director, recalled the man behind the "one small step," as in contrast with the icon who made the "giant leap for all mankind."

"In the case of Neil, everybody knows about Neil, but not everybody knows Neil," said Lunney. "What we'd like to do [is] introduce more of you to the kind of man he really was: private, quiet, self-disciplined, humble, competent."

"All those things come to mind. Neil was all that, and he was more," he added.

In the years after his walk on the moon, Armstrong taught engineering as a University of Cincinnati college professor and served on corporate boards. Some were critical of him as being "too quiet" and for not "going out and selling the [space] program," Collins recalled.

"By holding to his lifelong yardsticks of honesty, humility and grace, I think he accomplished a lot more than any professional PR man or huckster could have done," said Collins. "He went on tours sponsored by the USO to Iraq and Afghanistan. And once he even led cheers at his alma mater, Purdue's, football game."

"If that's a recluse, I think the nation needs more of them," Collins remarked, "people who don't seek the limelight but can live competently in its glare."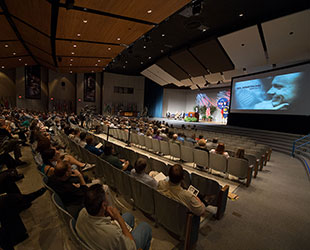 Members of Neil Armstrong's family and the moonwalker's NASA colleagues attended a service in his memory held June 20 in the Teague Auditorium at Johnson Space Center in Houston.
(NASA)
During the televised ceremony, NASA screened a three-minute video highlighting Armstrong's legacy.

"Can one man change history? Without a doubt," said the video's narrator. "But history never changed this man."

Gerry Griffin, an Apollo flight director and former director of Johnson Space Center, saw that firsthand, observing that Armstrong maintained a rare quality about him before and after the moon landing.

"I noticed when he talked, everyone listened," Griffin said, recalling separate meetings in 1964 and then years later, after the Apollo program had ended. "He had that unique capability to take tough subjects and make them easily understood. That is a quality Neil is very, very unique in, and you can bet every night on a clear moon, I'm going to look at it and wink at him."

Standing among the fallen

The tree dedicated in Armstrong's memory stands among a grove of live oak and shumard red oak trees that were planted in honor of astronauts who have died.

The Astronaut Memorial Grove, which is located near the main entrance to Johnson Space Center, was established in 1996 on the 10th anniversary of the loss of the STS-51L crew aboard space shuttle Challenger.

Today, the trees represent the 45 NASA astronauts who were lost to accidents and natural causes. In September 2012, a tree was added to the grove to honor Sally Ride, the first American woman in space, who died in July 2012, a month prior to Armstrong.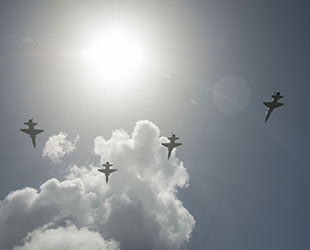 Four T-38 astronaut training jets fly over Johnson Space Center in a "missing man" formation in honor of Neil Armstrong.
(NASA)
The moon boot print concrete model installed at the base of Armstrong's tree was cast by a local boy scout troop led by astronaut and scoutmaster Michael Fossum.

"The tree we dedicate today not only keeps our memories of Neil alive, it keeps his and our dreams alive," said Ellen Ochoa, Johnson Space Center director and former space shuttle astronaut. "It is not only a living reminder of what we have accomplished, but it's also a reminder of what we must do."