Astronauts pack for home, plan for future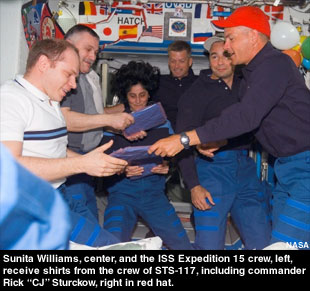 June 16, 2007 — collectSPACE.com spoke with NASA astronauts Sunita Williams and Rick "CJ" Sturckow from aboard the International Space Station on Saturday, as they and their crewmates participated in an in-flight news conference. Williams, who earlier in the day set a record for the longest duration space mission by a woman, will return to Earth next week with the crew of STS-117 led by commander Sturckow.

collectSPACE asked Williams to describe what she was physically bringing back with her, what she was leaving of herself behind, and what she was taking away, spiritually, from the experience after living in space for six months?

"Real quickly about stuff I am taking home and leaving, well you know 117 was pretty packed up, the truss was really heavy, so they don't have a lot of storage space on the middeck for just personal items," she began, referring to the S3/S4 truss segment delivered to the station and installed by Atlantis' STS-117 crew. Weighing in at 17.5 tons, the truss was the heaviest payload destined for the orbiting laboratory.

"So I am leaving actually quite a bit of stuff here. We've allotted some stuff to come back on 13A.1, the next shuttle flight, so most of my personal stuff is coming back on the next flight," continued Williams. "But I am bringing home a couple of shirts just for a good memory of the flight that brought me up and [ISS] Expedition 14, Expedition 15 and now 117," she said, highlighting the crews on which she served.

"And of course, a picture of my dog might have to stay here on the space station. I might have to hide it for some future crew to find," said Williams with a smile. Her dog, a "crazy" Jack Russell Terrier named Gorby, wasn't able to make the trip to the ISS with her and so a photo cut-out of the dog, dubbed "Flat Gorby" made numerous cameo appearances on the station throughout her stay.

Williams then turned her attention to the second part of the question.

"Reflection on my time up here in space for six months, I think the biggest thing that I noticed was how amazing the human body is, how it is able to adapt and be able to function in such a different environment," said Williams, who was the first to officially run the Boston Marathon in space. "I don't even feel like floating around is anything different than on Earth when you walk around, it feels very natural, it feels like what you should be doing and it's amazing how quickly your body adapts."

"We're doing a lot things up here science wise to help us go on to understanding how we're going to build a space station potentially on the Moon, and then how we're going to build and live for extended periods of time some place else, and then we can potentially go on to Mars. This is a necessary thing, a necessary step in our future plan for the space program," concluded Williams.

Her reply led directly into the question collectSPACE.com asked commander Sturckow, which in turn referenced a small item that flew with the shuttle to the station and will return with them to Earth.

"CJ, somewhere stowed inside a locker on Atlantis is a 400 year old remnant of the first permanent English settlement in North America. As someone who has been to the ISS a few times, both at its very beginning and now, as it nears its completion, in your opinion does the space station represent a similar pivotal shift in human migration?" collectSPACE queried.

"I believe it does. It's not going to be a quick migration. You mention the time frame of the 400 years, hopefully within our lifetimes we'll see what Suni was just describing, a colony on the Moon where people actually live there. They don't just visit there, they live and work there. And I hopefully think we'll see exploration beyond that, too," concluded Sturckow.

Williams, Sturckow and the remainder of the STS-117 crew are scheduled to undock from the station Tuesday and land on Thursday. Taking Williams' place on-board the ISS is Clay Anderson, who launched on Atlantis and with cosmonauts Fyodor Yurchikhin and Oleg Kotov are the ISS Expedition 15 crew.

Click here to listen to an audio recording (1.6mb mp3) of the collectSPACE interview with Williams and Sturckow.

© 2020 collectSPACE.com All rights reserved.
Questions? E-mail contact@collectspace.com