June 13, 2017
— KFC is launching a chicken sandwich on a mission that could make history at the edge of space.

The chicken restaurant chain, which has been teasing the "spaceflight" in television ads for two months, revealed the first details of its "Zinger 1" mission on Tuesday (June 13). KFC will fly a Zinger sandwich aboard the maiden voyage of World View Enterprises' Stratollite high-altitude platform.

The breaded chicken breast filet, lettuce and mayonnaise sandwich, will be carried high into the stratosphere under a helium-filled balloon before landing back on Earth.

"We're excited to be the ones pushing spicy, crispy chicken sandwich space travel forward," said Kevin Hochman, the U.S. president of KFC. "But in all seriousness, we're proud to support World View's commitment to advancing space research and trust them to take our world famous Zinger sandwich to space."

Although KFC's Zinger won't actually reach outer space — according to World View, the Stratollite's maximum altitude is about 30 miles (46 km), or less than half the distance to the internationally-accepted boundary between Earth and space — its mission is aimed to be the longest-controlled stratospheric balloon flight of a commercial cargo in history and the first-ever multi-day mission of the World View flight system.

"Folks who are coming along for the ride and watching it, they are actually going to see real aerospace engineering, and to some degree spaceflight history in the making," said Jane Poynter, founder and chief executive officer of World View. "It is the very first time we will be taking our vehicle up to the stratosphere for an extended period of time."

The public will be able to watch the Zinger flight unfold on a website set up to promote the mission (and sandwich) — yesweareactuallysendingachickensandwichto.space.

The Zinger 1 mission launch window opens on June 21.

Unlike typical high-altitude balloon flights, World View has designed its Stratollite to execute a variety of flight profiles, from circumnavigating the Earth to hovering over a specific location, and maintaining its position over specific areas of interest for days, weeks, and eventually months on end.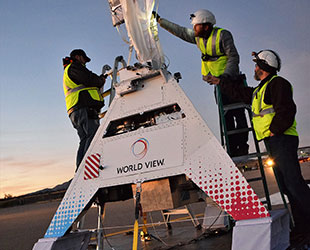 World View's Stratollite high-altitude platform.
(World View)
Stratollites could serve as stationary Wi-Fi hubs in remote or undeveloped areas or monitor crisis situations from prior inaccessible vantage points, describes World View.

"Launching platforms, that we call Stratolites, to that part of our atmosphere, that has profound applications for things like telecommunications, better weather predictions, better climate modeling, better disaster response — the list goes on and on," said Ron Garan, World View's chief pilot and a former NASA astronaut.

In addition to developing uncrewed stratospheric platforms, World View is also working on its Voyager human flights, which will soon begin offer the public a "comfortable, safe, and perspective-changing voyage" to the edge of space on a capsule lifted by a huge high-altitude balloon.

"Our mission is to change people's perspectives of Earth, which in terms of change is to improve it [and] to give them a new way of seeing our world," Taber MacCallum, the co-founder and chief technology officer of World View, said.

The Zinger 1 mission is at least the second time KFC has experimented with spaceflight.

In 1986, the Kentucky-based company funded a student-designed science payload, called "Chix in Space," to study chicken embryos in microgravity. Though the first flight was lost with the space shuttle Challenger, the experiment later reached orbit in 1989 aboard shuttle Discovery and more advanced versions flew to the International Space Station.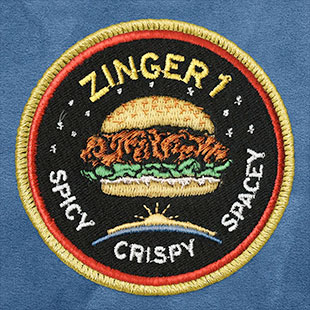 KFC Zinger 1 mission patch. "No official space mission is official until it officially has its own official mission patch."
(KFC)
For its current mission, KFC began airing TV commercials in April starring actor Rob Lowe as a spacesuited Colonel Sanders promoting the Zinger mission.

"Will it be worth it? We will have to see how the camera attached to the chicken survives the launch," says Lowe in one of the spots. "But there is one question that we will be able to answer with certainty very soon — can you actually launch KFC's world-famous Zinger chicken sandwich into space?"

"And the answer is... we certainly hope so — our entire marketing campaign depends on it," he quips.

"It's in some ways funny, flying a chicken sandwich," said MacCallum. "But on the other hand, it is one of the world's largest companies, trusting the launch of its product to our maiden voyage flight. I mean that's a big deal!"