May 31, 2014
— A company aiming to give its customers the experience of being an astronaut by lofting them under a high-altitude balloon to the 'edge of space' has launched a contest to create its passengers' mission patch.

World View Enterprises of Tucson, Arizona announced its "Leave Your Mark on Spaceflight" contest to invite artists to design an official emblem for the company's "Voyagers" who will fly aboard its balloon-raised "space capsule."

"For those who dream of space travel, now is the time to leave a mark on this burgeoning industry," the company's officials said.

Beginning flight operations in 2016, World View will invite Voyagers to float gradually to the edge of space, providing the opportunity to gaze at the Earth and see the world in a way only astronauts have. The company's passengers will board a fully-pressurized capsule for a gentle ascent to 20 miles (32 kilometers) above the Earth supported under a high-altitude, helium-filled balloon.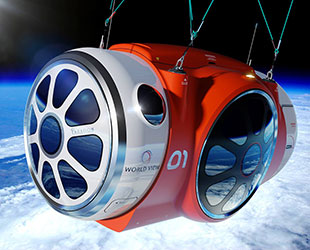 The World View pressurized space capsule will loft six Voyagers (and two crewmen) to a peak altitude of 20 miles.
(World View)
Once at a peak altitude above 99 percent of the planet's atmosphere, World View passengers will have two hours to marvel at the curvature of Earth and the blackness of space. In-flight internet access will allow the Voyagers to share the experience in real time with those on the ground.

Seats aboard the six-passenger and two-crewmen capsule can be reserved for $75,000 each. Entrance in the "Leave Your Mark" emblem contest is free.

World View is seeking a design that exhibits a "high-level of creativity" while incorporating its name, "Voyagers" and quotes or phrases that describe the flight experience. The ideal entry, says the company, should be suitable for both printing and embroidery, as well as be easily resized.

Designs can be submitted until June 23 on World View's website, where the public will then vote from June 24 to July 8 to advance their favorite entries to the semi-finals. A panel of judges, including former NASA astronaut and World View's director of flight crew operations Mark Kelly, will choose the winning emblem.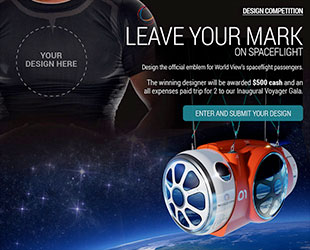 World View's "Leave Your Mark on Spaceflight" emblem contest is accepting submissions through June 23, 2014.
(World View)
"This design competition allows space enthusiasts to be a part of World View's journey," Jane Poynter, World View's CEO, said in a statement. "As we work toward our launch, we hope to garner input and support from the countless millions who believe in our mission."

The artist of the winning design, to be announced July 16, will be awarded $500 and an all expenses paid trip for two to the inaugural Voyager Gala, where World View plans to unveil its space capsule before an audience of astronauts, celebrities and industry leaders from around the world.

For more details, contest rules or to enter the "Leave Your Mark" competition, see the World View website.