June 7, 2016
— A NASA space shuttle commander who died in a 2012 water sports accident is being remembered with the naming of a space station-bound resupply vehicle, the company behind the spacecraft has announced.

"[The] OA-5 Cygnus [cargo spacecraft] will be named after former NASA astronaut and naval officer Alan Poindexter," Orbital ATK wrote on Twitter on Tuesday (June 7).

The S.S. Alan Poindexter will launch on Orbital ATK's sixth NASA-contracted mission to deliver scientific experiments, supplies and equipment to the International Space Station. The uncrewed, solar-powered capsule will be the first to fly on the company's redesigned Antares 230 rocket since an earlier Cygnus freighter was destroyed in a launch failure in October 2014.

The Antares 230 rocket will fly using Russian-sourced RD-181 engines, enhancing performance and flexibility, Orbital ATK officials said.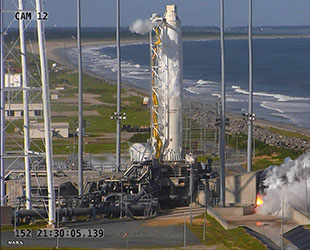 Orbital ATK conducted a "hot fire" of the upgraded first stage of its Antares rocket using new RD-181 engines on May 31.
(Orbital ATK)
Orbital ATK flew two interim Cygnus missions atop United Launch Alliance Atlas V boosters from the Cape Canaveral Air Force Station in Florida. The OA-5 launch will mark the company's return to the Mid-Atlantic Regional Spaceport's Pad 0A at NASA's Wallops Flight Facility in Virginia.

The launch of the S.S. Alan Poindexter is targeted for no earlier than August.

"Poindexter's intersecting career with several members of [the] Orbital ATK management, his connection to Maryland and the Eastern Shore and his distinguished military and spaceflight career make him an ideal honoree for the OA-5 mission," the company stated.

Born in 1961, Alan Goodwin "Dex" Poindexter grew up in Rockville, Maryland. A U.S. Navy veteran, he flew combat missions during Desert Storm with Kent Rominger, another future astronaut who today serves as the vice president for strategy and business development at Orbital ATK.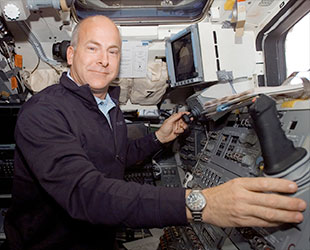 Astronaut Alan "Dex" Poindexter works on the aft flight deck of the space shuttle Atlantis during his first spaceflight in 2008.
(NASA)
Poindexter was named to NASA's astronaut corps in 1998 and flew twice into space. In 2008, he piloted space shuttle Atlantis on the STS-122 mission, delivering the European Space Agency's Columbus laboratory to the space station. The flight also returned to Earth Daniel Tani, an Expedition 16 flight engineer who is now Orbital ATK's senior director for mission and cargo operations.

Two year later in 2010, Poindexter commanded the space shuttle Discovery on its penultimate spaceflight. The STS-131 mission transported 13,000 pounds (5,900 kilograms) of crew supplies and spare equipment to the space station. By comparison, the Cygnus bearing Poindexter's name will launch 5,300 pounds (2,400 kg) of logistics to the orbiting outpost.

"Orbital ATK, wonderful way to honor Dex, his dedication and accomplishments for NASA," wrote STS-131 mission specialist Dottie Metcalf-Lindenburger on Twitter.

"Thanks for recognizing my [1998 NASA] classmate and our STS-131 commander," wrote Clay Anderson, who also flew on Discovery as a mission specialist.

In total, Poindexter logged 27 days and 21 hours in space over the course of his two missions.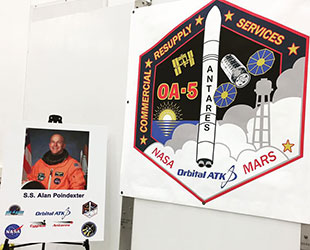 Signs display the namesake and flight patch for Orbital ATK's OA-5 Cygnus mission of the S.S. Alan Poindexter.
(Orbital ATK)
On July 1, 2012, Poindexter, 50, died of injuries sustained in a recreational jet ski accident. He is survived by his wife, Lisa, and their two sons, Zach and Samuel.

The naming of the S.S. Alan Poindexter continues Orbital ATK's tradition of christening its cargo spacecraft for late astronauts who made contributions to the company's goals or to the construction of the space station.

Previous ships were named for astronauts G. David Low, C. Gordon Fullerton, Janice Voss and Deke Slayton.

The most recent Cygnus, the S.S. Rick Husband, named for the commander of the 2003 ill-fated flight of the space shuttle Columbia, has been at the station since March. It is scheduled to be released from the orbital complex on June 14 and support a on board combustion experiment before being destroyed during its re-entry into Earth's atmosphere a week later.