May 29, 2013
— The world's first public "photo booth" in orbit could circle the Earth on the first crowd-funded space telescope, if an asteroid mining company's campaign is a success.

Planetary Resources, a Seattle-based company that plans to extract raw materials from the asteroids for use in the exploration and development of space, kicked off its first Kickstarter crowd-funding campaign on Wednesday (May 29) to raise $1 million from the public to build and launch a private space telescope.

In return for pledges of $25 or more, Planetary Resources will offer supporters the opportunity to send a digital photo of their choice to orbit, have it displayed on the exterior of the company's satellite and rephotographed with the Earth as a backdrop. Higher pledge levels will provide students and other educational groups the chance to take control of the telescope for their own observations.

"People of any age and background will be able to point the telescope outward to investigate our solar system, deep space or join us in our study of near-Earth asteroids" Chris Lewicki, Planetary Resources' president and chief engineer, said in a statement.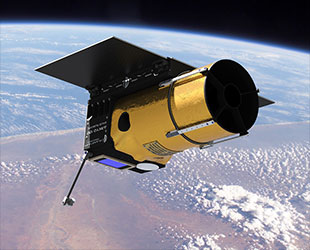 Planetary Resources' Arkyd spacecraft.
(Planetary Resources)
The observatory, dubbed the "Arkyd," will be available to students, astronomers and researchers and be enhanced with an external camera and screen for public use, while also serving as a test-bed for Planetary Resources' more advanced asteroid prospecting spacecraft to come.

The company launched its 33-day Kickstarter campaign at The Museum of Flight in Seattle.

Space Selfies

To elicit public pledges, Planetary Resources is offering to take "Space Selfies" — photographs of images submitted by their supporters that will be displayed in space on an exterior screen mounted on the satellite — at a rate of 150 a day. By comparison, the space telescope will be able to perform 15 astronomical observations in the same 24-hour period.

"When we launched Planetary Resources last year, we had an extraordinary response from the general public. Tens of thousands of people contacted us and wanted to be involved," said Peter Diamandis, Planetary Resources' co-chairman. "We are using this Kickstarter campaign as a mechanism to engage the community in a productive way."

Planetary Resources' "Space Selfies" program is believed to be the first commercial "photo booth" to offer the public the chance to have their photo (of a photo) taken in space. In the past, companies have provided similar services by launching high-altitude balloons to the "edge of space" and NASA uplinked photos of its fans' faces on the last of its space shuttle missions, but the images the space agency collected were not returned or shown to their owners after their launch.

Supporters giving more than $25 to Planetary Resources' campaign will receive higher resolution images, the option of filming flipbook-type movies and hard copy prints of the "Space Selfies." All pledgers can choose whether or not to display their "Space Selfies" on the Planetary Resources website for all to see.

If the company was to raise the full $1 million it is seeking from $25 "Space Selfie" pledges alone, it would take more than eight months for all of the photos to be delivered from orbit.

That daily rate could increase if Planetary Resources can establish more ground stations to receive the data during each pass of the satellite. In addition to its Seattle-based ground station, the company has plans for ground stations in Boston, as well as Alaska, Sweden and Australia, if the crowd-funding campaign exceeds its initial $1 million goal.

From space rocks to the stars

Planetary Resources doesn't plan to use its telescope as just a platform for "Space Selfies." Its crowd-funding effort is aimed at providing students, astronomers and the public the opportunity to use the private spacecraft to make their own observations.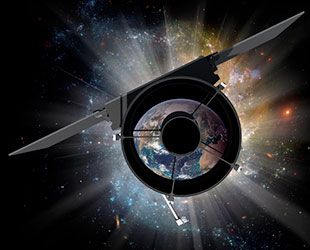 Planetary Resources' Arkyd spacecraft.
(Planetary Resources)
Planetary Resources' Arkyd Series 100 spacecraft, which the company also refers to as the "Leo Space Telescope," will serve as an astronomical observatory, asteroid hunter and an orbital platform on which Planetary Resources' can test some of the technologies it will need for prospecting asteroids in the future.

"Not only does the telescope have the technical capability to increase our understanding of space, but it can be placed in orbit for an incredibly low cost," Sara Seager, a professor of physics and planetary science at MIT, said in a statement released by Planetary Resources. "That is an economic breakthrough that will accelerate space-based research now and in the future."

At pledge levels beginning at $99, supporters can donate time for students and researchers to use the telescope. At $150 and above, supporters can point the Leo observatory themselves and have their preferred astronomical targets (other than the Sun) imaged and returned to them.

The Leo telescope, named for its placement in Low Earth Orbit, has the structures, avionics, attitude determination and control, and instrumentation that Planetary Resources says will enable its future asteroid exploration. Central to the Arkyd telescope's configuration and functionality is a precision imaging system.

"With arc-second resolution, the Leo camera will provide detailed observations where you want them, and when you want them," Planetary Resources states on its website.

For more information, see Planetary Resources' website or the company's Kickstarter campaign.