April 24, 2012
— There's gold in them thar asteroids.

And perhaps more importantly, there's also palladium and platinum and oxygen and water just waiting to be tapped in the small rocky bodies that orbit between the planets.

Enter Planetary Resources, Inc., the latest and by far best financed company to propose robotically mining the Near Earth Asteroids (NEAs) for raw materials, ranging from water to precious metals. Backed by Google executives and other billionaire investors, Planetary Resources was founded in 2009 by X PRIZE founder Peter Diamandis and Eric Anderson, chairman of Space Adventures, the space tourism company.

The company, which until Tuesday (April 24) had operated discreetly, officially debuted its plans to the public during a news conference at The Museum of Flight in Seattle.

"Everything we hold of value on Earth — metals, minerals, energy, water, real estate — are literally in near infinite quantities in space," Diamandis said in a video released by the company. "Planetary Resources' mission is to gain access to the natural resources of space by mining near Earth approaching asteroids."

"With technological advancements that are coming out of exponential technologies and investors willing to bare the risk, small teams are now able to really do what only governments and large corporations could do before," he continued. "Our vision is to catalyze humanity's growth both on and off the Earth.

"We're breaking new ground. Now is the time for us to gain access to these resources and at the end, the entire human race will be beneficiary as we expand our reach on the Earth into the solar system," Diamandis said.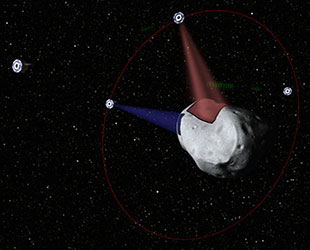 Planetary Resources will develop the technologies to enable low cost prospecting of asteroids.
(Planetary Resources)
According to a press statement released by the company, extracting natural resources from the asteroids will "deliver multiple benefits to humanity and grow to be valued at tens of billions of dollars annually." Planetary Resources' efforts will seek to mine the precious metals found on asteroids to the benefit those back on Earth while tapping water-rich NEAs will serve as "stepping stones" for deep space exploration, providing space-sourced fuel and water to orbiting depots.

"Our mission is not only to expand the world's resource base," said Chris Lewicki, Planetary Resources' president and chief engineer, who previously worked as a manager on Mars missions at NASA's Jet Propulsion Laboratory in Pasadena, Calif. "but we want to increase people's access to, and understanding of, our planet and solar system by developing capable and cost-efficient systems."

Three step approach

Out of the approximately 9,000 known asteroids that come near Earth, there are more than 1,500 that are as easy to reach as the moon. The capability to characterize NEAs is on the critical path for Planetary Resources.

To that end, the company has developed the first line in its family of deep-space spacecraft, the Arkyd-100 Series. The satellite will be used in low Earth orbit and ultimately help prioritize the first several NEA targets for the follow on Arkyd-300 Series NEA swarm expeditions.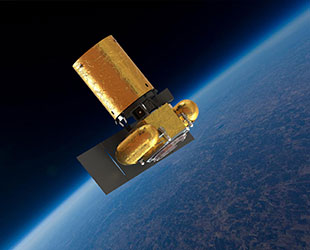 Planetary Resources has developed the Arkyd space telescope with remote sensing capability. Data gathered from Near Earth Asteroids will assist in analyzing the composition of the body to determine a commercial value.
(Planetary Resources)
"Our plan for opening up the resources of the solar system is three-fold," Anderson said in a company video. "First we're going to identify all of the most valuable Near Earth Asteroids, where they are, what are they made of and how to reach them."

In addition to demonstrating the low-cost platform upon which the company's asteroid prospectors will be based, the Arkyd-101 spacecraft will also serve as the world's first commercially-available space-based telescope.

"Second, we're going to develop technology and the ability to transform those resources into valuable materials. And third, we're going to deliver those materials to the point of need, whether it's a fuel depot that is orbiting the Earth or elsewhere in space," Anderson said.

To achieve these goals, Anderson said advancements in technology will be needed.

"In order to make the return of space resources extremely economical, we need significant advances in a few key areas," he explained. "One is communications technology, two is propulsion technology, three is energy generation and conversion in space and the fourth is robotics. Now all of these things we know how to do, but we need to figure out ways to do them better."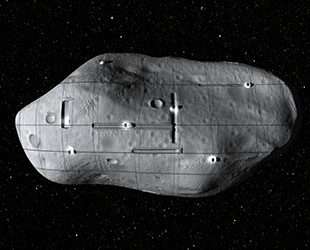 Planetary Resources' swarms of low-cost robotic spacecraft will enable extraction of resources from NEAs.
(Planetary Resources)
Anderson expected the prospecting phase of Planetary Resources' plan to take a few years. Full-fledged mining activities could take decades.

"Over the next five to 10 years, I envision a world that believes that resources from space will play a part in our future," Anderson said. "On a scale of 20 to 30 years, I envision the resources from space [will be] contributing a significant amount to the GDP [gross domestic product] of the planet."

"It's really all about people"

According to Anderson, Planetary Resources' real strength is its team of people.

"We have on our team people who have landed spacecraft on Mars, people who have started entirely new industries, and people who have financed some of the most unique and exciting companies of our time," Anderson said.

In addition to Diamandis, Anderson and Lewicki, Planetary Resources has recruited advisors including film maker and explorer James Cameron and former NASA astronaut and planetary scientist Tom Jones.

"We've been searching for near Earth objects mainly to assess the hazard of an impact on the Earth. Turns out that most of these asteroids are not a threat to the Earth, but they do offer potential benefits," Jones said. "They're in Earth-like orbits that offer an accessible resources that we can tap into both for scientific knowledge and returning those strategic supplies to Earth."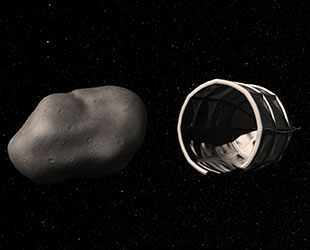 Planetary Resources' plans include capturing small, water-rich Near Earth Asteroids with spacecraft, allowing their resources to be more easily extracted.
(Planetary Resources)
The company's team also includes high profile investors including Google CEO Larry Page and Ross Perot, Jr., Chairman of Hillwood and The Perot Group. Eric Schmidt, executive chairman of Google and K. Ram Shriram, who serves on Google's board of directors, have also invested.

Charles Simonyi, the billionaire software architect behind Microsoft Office who flew twice to the International Space Station with Space Adventures, is also backing Planetary Resources.

"Commercialization of space began with communications satellites and is developing for human spaceflight," said Simonyi. "The next logical step is to begin the innovative development of resources from space. I'm proud to be part of this effort."

According to Diamandis, Planetary Resources is attractive to investors for the same reasons as companies tapping into resources on Earth.

"The value proposition for mining asteroids is very similar to the oil industry's proposition for going for deep sea oil," Diamandis said. "They literally had to develop the robotic capabilities to go down thousands of meters below the ocean surface and then thousands of meters below the ocean floor to be able to extract the oil. But it is such a high value for the industry on Earth, that they make the multi-billion dollar investment."

"Gaining access to, literally, trillions of dollars of metals and minerals in space will drive the same kind of abilities," Diamandis said.