May 9, 2016
— A new one dollar U.S. coin would honor the memory of "Teacher in Space" Christa McAuliffe while carrying on her mission of inspiring "a new generation of dreamers and innovators," according to legislation recently introduced in Congress.

The "Christa McAuliffe Commemorative Coin Act of 2016," co-authored by Senators Kelly Ayotte (R-NH) and Jeanne Shaheen (D-NH), would require the U.S. Treasury to mint a coin in recognition of the 30th anniversary of the space shuttle Challenger tragedy and in honor of the fallen social studies teacher from Concord, New Hampshire.

Proceeds from the sale of the uncirculated and proof coins would support FIRST, or For Inspiration and Recognition of Science and Technology, programs that engage children to pursue opportunities in science, math and engineering.

"McAuliffe's quest for knowledge and discovery has served as an inspiration to Granite Staters and people across the nation," said Shaheen in a statement released with Ayotte. "Engraving her image on a coin and using the proceeds to encourage young people's interest in science, technology, engineering and mathematics through FIRST Robotics is a fitting tribute."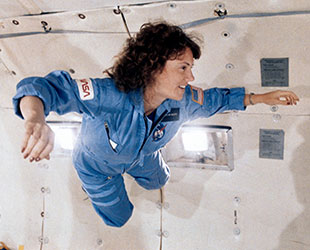 Sharon Christa McAuliffe, STS-51L teacher in space, trains in zero-gravity during a flight on board NASA's KC-135 aircraft.
(NASA)
"FIRST will serve as a natural recipient of the funds that will be generated through the sale of the Christa McAuliffe commemorative coins," added Ayotte. "In New Hampshire, we're proud to be the home of FIRST, which continues to inspire a growing number of young people to reach for the stars and achieve their dreams."

Chosen as the first participant in NASA's Teacher in Space program, McAuliffe launched as a member of the STS-51L crew aboard Challenger on Jan. 28, 1986. The astronauts were lost when the space shuttle broke apart 73 seconds into flight, the result of a faulty booster seal.

Three years later, inventor and entrepreneur Dean Kamen founded FIRST to involve kids in kindergarten through high school in research and robotics programs. More than one million children from the U.S. and more than 86 countries now participate in a FIRST program each year, making it the leading, not-for-profit STEM engagement program for young people worldwide.

"McAuliffe embodied the spirit of curiosity and desire for education that FIRST seeks to spread throughout our state and nation," stated Kamen. "It would be an honor to have these coins minted to help ensure that every student in America can participate in FIRST."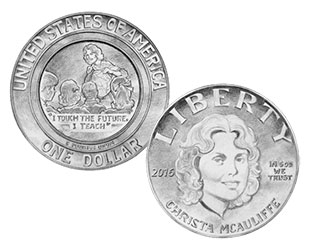 Christa McAuliffe coin concept rendering by Jack Kamen.
(FIRST)
If the bill (S.2890) is passed by Congress and signed into law, then the U.S. Mint would be responsible for striking up to 350,000 one-dollar ($1) legal tender coins featuring an image of and the name of Christa McAuliffe on its obverse, or front, side, and a design on the reverse that depicts "the legacy of Christa McAuliffe as a teacher."

The act states that the coins are to be dated for 2016, but issued next year, between Jan. 1 and Dec. 31, 2017.

The coins, if approved, will be sold to the public at a price to be determined, but at a value high enough to cover their face value, a $10 surcharge (per coin) to benefit the FIRST robotics program and the cost of their production such that no taxpayer funds are used. The coins will be minted from 90 percent silver and 10 percent copper.

A companion bill (H.R.5168) was introduced in the House of Representatives by Michigan lawmakers Fred Upon [R-MI-6] and Debbie Dingell [D-MI-12]. Both the Senate and House bills were referred to their respective banking and financial services committees.

The Christa McAuliffe coin act is the second bill introduced in the 114th Congress related to space exploration-themed money. The "Apollo 11 50th Anniversary Commemorative Coin Act," which has been before the House since June 2015, calls for the Treasury to mint curved coins to honor the first moon landing in 2019.