April 27, 2015
— His twin brother currently on a year-long mission on the space station, this former NASA astronaut is set to compete on Celebrity Jeopardy! in May.

Who is Mark Kelly?

Jeopardy!, the long-running television game show hosted by Alex Trebek, has revealed that Kelly will be among the 15 of America's favorite stars vying to win $50,000 for the charity of their choice. Celebrity Jeopardy! is scheduled to air May 11 through 15.

Kelly, who retired from NASA in 2011, is a veteran of four space shuttle missions to the International Space Station. His fourth spaceflight in May 2011 was as commander of orbiter Endeavour's final mission, the second-to-last during the 30-year shuttle program.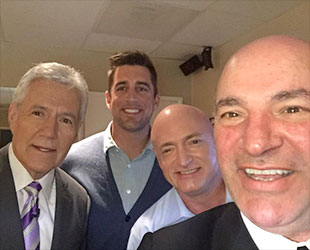 Astronaut Mark Kelly (second from right) together with Jeopardy! host Alex Trebek (at left) and fellow celebrity contestants Kevin O'Leary (at right) and Aaron Rodgers.
(Kevin O'Leary on Twitter)
His twin brother, Scott Kelly, also a NASA astronaut, is as of Monday (April 27) one month into a nearly yearlong stay on the space station in support of future journeys to Mars. Mark is acting as a ground-based control for 10 studies to identify any subtle changes caused by spaceflight.

Since leaving NASA, Mark and his wife Gabrielle Giffords, the former Arizona congresswoman who survived a 2011 assassination attempt, founded the non-profit organization Americans for Responsible Solutions, advocating for gun control.

The First Lady's guest at President Barack Obama's 2012 State of the Union address, Kelly was featured on Esquire magazine's cover as one of the "Americans of the Year" of 2011. In 2013, he and Giffords were chosen as Glamour magazine's first "Couple of the Year."

Among the other celebrities set to compete against Kelly on Jeopardy! are actor Zachary Quinto (Spock in the 2009 and 2013 Star Trek movies), quarterback Aaron Rodgers with the Green Bay Packers football team, magician Penn Jillette, and entrepreneur Kevin O'Leary, "Mr. Wonderful" on ABC's "Shark Tank."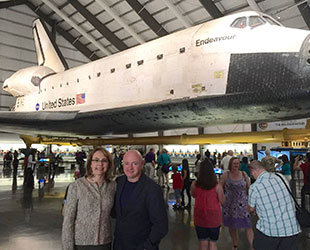 Former astronaut Mark Kelly and his wife Gabrielle Giffords pose for a photo with NASA's space shuttle Endeavour at the California Science Center in Los Angeles.
(Mark Kelly on Twitter)
Kelly is the second U.S. astronaut to appear on Jeopardy. Apollo moonwalker Buzz Aldrin was a celebrity contestant in 1996, finishing second to actress Brett Butler (the late Eartha Kitt took third on the game show).

Like Aldrin, Kelly has previously been part of Jeopardy! in the form of a clue. In a 2014 episode, under the category "Lasts" as part of the Double Jeopardy! round, the $1200 answer was "The space shuttle Endeavour's final mission began May 16, 2011; among those watching the launch was this Arizona congresswoman, whose husband, Mark Kelly, was on board as commander."

Kelly has authored two books with Giffords, in addition to his three children's books, including "Astrotwins: Project Blastoff" published in March. Kelly currently serves as the flight crew operations director for World View Enterprises, which is working towards flying commercial passengers to the edge of space aboard a balloon-hoisted capsule.