Fox unveils films in Spacecraft series
Fox Home Entertainment Press Release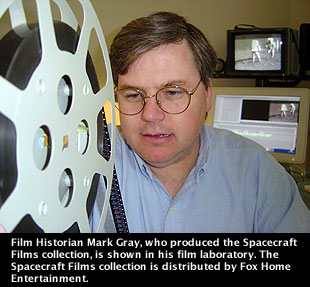 April 27, 2004 -- Fox Home Entertainment announced today the availability of two new Spacecraft Film treasures: "The Mighty Saturns: Saturn V" and "Apollo 15: Man Must Explore." The new releases are the latest in a space film series like no other -- the most comprehensive collection of film and audio ever assembled to chronicle NASA's early space missions.

Full-length television transmissions and complete inventories of onboard film offer viewers first-time access to a true national treasure -- the complete chronicle of NASA's early space program. With "Saturn V," viewers will join hundreds of thousands of workers from across America to develop and launch the world's most powerful and successful rocket ever flown. Next, they'll climb aboard Apollo 15 for the ride of a lifetime -- an extraordinary mission featuring the first lunar rover targeted to explore the Hadley-Apennine region of the moon.

Fox Home Entertainment's Spacecraft Films series was developed and produced by film historian Mark Gray. Gray and his team spent years collecting, cataloging, and restoring historic film and audio from America's early space program. The massive research effort -- which took them from the National Archives in Washington, D.C., to NASA field centers across the country -- led to the discovery and restoration of vintage film and audio. In some cases, the material had not been viewed widely since its creation or was never released to the public.

"I was frustrated that this valuable material documenting one of mankind's greatest achievements -- spaceflight -- was in many cases preserved, but not readily available," said film historian Mark Gray. "There are documentaries containing film and audio clips of America's space program that we've all seen and heard a million times over, but I knew this was the tip of the iceberg. I wanted to see all of the material and to view it in an unfiltered fashion."

Spacecraft Films allows viewers to see the missions as they happened and experience them as they were experienced by those working in front of the cameras and behind the scenes -- from flight controllers to astronauts and even members of the press.

Fox Home Entertainment was named the distributor of Spacecraft Films in 2003. "I think Fox recognized that in many ways this material represented a new entertainment and educational film genre. The DVD format allows the material to be presented in a `behind-the-scenes manner.' You can see it as it happened, draw your own conclusions, and most importantly, you can access the material you want instantly," Gray said.

America's Space Program: A National Treasure

"We recognized immediately that this collection represented a true national treasure and that DVD was the perfect format to present these materials," said Don Jeffries, Senior Vice President of Sales, Fox Home Entertainment. "Fox Home Entertainment is proud to distribute these films for the enjoyment and education of present and future generations," he added.

In addition to collecting and cataloging mountains of available material, a major project goal was to restore and preserve the vintage film and audio inventory. Gray, whose team collected materials from a wide variety of public and private sector sources, noted that in the past 30 years tremendous technical strides have been made with respect to film processing, color correction, and film-to-tape transfers. Gray's team used a variety of film and audio restoration techniques. "In some cases, we were lucky enough to locate original video tapes and films at NASA field centers. We've done substantial noise reduction, color correction, and new digital transfers on modern telecines. In many instances, the result is nothing short of spectacular. It's very rewarding to be able to restore and preserve this material," he added.

NASA, the National Archives, and various individuals who worked on the space missions assisted Gray and his team. "We received outstanding cooperation from everyone involved," Gray said. In return, Gray's team left a new digital copy of all material provided for future use. "This way it's preserved not only through our products, but also with the original sources. It's a great example of how the private sector can meet a need by restoring, preserving, and distributing publicly created historical material," he added.

Said Apollo 15 Command Module Pilot Al Worden, "I have viewed the 'Apollo 15' series and found it to be outstanding. Mark Gray and his team have done a great job and a great service to all that remember that era."

Fox Home Entertainment's two exciting new titles in its Spacecraft Films collection -- "The Mighty Saturns: Saturn V" and "Apollo 15: Man Must Explore" -- are available on DVD April 13. With re-mastered footage and mission interviews and commentary, this series of DVDs allows viewers to ride along on America's historic space missions.

The three-disc "Saturn V" is available for $49.95 and the six-disc "Apollo 15: Man Must Explore" is available for $89.95 through buySPACE.

© 2022 collectSPACE.com All rights reserved.
Questions? E-mail contact@collectspace.com


Feedback: Messages


"Apollo 15: Man Must Explore"

Six-disc set focusing on Apollo 15 -- the fourth mission to land on the moon. Complete television and onboard motion picture film from the Apollo 15 mission

Rare onboard astronaut recordings

Exclusive computer flyover of the Apollo 15 landing site, showing EVA traverses and dramatic views of the Hadley Rille area

Multi-angle features during launch and lunar liftoff

Footage of training, spacecraft checkout, suitup, ingress, splashdown, and recovery -- even the crew statements on the carrier deck!


"The Mighty Saturns: Saturn V"

Three-disc set detailing the Saturn V rocket -- the world's most powerful and successful rocket ever flown.

Original 43-minute documentary featuring interviews with Saturn veteran engineers

Footage from every Saturn V launch

Extensive full-duration pad camera footage

Unique footage from pods and cameras carried within the launch vehicle

11 quarterly management reports on development and progress

Rare extras of engine tests, rollouts, pad operations, and more!