April 22, 2015
– NASA is celebrating the 25th anniversary of the Hubble Space Telescope with a set of do-it-yourself collectibles.

Marking the orbital observatory's launch 25 years ago this Friday (April 24), NASA is offering a medallion, a model of the space telescope and a Hubble "space ball." But unlike the agency's past commemoratives for space milestones, these free mementos are print-on-demand.

Hubble, the world's most popular of space telescope, was launched on April 24, 1990 on space shuttle Discovery. In its quarter-century in orbit, the Hubble has transformed our understanding of our solar system and beyond and helped us find our place among the stars.

"Now, 25 years later, we celebrate a remarkable milestone for a space observatory," reads NASA's description for its new Hubble Space Telescope 25th Anniversary medallion. "[The observatory's] ground-breaking investigations have brought revolutionary changes in our understanding from planets, stars, nebulae and galaxies to the very frontiers of the cosmos.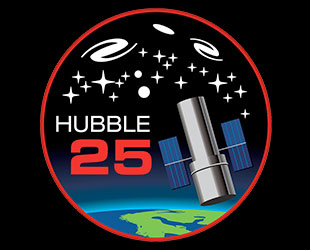 NASA patch for the Hubble telescope's 25 years in space.
(NASA)
The two-sided token features NASA's "Hubble25" patch on one side and is inscribed, "Hubble Space Telescope, 25th Anniv. 1990-2015" on the other.

The coaster-size medallion is available for free, but with a catch. Rather than minting it in metal, NASA is distributing the coin-like commemorative in the form of a file, ready for 3D printing.

The same goes for NASA's Hubble Space Telescope 25th Anniversary model. The scale version of the orbital scope can be 3D printed in several parts, such that it creates the familiar shape of the space telescope. Unlike the agency's earlier Hubble 3D models though, the anniversary edition features "Hubble 25" inscribed on the satellite's twin solar panels.

Print times depend on what type of 3D printer is used, but for a one-color production on a professional machine, the medal can take about an hour to create, while the model requires about 15 hours (assembly time not included).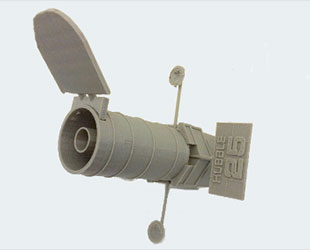 A special anniversary edition of NASA's 3D-printed Hubble Space Telescope model has "Hubble 25" on its solar panels.
(NASA)
No 3D printer? No problem. NASA has Hubble anniversary commemoratives for 2D printers, too.

In addition to a paper model of the telescope, NASA has also released the plans for a print and fold "Hubble Space Ball." Eight of the twelve sides of this dodecahedron can be customized with your favorite images from the Hubble's first 25 years. (The other sides have anniversary text and the official Hubble25 logo.)

Other celebratory NASA collectibles for the Hubble's 25th anniversary include a kid's coloring page and printable full-color posters featuring some of the orbiting observatory's most popular space shots.

The Hubble medallion and model can be downloaded from NASA's 3D Resources. The space ball and other 2D prints are available from the Hubble25 website.