April 16, 2015
— They made 3D printing in space possible. They made the files used to 3D print in space available. Now, they're making the material used to 3D print in space for sale.

Made In Space, Inc., the California-based startup behind the zero-g 3D printer used by NASA astronauts aboard the International Space Station, announced on Thursday (April 16) they have begun to service terrestrial-based markets by offering the same "space-grade" plastic feedstock used in the first additive manufacturing demonstration in space.

"We selected our material after testing dozens of different vendors and have determined it to be some of the highest quality available," Matthew Napoli, Made In Space director of in space manufacturing, said in a statement.

Launched to the space station last September, Made In Space's zero-g 3D printer produced its first on-orbit part — a faceplate for its own extruder printhead — two months later. Over the course of the following several weeks, the printer was used to make a total of 14 unique test objects, 13 of which had been pre-loaded into its memory prior to launch, and one, a ratcheting socket wrench, made history as the first-ever astronaut tool emailed to space.


Each of the prints, which returned to Earth in February and were delivered to NASA's Marshall Space Flight Center in Alabama for testing and analysis this month, were made from ABS plastic, the same material used to make LEGO toy bricks.

"You could probably print a few hundred standard four by two LEGO bricks," said Mike Snyder, lead engineer and research and development director for Made In Space, in regards to how much of the plastic was launched with the printer to the space station.

Now, that same type of material is available for sale.

Made In Space's initial four main product lines, introduced for pre-order beginning Thursday, vary by their readiness for use in space. The company's first offerings range from multi-color spools of Made In Space-brand filament to the identical "AstroABS" used in NASA's 3D Printing in Zero-Gravity Technology Demonstration.

Made In Space plans to market the products to a number of different types of customers, from "makers" who want quality feedstock for their own printers to microgravity tool designers who want to reduce the potential for differences between their test prints on Earth and planned products in space.

And with the inclusion of the AstroABS Canister, Made In Space hopes that some of the products will be purchased for reasons other than 3D printing.

Advertised to museums, space collectors and 3D printing enthusiasts, the canister serves as a contemporary space souvenir, identical to the space hardware currently aboard the International Space Station, and as a means to further support Made In Space's vision.

"This terrestrial store is a logical extension of the Made In Space explorer spirit," Brad Kohlenberg, Made In Space's business development engineer, said. "We've consistently said our technology will open up new markets for space development and with this announcement, we're doing just that."

"We're working with some of the world's largest 3D printing suppliers, providing universal access to the tools we use ourselves, with the goal of advancing this new era of in-space manufacturing," he said.

According to the company, profits from all of the products sold will be used to further the company's long-term goal of facilitating a multi-planetary society. By leveraging the capabilities that technologies such as 3D printing provide, Made In Space hopes to continue "revolutionizing what it means to be a modern space developer and [help] create the necessary tools that will enable humanity to colonize space."

In addition to selling filament on its own website, Made In Space is also partnering with several 3D printing filament suppliers in order to make their filament more accessible. Octave Systems, 3D Supply World, Filament Direct and Printer Playground are confirmed as participating, among others to come.

For more information or to order, see the website for Made In Space's Terrestrial Offerings.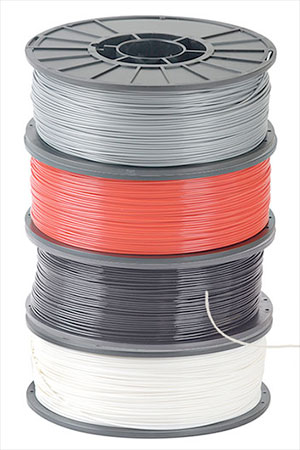 Made In Space, Inc., the company behind the zero-g 3D printer on the International Space Station, is now selling its "space-grade" plastic filament for use with 3D printers on Earth. (Made In Space)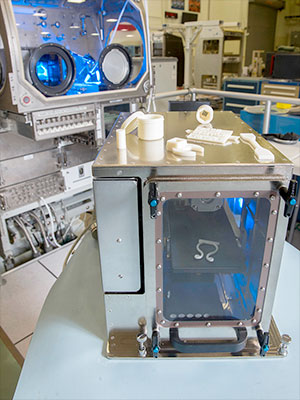 Made In Space zero-gravity 3D printer with the AstroABS Canister installed. The AstroABS Canisters offered for sale are identical to those used aboard the space station. (Made In Space)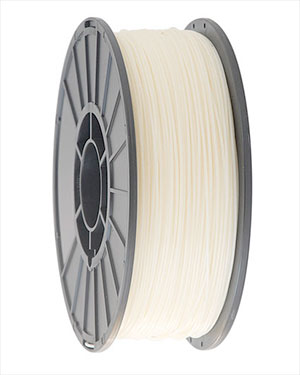 A spool of AstroABS, qualified for use on the International Space Station, as offered for sale by Made In Space. (Made In Space)