April 20, 2023
— Lifting off on its first fully-integrated test flight, a SpaceX rocket has become the largest and most-powerful launch vehicle to leave the ground — even with it breaking apart and exploding just four minutes into its flight.

After a brief hold at T-40 seconds to make last minute pressurization checks, the company's Super Heavy booster ignited its 30 out of its 33 methane-fueled Raptor rocket engines at 8:33 a.m. CDT (1333 GMT) Thursday (April 20), lifting it and its Starship vehicle off its mount at SpaceX's Starbase facility in Boca Chica, Texas. The launch was the first flight of the Super Heavy and Starship as used together.

The Super Heavy and Starship reached "Max Q," the moment of peak mechanical stress on the vehicle, about a minute and 20 seconds into flight, with two more of its engines having shut off early. Almost a minute and a half later, the Super Heavy was to cut off its engines and drop away from Starship, but the separation did not occur. Instead, the entire vehicle began to tumble, leading to the flight termination system being commanded for both Starship and Super Heavy.

"As if the flight test was not exciting enough, Starship experienced a rapid unscheduled disassembly before stage separation," an update posted to SpaceX's Twitter account read.


Despite the flight ending early, the launch set records just by leaving the pad.

The towering stack stood an impressive 394 feet tall (120 meters) — 72 feet (22 meters) above NASA's Artemis I Space Launch System (SLS) rocket and 31 feet (10 meters) taller than the previous record holder, the Apollo-era Saturn V. The Super Heavy is capable of generating 16.7 million pounds of thrust (7,590 tonnes of force), more than twice that of the Saturn V's first stage, nearly 8 million pounds more than the Artemis I SLS and 6.5 million pounds over that of the former Soviet Union's N-1 moon rocket, which failed on each of its four launches.

Had the flight gone to plan, Starship would have continued to soar into space, firing its six engines for about 6 minutes and 20 seconds to reach a near-orbital velocity. The spacecraft would have then coasted half way around the world prior to it falling back to Earth and dropping into the waters off the coast of Hawaii.

Although SpaceX designed both the Super Heavy and Starship to be reusable — each is intended to eventually land vertically much like the first stage of the company's Falcon 9 rockets — for this first test flight, both steel-built stages were destined for disposal. Had separation occurred as planned, Super Heavy was expected to reignite some of its engines to perform a "boostback" maneuver to set it up for a water landing in the Gulf of Mexico.

Thursday's flight came seven years after SpaceX CEO Elon Musk revealed to the world his plans for an interplanetary transport system. Three years later, Musk debuted the company's first Starship — the first in a series that the company used for a number of test flights, all within the atmosphere. The first of these "hops" took place on Dec. 9, 2020, using the eighth Starship to be built, and it ended with the vehicle exploding.

Three months and two vehicles later, SpaceX achieved its first Starship landing.

"These flight tests helped validate the vehicle's design," a summary posted to SpaceX's website before Monday's launch read, "proving Starship can fly through the subsonic phase of entry before re-lighting its engines and flipping itself to a vertical configuration for landing."

SpaceX did not perform similar hops with Super Heavy, but conducted static test fires that led to a full-duration 31 Raptor engine test (one engine was taken offline before the test began and the other failed moments into the flight).

Thursday's integrated test flight was conducted using the seventh Super Heavy and Starship 24.

Musk has said that his priority in developing Super Heavy and Starship is establish a self-sustaining colony on Mars. SpaceX also intends to use Starship to continue and accelerate the deployment of its Starlink broadband communication satellite network and has sold seats on at least three flights with passengers visiting Earth orbit or flying around the moon in the coming years.

In April 2021, NASA awarded SpaceX a $2.9 billion contract to develop a modified Starship to serve as the human landing system (HLS) for the agency's Artemis III mission. Targeted to launch as soon as late 2025, Artemis III will touch down with the first woman and the American on the moon, where they will explore the lunar south pole for water ice.

Before that flight that can happen, SpaceX intends as many as hundreds of additional flights of Super Heavy and Starship, in part to demonstrate the ability to land both vehicles and develop the ability to refuel Starship in orbit, a capability needed for the spacecraft to leave Earth orbit.

Those flights, like Thursday's, will be flown under a launch license from the FAA (Federal Aviation Administration), which has jurisdiction over commercial rockets.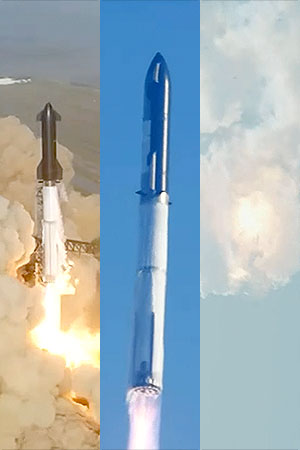 A SpaceX Super Heavy rocket and Starship vehicle launches on their first integrated test flight from the company's Starbase facility in Boca Chica, Texas on Thursday, April 20, 2023. The flight ended with the vehicles breaking apart and exploding 4 minutes into flight after the Super Heavy and Starship failed to separate. (SpaceX)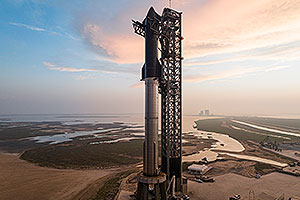 SpaceX's Super Heavy booster 7 and Starship 24 are seen on the launch mount at Starbase in Boca Chica, Texas prior to lifting off on their first integrated test flight on Sunday, April 16, 2023. (SpaceX)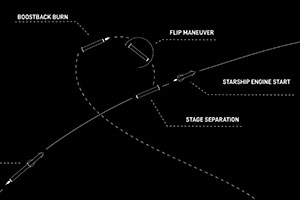 Graphic showing the flight trajectories for SpaceX's Super Heavy rocket and Starship vehicle on their first integrated flight test, from launch to water landings. (SpaceX)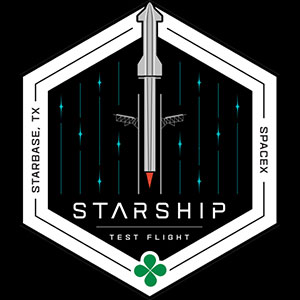 SpaceX's insignia for the Starship and Super Heavy test flight. The clover is a carryover from the mission patch for the company's first successful launch in 2008. (SpaceX)