Two shuttles on two pads for one last time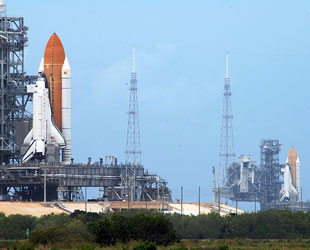 Space shuttles Atlantis (left) and Endeavour are poised on their pads for a rare double view. Click to enlarge. (collectSPACE)

April 20, 2009 — For what may be only the fourth time in history, two space shuttles sat exposed on NASA's two launch pads at the Kennedy Space Center in Florida this weekend. The rare sight came to a close today, as each was covered by rotating sections of their pads' structures.

As spectacular as it may have been, NASA hopes it'll be the last such simultaneous view for the shuttles, although they have had that expectation before.

That there are two shuttles on two pads, visible or not, is in itself rare, occurring only 19 times over the past three decades. A prior double shuttle view in September 2008 was intended to be the last in the vehicles' history, but a failure aboard their mission's target resulted in the launch delay that led to this weekend's repeat rollout.

Double shuttles for Hubble, again

Space shuttle Atlantis was already on Pad 39A on Friday when its sister ship Endeavour arrived at 39B, 8,000 feet away, duplicating the scene from last fall.

Atlantis is scheduled to launch with the STS-125 crew on May 12 to upgrade the Hubble Space Telescope (HST). The unexpected failure of the observatory's science data system in September resulted in NASA standing down to give HST's managers the time to prepare a replacement.

In the meantime, Atlantis was rolled back from the launch pad to make way for two other missions to fly first to the International Space Station (ISS). Atlantis returned to the pad on the morning of March 31.

Because STS-125 is not flying to the ISS, its crew does not have the added protection of taking safe haven on the station should Atlantis be damaged during flight. To offset that risk, NASA decided to ready a second shuttle on the second pad as a rescue ship, to launch as needed.

Endeavour was to serve that role when STS-125 was first targeted for an October launch. After the HST developed its delay-inducing problem, NASA released Endeavour to launch on its own STS-126 mission, which last November flew to the ISS to deliver supplies.

Shuttle Discovery, the third orbiter remaining in NASA's fleet, also serviced the station in the interim, completing the outpost's backbone truss and deploying the last set of its power-providing solar array wings during the STS-119 mission last month.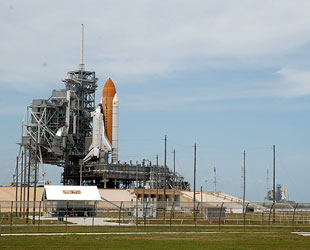 Pad 39A's service structure rolls back to expose Atlantis with Endeavour in the background. Click to enlarge. (collectSPACE)

Endeavour, now being readied to return to the station on STS-127, was rolled out to Pad 39B on Friday morning to again first stand poised in support of STS-125. If Atlantis flies safely, Endeavour will be moved to 39A in late May, marking the last time in history that a space shuttle was on 39B.

With the shuttles scheduled to be retired next year, the pads are to be converted to launch the next generation of NASA crewed vehicles, the Constellation program's Ares rockets, with work already underway to modify Pad 39B.

Fleeting view of two in the fleet

To protect the orbiters and prepare them for their launch, a 102 foot long by 130 foot high section of the pad called the rotating service structure (RSS) is moved along rails until it covers the orbiter. The RSS is usually only opened just after a shuttle arrives at the pad, when the payload arrives to be installed inside the orbiter's bay, or just prior to launch.

This weekend's view of Atlantis and Endeavour was the result of overlapping schedules. Endeavour arrived at its pad just two days before Atlantis' payload was rolled out to 39A.

In addition to affording a photo opportunity for the press, the exposed shuttles were also visible to tourists lucky enough to schedule a trip to the Kennedy Space Center Visitor Complex this past weekend, as well as by NASA employees and their families given the fortunate timing of a long-planned open house on Saturday.

As a result, this most recent and likely last view of sister shuttles on their pads may have also been the most well viewed in history, with over 50,000 having been expected for just Saturday's "Family Day" alone.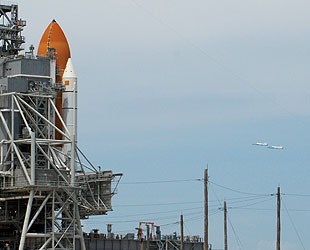 Astronauts flying T-38 jets flyby Atlantis and Endeavour for an aerial view of the two shuttles. Click to enlarge. (collectSPACE)

Before this past weekend's and last September's views of Atlantis and Endeavour, photographs have been identified depicting two previous similar occurrences in September 1990 and August 1994, showing Columbia with Discovery and Discovery with Endeavour, respectively. It's possible that other dual views took place, as NASA's records only indicate when two space shuttles have stood on two pads without notating their service structures' position.

The following details when both launch pads 39A and 39B have simultaneously hosted space shuttles.
STS-61C (Columbia) and STS-51L (Challenger)
Dec. 22, 1985 (rollout of 51-L to Pad B) to Jan. 12, 1986 (launch of 61-C from Pad A)


STS-31 (Discovery) and STS-35 (Columbia)
April 22, 1990 (rollout of STS-35 to Pad A) to April 24, 1990 (launch of STS-31 from Pad B)

STS-35 (Columbia) and STS-41 (Discovery)
Sep. 4, 1990 (rollout of STS-41 to Pad B) to Oct. 6, 1990 (launch of STS-41 from Pad B)


STS-38 (Atlantis) and STS-35 (Columbia)
Oct. 14, 1990 (rollout of STS-35 to Pad B) to Nov. 15, 1990 (launch of STS-38 from Pad A)


STS-37 (Atlantis) and STS-39 (Discovery)
April 1, 1991 (rollout of STS-39 to Pad A) to April 5, 1991 (launch of STS-37 from Pad B)


STS-45 (Atlantis) and STS-49 (Endeavour)
March 13, 1992 (rollout of STS-49 to Pad B) to March 24, 1992 (launch of STS-45 from Pad A)


STS-50 (Columbia) and STS-46 (Atlantis)
June 11, 1992 (rollout of STS-46 to Pad B) to June 25, 1992 (launch of STS-50 from Pad A)


STS-56 (Discovery) and STS-55 (Columbia)
Feb. 7, 1993 (rollout of STS-55 to Pad A) to April 8, 1993 (launch of STS-56 from Pad B)


STS-64 (Discovery) and STS-68 (Endeavour)
Aug. 19, 1994 (rollout of STS-64 to Pad B) to Aug. 24, 1994 (rollback to VAB of STS-68 from Pad A)


STS-71 (Atlantis) and STS-70 (Discovery)
May 11, 1995 (rollout of STS-70 to Pad B) to June 8, 1995 (rollback to VAB of STS-70 from Pad B)


STS-71 (Atlantis) and STS-70 (Discovery)
June 15, 1995 (rollout of STS-70 to Pad B) to June 27, 1995 (launch of STS-71 from Pad A)


STS-70 (Discovery) and STS-69 (Endeavour)
July 6, 1995 (rollout of STS-69 to Pad A) to July 13, 1995 (launch of STS-70 from Pad B)


STS-69 (Endeavour) and STS-73 (Columbia)
Aug. 28, 1995 (rollout of STS-73 to Pad B) to Sept. 7, 1995 (launch of STS-69 from Pad A)


STS-73 (Columbia) and STS-74 (Atlantis)
Oct. 12, 1995 (rollout of STS-74 to Pad A) to Oct. 20, 1995 (launch of STS-73 from Pad B)


STS-95 (Discovery) and STS-88 (Endeavour)
Oct. 21, 1998 (rollout of STS-88 to Pad A) to Oct. 29, 1998 (launch of STS-95 from Pad B)


STS-103 (Discovery) and STS-99 (Endeavour)
Dec. 13, 1999 (rollout of STS-99 to Pad A) to Dec. 19, 1999 (launch of STS-103 from Pad B)


STS-104 (Atlantis) and STS-105 (Discovery)
July 2, 2001 (rollout of STS-105 to Pad A) to July 12, 2001 (launch of STS-104 from Pad B)


STS-125 (Atlantis) and STS-126 (Endeavour)
Sep. 19, 2008 (rollout of STS-126 to Pad B) to Oct. 20, 2008 (rollback to VAB of STS-125 from Pad A)


STS-125 (Atlantis) and STS-127 (Endeavour)
April 18, 2009 (rollout of STS-127 to Pad B) to May 12, 2009* (*scheduled launch of STS-125 from Pad A)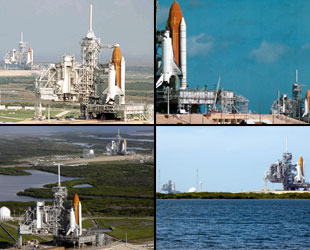 Two shuttles, two pads, four times. From top left to bottom right: 1990, 1994, 2008 and 2009. Click to enlarge. (NASA)

© 2017 collectSPACE.com All rights reserved.
Questions? E-mail contact@collectspace.com