November 25, 2008
— Look too closely at the STS-126 mission patch and you might miss it. The crew emblem, which depicts space shuttle Endeavour on its way back from the International Space Station (ISS) — a scene that will be played out for real on Sunday should the current schedule and weather hold — also symbolizes the flight's primary payload.

You just have to step back to see it.

"Wouldn't it be neat if our patch is shaped like an MPLM, which is what we're carrying up as our cargo?" pilot Eric Boe recalled during an interview with collectSPACE of his query when he led his crewmates through developing their patch design.

Great indeed, as well as unique: while past patches have taken on the shape of their payloads or other astronaut equipment, the MPLM – Multi-Purpose Logistics Module – outline is new, even though the moving van-like module has flown eight times since 2001.

STS-126's MPLM, dubbed "Leonardo", was modified prior to space shuttle Endeavour's launch to accomodate the heaviest payload yet, some 14,400 pounds of equipment and supplies for the ISS, including new crew quarters, a new toilet, a new galley and a water recovery system that will recycle the station crew's urine.

Leonardo's compliment of cargo led NASA to describe the STS-126 mission as "Extreme Home Improvement."

Twelve days into the 16-day flight, Boe and his crew mates have completely unpacked Leonardo and are in the process of re-packing it with supplies to be returned to the ground, bringing us back to the scene shown within the MPLM-shaped patch.

The idea for the insignia's design evolved as Boe worked with two artists who initally contacted the crew with some concepts of their own.

"What they did," described Boe, "is helped us bring some ideas together very quickly."

The two artists, Tim Gagnon and Jorge Cartes have not met in real life. Gagnon lives in Florida, Cartes in Spain. They met online after Gagnon designed the International Space Station Expedition 11 patch and Cartes wrote to offer his congratulations.

"We began e-mailing each other back then and he said this was always something he wanted to do, too," said Gagnon. "You always hope another opportunity is going to come up, but you never know. When Eric contacted me, I e-mailed Jorge and said, 'This is what the mission is about, why don't you throw something together and I'll send it in.'"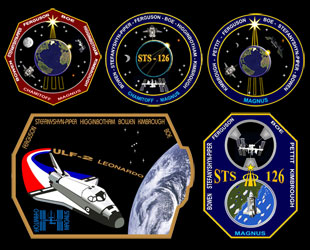 Gagnon's and Cartes' early ideas for the STS-126 mission patch. Lower Left: Cartes' first MPLM shaped-insignia. Click to enlarge.
Cartes accepted Gagnon's offer and in doing, introduced the idea of an MPLM-shaped patch.

"I like circular patches but I wanted to be original, so I sketched a rounded oval and I pictured the MPLM," said Cartes.

Cartes drew his MPLM lying on its side. The crew liked the idea but put their own 'spin' on it.

"The crew were the ones who suggested turning the patch vertical," shared Gagnon. Their reasons were two-fold.

"They wanted to get the ISS crew member's name onto the patch but without having a tab as with prior patches," Gagnon explained. Earlier insignia attached a tab to the bottom of the patch with the name of the astronaut riding with the crew to serve aboard the ISS. For the STS-126 crew, that was to be Expedition 18 flight engineer Sandra Magnus.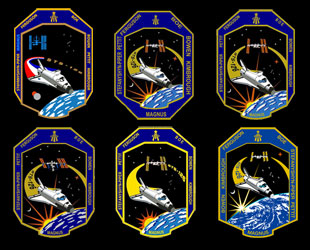 Taking direction from the crew, Gagnon and Cartes refined the STS-126 patch. Lower right: their last artwork. Click to enlarge.
The other concern was already name-inspired.

"One of the other challenges is getting all the names onto the patch," observed Boe.

Most of the astronauts' names, like Boe's, are short. The commander is Chris Ferguson and mission specialists include Steve Bowen, Shane Kimbrough and Don Pettit.

And then there's STS-126's lead spacewalker Heidemarie Stefanyshyn-Piper.

"It made it an interesting challenge," Boe admitted.

The emblem's other elements fell into place more easily. The white and red stars were adapted from Gagnon's first proposal to the crew.

"Orion on the patch is showing our future, where we are going next. There is a red star representing Mars," stated Boe.

The rising Sun was at the suggestion of the commander, in a reference to his previous spaceflight.

"The rays of the sun were a contribution from Ferguson," Gagnon described. "He wanted the rays exploding over the horizon, pretty much like they did on the 115 patch."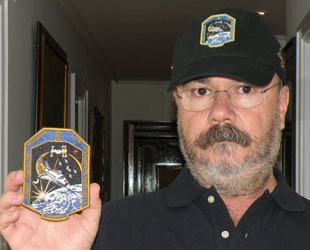 Jorge Cartes displays his and Gagnon's patch. Click to enlarge.
Ultimately the experience designing the patch, which took about two and a half months in late 2007, was enjoyable for all involved.

"It was interesting having them help us out making some of the choices," praised Boe of Gagnon and Cartes. From their perspective, the patch captured their excitement to have a hand in its creation.

"I love this patch, and I think it has a nice combination of colors and ideas for the present mission and for the future of the human exploration of space," expressed Cartes.

And as much as they were looking forward to seeing it in space, they are also eager to see its return from orbit.

"I asked the crew to fly patches for us, but I don't know if they did," revealed Gagnon. "I hope they did."

"We have some patches [on-board Endeavour]," Boe told collectSPACE, "and they will get some patches as well."