April 19, 2017
— The daughter of a veteran astronaut and an experienced fighter pilot have been announced as the finalists in a privately-conducted search for Germany's first woman to fly into space.

Insa Thiele-Eich, a meteorologist and daughter of German astronaut Gerhard Thiele, and Nicola Baumann, a German united armed forces fighter pilot, were presented in Berlin on Wednesday (April 19) as the candidates for a privately-financed, ten-day flight to the International Space Station. In the course of their training over the next two years, one of the two women will be selected to launch to the orbiting laboratory, with the other serving as her backup.

"Germany sends two outstanding women into the training as an astronaut," said Brigitte Zypries, Germany's Minister for Economics and Energy, in a statement. "They are good role models to inspire other young women."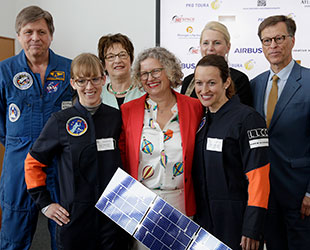 Die Astronautin finalists Insa Thiele-Eich and Nicola Baumann with jury members, including astronaut Ulrich Walter.
(Die Astronautin)
Thiele-Eich, 33, and Baumann, 31, were chosen as part of "Die Astronautin" ("The Female Astronaut") a campaign by the aerospace recruitment agency HE Space launched in 2016. A jury panel, including former German space shuttle payload specialist Ulrich Walter, selected the finalists from a pool of six candidates who had been chosen out of more than 400 applicants, in part based on medical screenings conducted by Germany's space agency, DLR.

"I am proud we were able to accompany this project with our scientific expertise," Pascale Ehrenfreund, chair of the DLR executive board, said in a statement. "More women in space travel, we all want that."

After the U.S. and Russia, Germany is tied with China for having sent more of its citizens into orbit than astronauts from any other country, a total of eleven since 1978. All of the German space travelers, and a twelfth now in training, have been men.

Thiele-Eich and Baumann are expected to start training on a part-time basis later this year.

A science coordinator at the Meteorological Institute of the University of Bonn, Thiele-Eich said earlier that her father, who flew on NASA's space shuttle Endeavour in 2000 on a NASA-DLR radar topography mission, did not take part in her application. The only advice that Gerhard Thiele gave his daughter was to "stay calm and have fun," Thiele-Eich told collectSPACE in March.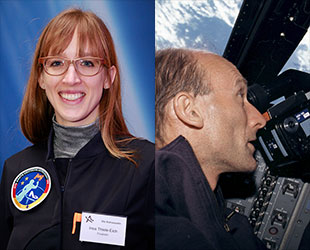 Die Astronautin finalist Insa Thiele-Eich is the daughter of German astronaut Gerhard Thiele, pictured here at right on board the space shuttle Endeavour in 2000.
(Die Astronautin/Klampäckel / NASA)
"It's an overwhelming feeling," said Thiele-Eich after being announced on Wednesday, according to Deutsche Welle, Germany's public international broadcaster. "It will take a bit to really sink in."

"This is a gigantic moment," said Baumann, "my childhood dream come true."

Baumann was already "mentally preparing" her application for the next European Space Agency astronaut recruitment when the Die Astronautin search was announced, she told collectSPACE in March. As a Bundeswehr pilot based in Nörvenich, near Cologne, Baumann said she was eager to "learn, understand and actually fly a spacecraft."

By launching either Baumann or Thiele-Eich to space, HE Space aims to inspire German women and girls to pursue technical professions and to study science. The campaign also intends its crew member to conduct experiments on the space station to add to the investigations about how the female body reacts in microgravity.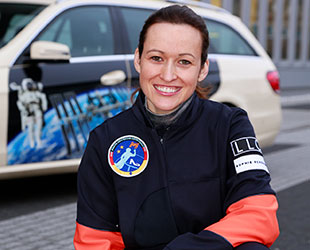 Die Astronautin finalist Nicola Baumann.
(Die Astronautin)
For either finalist to launch, Die Astronautin will need to seek funds from the public and from commercial sponsors. A crowdfunding campaign launched in March has to date raised just over half of its 50,000 euro (about $54,000 US) goal to support the project's training program.

The campaign has received in-kind backing from Nike and hopes for support from the German government, DLR and ESA.

"When we started this more than a year ago, many people doubted whether we would find a suitable candidate at all. Today, I can say we even have two," said Claudia Kessler, CEO of HE Space. "Insa Thiele-Eich and Nicola Baumann are highly qualified women with strong personalities. We look forward to training the two as astronauts."

"This brings us a big step closer to our common dream of a German Astronautin," said Kessler.

For more information, see the Die Astronautin website.