Full Coverage: everQuest Soyuz chute bags
Article index:
---
Space case for iPods and cell phones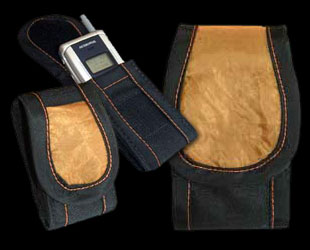 February 1, 2005 — About the only place today you can't spot an Apple iPod is on the International Space Station. Its therefore fitting that if the digital music player couldn't go to space, everQuest Design would bring space to the iPod... or at least its carrying case.

Adapting their Soyuz parachute-constructed messenger bags first introduced in April 2004, everQuest is offering smaller size holsters and cases specifically designed for cell phones, PDAs, digital cameras and yes, even iPods.

Like their larger cousins, the new compact Soyuz series features swatches of space-flown parachute that returned astronaut Michael Foale and cosmonaut Alexander Kaleri from the ISS to terra firma. Black Cordura nylon exteriors and soft black cotton-nylon linings insure your device has its own safe touchdown.

EverQuest is selling two models: a cell phone holster and a wider e-device case. Both the holster and case are held closed with velcro; the case also has elastic side panels for a snug fit. Each ships with a Certificate of Authenticity signed by Kaleri testifying to the origin of the well-traveled front flap material.

Both models are available for order through buySPACE or everQuest's website for $25.00 each.


---
From space to shoulder in four months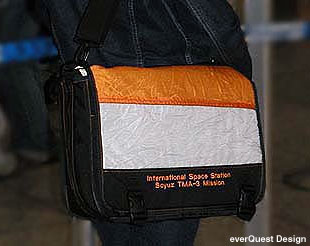 August 30, 2004 — Less than two weeks after Canadian bag manufacturer everQuest Design introduced their line of messenger bags featuring front panels of space-flown fabric, the Russian Soyuz TMA-3 spacecraft returned to Earth from the International Space Station with ISS Exp. 8 crewmembers Michael Foale and Alexander Kaleri, as well as European Space Agency astronaut André Kuipers on April 30, 2004.

The spacecraft, along with Foale and Kaleri, had been in orbit for 195 days. Easing their return to the ground, was a 117-foot diameter orange and white parachute that was very similar to the one used 14 years earlier on Soyuz TM-8, which everQuest Design had acquired and adapted for their first series of messenger bags' front flaps.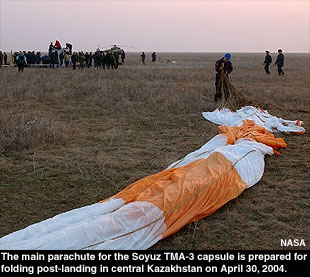 Their bags popular with collectors and laptop users alike, everQuest Design saw the potential to expand their line and sought to acquire the TMA parachute. Working with cosmonaut Kaleri, their new International Space Station series includes a certificate of authenticity signed by the ISS Expedition 8 flight engineer.

The new bags, released four months to the day since the parachute used to make them returned from orbit, uses a new expandable shoulder bag design as compared to the earlier Soyuz bags. Each has a removable padded laptop compartment, like the previous series.

The International Space Station Soyuz TMA-3 bags are available beginning today for $225 (US) each.

collectSPACE readers following this link to everQuest Design's website can receive free shipping on orders for the new ISS Soyuz TMA-3 series bags. They may also be ordered beginning today through buySPACE.


---

everQuest debuts Soyuz chute bags

April 19, 2004 — Your relic may be slighly scratched or discoloured. Do not worry. This can happen when a large piece of cloth is used to slow down the fall of a 17,000-lbs steel capsule! - excerpt from the letter accompanying everQuest Design's Messenger Laptop Bag.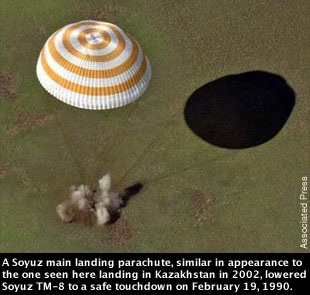 On February 19, 1990, cosmonauts Aleksandr Serebrov and Aleksandr Viktorenko departed the Mir Space Station aboard Soyuz TM-8 to return to Earth. The two had lived in space for nearly half a year, since launching inside the same Soyuz in September 1989. After reentering into the atmosphere, a pressure switch triggered the sequential deployment of two drogue chutes leading to the release of a braking (or drag) parachute. At approximately five miles altitude, the main landing parachute unfurled, slowing Serebrov's and Vitorenko's descent to 26 feet per second. At 6.5 feet above the ground, engines fired and the Soyuz reconnected with the ground with a thud.

Both cosmonauts would go on to fly other missions. Their TM-8 capsule was destined for display or storage.

But what was to become of the 117-foot diameter, orange and white, Soyuz TM-8 main landing parachute? For Canadian entrepeneur Jean-Luc Marcoux the answer was obvious: make bags.

Marcoux had founded everQuest Design to market sports bags constructed in part from sail material removed from an America's Cup-winning yacht when through a Russian friend he made contact with Serebrov. The four-time flyer, twice-Mir resident had held onto the parachute from his 166-day TM-8 mission.

Marcoux saw the potential and his company's second line of artifact-themed bags entered production.

For Marcoux, his bags are more than a simple means to carry laptop computers or other accessories.

"This is not about a brand of bags but rather a piece of the story, the adventure," explains Marcoux in a letter to his customers. "This is a bag with a soul, a memory, and a piece of something significant simply for you or maybe for humanity."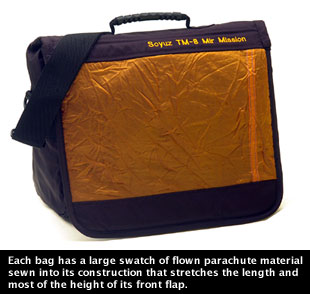 EverQuest Design's "Soyuz TM-8 Space Mission" series features waterproof black nylon-twill messenger bags in two sizes: laptop and "big". Each bag has a large swatch of flown parachute material sewn into its construction that stretches the length and most of the height of its front flap. Embroidery near the bag's handle reads "Soyuz TM-8 Mir Mission", hinting to others that the bag is not just another fashion-driven design.

That said, there is something chic about owning a bag that is unique, as no two are exactly alike.

"No bag can be identical. No bag has a similar piece cut from a relic. Some bags may have a piece with stitches, slightly distressed or damaged from earth orbit re-entry for instance," describes Marcoux.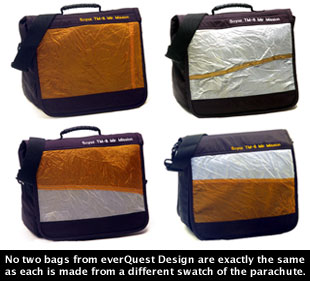 According to Marcoux, he designed the bag specifically so the space flown material could be touched. The parachute swatch is therefore exposed to the elements.

"Remember that the landing parachute withstood a lot more than the mere carrying around through airports and train stations," reminds Marcoux.

Even so, the bags are designed to withstand the abuse of travel. Fully waterproofed and secured with dual quick-release buckled straps, the interior of each bag is padded to protect its contents.

The 12 inch by 15 inch by 5 inch wide "Laptop Bag" also features a removeable, padded computer compartment. The "Big Messenger" bag expands by a zipper from five inches wide to seven. Both models include inside front mobile-phone and PDA pockets and a detachable 2-inch shoulder strap.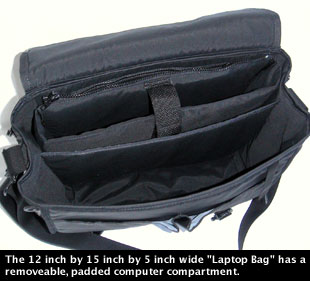 Each Soyuz TM-8 bag is accompanied by a certificate of authenticity signed by Serebrov attesting to the source of the parachute material.

Though everQuest plans to offer their bags through select retailers, they are available now for direct order through the company's website. Order selection is made by both size and parachute swatch color.

Color choices include solid orange, white, or both orange and white. Regardless the details however, all bags cost $225 (US) each.

"The relics are unique materials in limited quantities and the number of bags made from a specific relic is limited," closes Marcoux in his letter.

"The Soyuz Series will not be duplicated and no other bag will be made, ever."

© 2022 collectSPACE.com All rights reserved.
Questions? E-mail contact@collectspace.com



advertisement