April 17, 2020
— Ever since LEGO released spacesuit-clad minifigures in 1978, many of the building brick toy's loyal fans have been space fans and many space fans have become LEGO fans. Now, the two fandoms have been captured in one new minifigure.

The "Space Fan" is one of 16 limited edition characters being released on Sunday (April 19) as part of the 20th series of LEGO Collectible Minifigures.

The Space Fan is a female minifigure who displays her passion for both LEGO and space with the clothing she wears. Her red ball cap has the word "SPACE" imprinted across its front, with the "A" replaced by a five-pointed star. Her grey and white raglan baseball shirt features an image of the "Space Transport," one of the first Classic Space theme LEGO sets released in 1978.

The Space Fan even has on a pair of space pants decorated with patches in the shape of a star, a heart and a ringed planet.

Her wardrobe aside, though, what really sets the Space Fan apart from being just another spacey-dressed minifigure are her accessories. Included with the figure are the Space Fan's blueprints for building a model rocket, a wrench to help do so and the rocket itself! The red and white booster has four fins, a nose cone and is emblazoned on its side with NASA's logo (affectionately known as the "meatball").

Like the other LEGO Collectible Minifigures in this and previous series, the Space Fan comes randomly packed in a mystery bag — you will not know which figure is inside until it is opened. Each package retails for $4.99.

Other minifigures in the 20th series assortment include a Sea Rescuer, a Drone Boy, a Viking and a Lama (Llama) Costume Girl.

The Space Fan is not the first space-related, limited edition minifigure. Previous releases have included a Spaceman (Series 1), a Space Alien (Series 3), a Space Villain (Series 3), an Intergalactic Girl (Series 6), a Galaxy Patrol (Series 7), an Alien Villainess (Series 8), an Alien Avenger (Series 9), a Space Miner (Series 12), an Alien Trooper (Series 13), an Astronaut (Series 15), a Retro Spaceman (Series 17), a Rocket Boy (Series 17) and a Galactic Bounty Hunter (Series 19).

Separate from the series' figures, the classic LEGO space minifigure has been the mono-color spaceman (or astronaut). The original color spacesuits, red and white, were first introduced in 1978. Later colors included black, blue, yellow, green and pink. (In October, DK will publish a revised edition of its book "LEGO Minifigure: A Visual History," which will include an exclusive orange spaceman.)

The Space Fan is only the third LEGO minifigure to include a part decorated with the NASA insignia after the Apollo astronauts included with the 2003 Discovery Channel co-branded Lunar Module and the 2019 NASA Apollo 11 Lunar Lander. The minifigures included in the 2017 LEGO Ideas "Women of NASA" set omitted use of the space agency's emblem despite its name being in the title.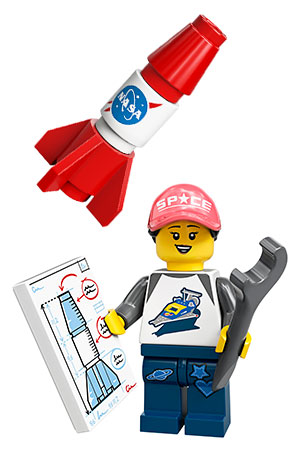 The Space Fan in the 20th series of LEGO's Collectible Minifigures includes a rocket emblazoned with NASA's logo. (LEGO)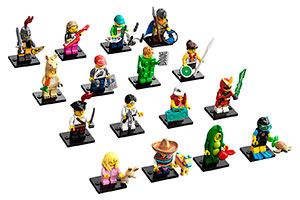 The 20th series of LEGO Collectible Minifigures will be released on Sunday, April 19, 2020. (LEGO)