April 14, 2015
— The launch of a SpaceX Dragon cargo spacecraft Tuesday (April 14) means that the International Space Station is now just days away from receiving a long desired addition for its crew: a real coffee machine.

The ISSpresso, a commercially-designed espresso maker flying on behalf of the Italian Space Agency, is among the 4,300 pounds (1,950 kilograms) of supplies and payloads the Dragon is delivering to the orbiting outpost. The flight is SpaceX's sixth space station resupply run flown under a $1.6 billion NASA contract.

The Dragon lifted off at 4:10 p.m. EDT (2010 GMT) atop a SpaceX Falcon 9 rocket from Space Launch Complex 40 at Cape Canaveral Air Force Station in Florida. After a 10 minute ascent to orbit, the Dragon capsule separated from the Falcon's second stage and deployed its solar arrays to begin the two-day rendezvous with the space station.

The unmanned, gumdrop-shaped freighter is scheduled to arrive at the orbiting laboratory on Friday morning. There, Italian astronaut Samantha Cristoforetti will use the space station's robotic arm to capture the Dragon and berth it to side of the Harmony module.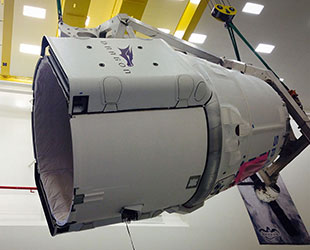 SpaceX's CRS-6 Dragon is seen being mated to a Falcon 9 rocket for launch. The capsule displays SpaceX's new Dragon logo on the panels covering the spacecraft's solar panels.
(SpaceX)
The station's Expedition 43 crew will then spend the next five weeks unpacking the Dragon of its supplies and then reloading it with more than 3,000 pounds (1400 kilograms) of science results, spent equipment and refuse to return to an ocean splashdown and recovery on Earth.

Caffeinated cargo

Less than a month into their stay, the first crew to take up residency onboard the International Space Station in 2001 made an important observation about their new home.

"[The station] really needs a 'coffee-barka' (translation — coffee locker) somewhere onboard," Bill Shepherd, NASA astronaut and Expedition 1 commander, wrote in the ship's log, noting that he and his two cosmonaut crewmates had run out of their initial supply of the caffeinated beverage.

For almost 15 years, the outpost's crews have made due drinking instant coffee. With the space station now home to its first yearlong residents, the soon-arriving ISSpresso will add a comfort from home to make their stay easier.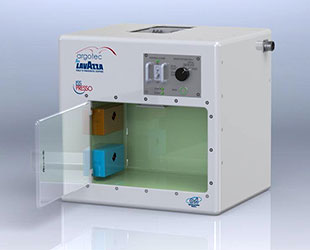 The ISSpresso space coffee machine measures 17 by 16.5 by 14 inches (43x42x36 cm) and is 44 pounds (20 kg)
(Lavazza/Argotec)
"It is kind of like the ice cream," Dan Hartman, NASA's space station program deputy manager, told reporters on Sunday. "We fly ice cream every now and then and that is just to boost spirits. Maybe on some rough day, the scoop of ice cream helps them get over that hump kind of thing."

The ISSpresso, developed by coffee retailer Lavazza and Argotec, an aerospace company that provides the space food for European astronauts, is intended to do more than just create a corner cafè to contribute to the psychological well-being of the crew, but also increase the variety of the astronauts' drinks and add to the study of fluid dynamics in microgravity.

The ISSpresso, which is a capsule-based brewing system similar to a Keurig machine, can dispense more than just espresso. It can also be used to make caffè lungo, as well as tea, hot chocolate and broth.

By design, the ISSpresso dispenses coffee into pouches that can then be sipped from using straws. Crew members however, may also drink an ISSpresso beverage using the specially-designed space cups also aboard the Dragon as part of a capillary beverage study.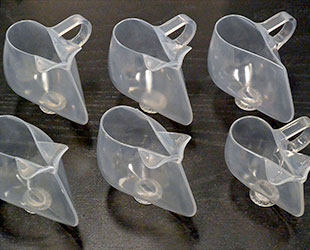 Specially-designed containers will allow astronauts to drink from cups rather than from plastic pouches.
(NASA/Andrew Wollman)
The cups use fluid properties such as surface tension to control the beverage in the cup. This test may add to the field of micro-fluidics, which has Earth-based medical and drug delivery applications.

Mice, muscles and microgravity

The 44-pound (20 kg) ISSpresso and its supplies make up only a small part of the Dragon's cargo now on its way to the space station.

The spacecraft's payload includes materials to support 40 out of some 250 science and research investigations that will occur during the station's 43rd and 44th expeditions.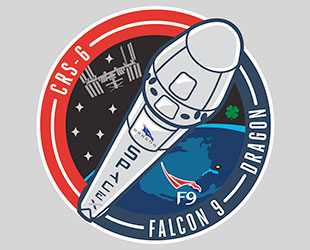 SpaceX's patch for its sixth Dragon resupply mission.
(SpaceX)
Equipment being transported will investigate new ways to possibly counteract microgravity-induced cell damage and to test a material that may one day be used as a synthetic muscle for robotics explorers of the future.

The Dragon is also carrying the station's second shipment of 20 live mice that will be monitored to better understand the effects space has on the rodents' musculoskeletal and neurological systems.

Other payloads include 600,000 tomato seeds as a part of the Tomatosphere educational outreach project and Arkyd 3, a Planetary Resources cubesat to be deployed from the station in July on a 90-day mission to test technologies for the company's planned asteroid prospecting missions.