April 6, 2016
— An astronaut who set a record for time in space has now signed on to represent the brand of luxury watches that helped track his 8,168 hours and 42 minutes circling the Earth.

Scott Kelly, who in March completed an almost year-long mission aboard the International Space Station – a first for a U.S. astronaut – was announced on Tuesday (April 5) as the new ambassador for Breitling, the Swiss manufacturer that made two of the timepieces he wore while in orbit.

"If you look at Scott's impressive career in space, you can't help but respect the longevity and duration of time he has spent in space," said Thierry Prissert, president of Breitling USA, in a statement.

Kelly, who retired from NASA on April 1, logged more than 340 days during his most recent space station expedition, setting a record for the longest single mission flown by an American. Totaling the time he spent on his four missions, Kelly tallied more than 520 days off the planet, more than any other NASA astronaut to date (Jeff Williams, currently aboard the station, will surpass that record in August).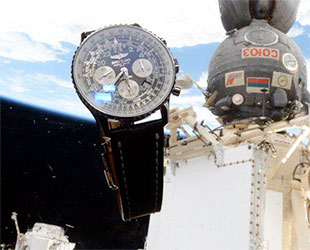 A Breitling wrist chronograph is seen floating in front of a window on board the International Space Station.
(Breitling)
During his almost year-long mission, Kelly wore an Omega Speedmaster chronograph issued to him by NASA, but he also brought with him two Breitling timepieces: a limited-edition wristwatch equipped with a calendar function and a bright yellow model outfitted with a dual frequency distress beacon.

"Breitling watches set the standard for how a chronograph should perform," said Kelly, "so when I volunteered for the yearlong mission, I needed to have my Navitimer 1461 and Emergency with me," Kelly said.

The Navitimer 1461 was gifted to Scott by his twin brother, Mark, who is also a former NASA astronaut.

During the March 2015 to March 2016 mission, Mark – on the ground – and Scott in space were the focus of a series of experiments as part of NASA's Twins Study.

With the newly-announced Breitling partnership, the Kellys now share something else in common.

"Being close to my brother, Mark, who is [also] a Breitling Ambassador, I have become familiar with Breitling, so I am really excited to be joining the Breitling family," Scott said.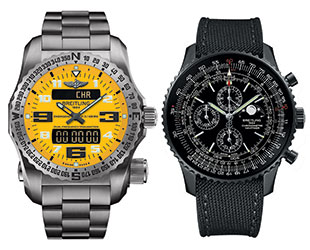 Breitling Emergency and Navitimer 1461 Blacksteel model watches as worn by Scott Kelly on his yearlong space mission.
(Breitling)
Breitling's association with astronauts extends beyond the Kellys, dating back to the fourth American in space.

In 1962, Scott Carpenter wore a Breitling Navitimer on his orbital mission aboard the Mercury space capsule "Aurora 7," making that timepiece the first wrist chronograph to be worn by a U.S. astronaut in space.

Back on Earth, Carpenter's fellow Mercury astronaut Wally Schirra and moonwalker Buzz Aldrin also sported Breitling watches as personal timepieces after they left NASA.

Scott Kelly said that it was the quality and precision of the watches that drew him to wear and partner with Breitling.

"As the commander of a mission to the International Space Station, I rel[ied] heavily upon my instruments to perform in pressure-packed circumstances," Kelly said. "Their tireless effort to be at the cutting-edge of chronograph production is pretty remarkable."