NASA has its Hubble cake, can't eat it too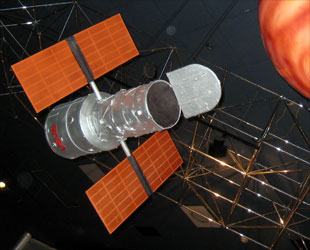 No mere model: Hubble Telescope as created by Charm City Cakes hangs at NASA (Credit: Dave Mosher / Discovery Space)

April 6, 2009 — In May, NASA will launch a mission to service the Hubble Space Telescope.

On Saturday, the space agency's goals were only slightly different: to serve the Hubble Space Telescope.

A cake, crafted to look like the orbiting observatory by the bakers behind the Food Network reality show "Ace of Cakes", was unveiled at the Goddard Space Flight Center during a party that celebrated humanity's achievements in space, as well as the Greenbelt, Maryland-center's 50th anniversary.

"Everybody knows Hubble"

"I thought it would be really neat and it would enhance our Yuri's Night event if we had such a spectacular creation," explained Amy Pruett, a public affairs officer at Goddard who, as a personal fan of "Ace of Cakes" had the idea to arrange for the Hubble-themed dessert.

Pruett, who grew up watching her mother decorate cakes, told collectSPACE that she called the Baltimore-based Charm City Cakes, which is the focus of the reality show.

"I called Mary Alice," recalled Pruett, referring to Charm City's office manager Mary Alice Yeskey. "She said that 'We've always wanted to work with NASA, and we'd love to work with you guys,' so we set up a meeting."

Pruett and a co-worker met with Chef Duff, a.k.a. Jeffrey "Duff" Goldman, who founded the cake shop in 2000.

"He is clearly a bit of a nerd himself, a little science nerd," offered Pruett. "He loves NASA, so it just worked."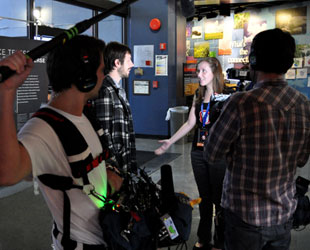 Amy Pruett welcomes Charm City Cakes' Geof Manthorne to Goddard Space Flight Center (Credit: Ed Campion / NASA GSFC)

Though Pruett had Hubble first in mind, she was open to other ideas given the scope of the space center's work.

"Our employees work on a lot of different NASA research satellites, whether it is building it themselves or designing and building instruments to go on NASA satellites," she said. "But Hubble, of course, everybody knows Hubble."

The nearly two-decade old space telescope, which is famous for both its imagery of the universe and its ability to be upgraded by astronauts, is managed and controlled from Goddard. The center is currently overseeing the preparations for the May 12 launch of the fifth and last servicing mission scheduled before the space shuttle is retired in 2010.

The upcoming STS-125 mission inspired Pruett to offer Hubble as the cake's theme, which Goldman embraced.

"When I brought [Hubble] up to Chef Duff, he immediately ran with it," said Pruett.

Launching the Hubble cake

"The cake is a 2.5 foot Hubble, like a creative model of the Hubble Space Telescope, and then it is looking at a Jupiter model with its moons around it," Pruett described before the unveiling Saturday night.

Appropriate for its subject, the cake was suspended from the ceiling of Goddard's visitor center, where it will remain on exhibit above other Hubble-themed displays.

The cake's long shelf-, or roof-life is a credit to its recipe.

"It's styrofoam," revealed Pruett, explaining they also had sheet cake to serve to the party goers. The non-cake, or "dummy" cake, is not uncommon among "Ace of Cakes" orders, given the desire by customers to preserve the art.

"So, it is something everyone can enjoy rather than just those who attend Yuri's Night," explained Pruett.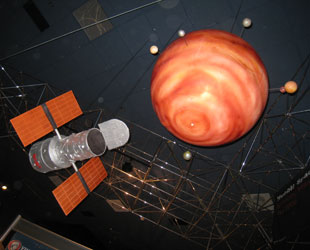 For those who couldn't make the party or get to Goddard, the Food Network filmed the cake's "launch" for a future episode of "Ace of Cakes".

A Charm City representative was unavailable to comment as the network has a policy of reserving details until after the episode has aired.

Customers, in this case NASA and the non-profit Space Generation Advisory Council, which provided the funding for the cake, spoke to collectSPACE to spread the word about Yuri's Night.

Although Goddard's party was held April 4, Yuri's Night is an annual worldwide celebration of the anniversary of the first human space flight on April 12, 1961 by cosmonaut Yuri Gagarin. The day, which this year will be marked by over 170 parties in 41 countries on six continents, is also the anniversary of the first space shuttle launch in 1981.

Goddard's party, which also celebrated 50 years since the center was founded, featured beats spun by DJ Scientific and music by regional rock band Middle Distance Runner.

"Ace of Cakes" is not the first reality show to incorporate NASA. Discovery Channel's "American Chopper" focused on a Space Shuttle Tribute Bike in two episodes aired in 2005. "Mythbusters," also on the Discovery Channel, put the idea that NASA faked the moon landings to shame in August 2008.

"It's another way for folks to hear about us," said Pruett. "So, people who are into just art and cakes, and indeed reality shows, will hear about us and learn in a way they might not have otherwise."

For more information about Yuri's Night, see this website.

© 2023 collectSPACE.com All rights reserved.
Questions? E-mail contact@collectspace.com