April 2, 2014
— NASA has halted all communication with its counterparts in Russia — with the notable exception of still jointly operating the International Space Station — in response to Russia's conflict with the Ukraine.
"Given Russia's ongoing violation of Ukraine's sovereignty and territorial integrity, NASA is suspending the majority of its ongoing engagements with the Russian Federation," a NASA statement issued on Wednesday evening (April 2) explained. "NASA and Roscosmos will however, continue to work together to maintain safe and continuous operation of the International Space Station."
The public statement was released following the leak of an internal agency memo that directed all NASA contact with the Russian government be suspended.
The suspension includes NASA travel to Russia and visits by Russian government representatives to the U.S. space agency's centers and facilities, bilateral meetings, e-mail, and teleconferences or videoconferences, according to the memo by NASA's associate administrator for international and interagency relations, Michael O'Brien.
"At the present time, only operational International Space Station activities have been excepted," O'Brien wrote.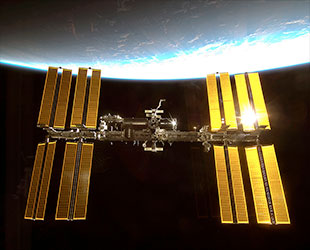 The International Space Station as seen in 2010 backdropped by the Earth's horizon and blackness of space. (NASA)
The new policy also permits NASA employees to continue attending meetings where representatives of the Russian government may also be present, but only if the meetings are held outside of Russia.
Former space race rivals, the U.S. and Russia — together with Canada, Japan and Europe — have worked together to assemble and operate the space station for more than 15 years. Astronauts and cosmonauts have continuously crewed the orbiting laboratory since November 2000.
For the past 13 years, American astronauts have flown to and from the station on board Russian Soyuz spacecraft, which also serves as the outpost's lifeboat. When the U.S. retired its space shuttle fleet in 2011, the Soyuz became the only means for NASA crew members to
launch to and land from the space station
.
"I think people lose track of the fact that we've occupied the International Space Station for 13 consecutive years uninterrupted and that's been through multiple international crises," NASA Administrator Charles Bolden said during a press briefing on March 4. "I don't think it's an insignificant fact that we're starting to see a number of people with the idea that the International Space Station be nominated for the Nobel Peace Prize. It is not trivial. It has continued to exist and continued to function with people from a variety of cultures and beliefs."
The
International Space Station
requires both NASA and Roscosmos crew members, as well as flight controllers, to operate, a fact Bolden said precluded Russia from cutting off U.S. access to the complex.
"Because we provide navigation, communications, power," Bolden told members of Congress during a hearing before a U.S. House of Representatives subcommittee on March 27. "The partners would probably have to shut the space station down. If you're thinking the Russians will continue to operate the space station, it can't be done."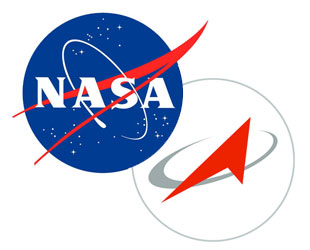 NASA and Roscosmos space agency logos. (NASA/Roscosmos)
Though the change in policy still allows NASA to continue working with Russia to
support the space station
, the U.S. agency hopes in the near future to use privately-designed spacecraft to ferry astronauts to and from the outpost.
"NASA is laser focused on a plan to return human space-
flight launches to American soil, and end our reliance on Russia to get into space," NASA said in its April 2 public statement, also noting that if Congress had fully funded its commercial crew plans, then the flights could have begun next year. "We are now looking at launching from U.S. soil in 2017."

Currently, the International Space Station is staffed by the Expedition 39 crew, including Rick Mastracchio and Steve Swanson with NASA, Japan's Koichi Wakata and Russia's Alexander Skvortsov, Oleg Artemyev and Mikhail Tyurin.

Miriam Kramer with Space.com contributed to this article.