Astronauts home after 'good work' in space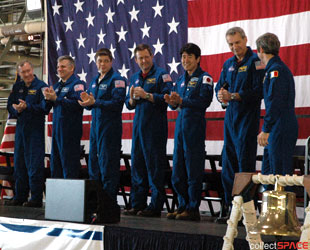 The crew of space shuttle Endeavour applauds as space station astronaut Leopold Eyharts joins them on stage.

March 28, 2008 — The crew of the longest space shuttle mission to the International Space Station returned home to Houston on Thursday afternoon, the day after touching down in Florida, making the 16th night landing at Kennedy Space Center. Arriving at Ellington Field in Texas, the six shuttle astronauts and a former station resident were met by hundreds of their co-workers from at least four national space programs, underscoring the international goals that their mission accomplished.

"The exciting moment in space for me was to raise the Japanese module Kibo from the payload bay using the shuttle robotic arm and also to see the module flying over the Earth," said Japan Aerospace Exploration Agency (JAXA) astronaut Takao Doi, addressing the crowd that had assembled in a hangar. "This was showing the new era of the Japanese space program. That was a fantastic moment, not only for me, myself, but also for Japan."

The Japanese logistics module was the first of three ISS components built by the 'rising sun' nation to be launched and its addition marked the first time that all 15-partner countries were represented by hardware comprising the orbiting outpost. Shuttle Endeavour's STS-123 crew also installed the third and final element of a robotic servicing system provided by Canada.

The international aspects to the mission extended to the astronauts. In addition to Doi, European Space Agency (ESA) astronaut Leopold Eyharts returned on Endeavour after having spent a month and a half aboard the station.

"It has been a relatively short mission, I think I broke the record of the shortest long duration mission in the history of manned space flight," joked Eyharts. "It is still hard for me to believe it was true."

Regardless of their different nationalities, the crew came together to work as a team.

"When I was a kid, I remember watching a movie called 'The Three Musketeers' where it was 'one for all and all for one'. I truly can say that it is the seven of us on this crew who were one for all and all for one," shared spacewalker Rick Linnehan. "If it wasn't for that I don't think we would have been as successful as we were."

STS-123 commander Dom Gorie highlighted his crew's teamwork while describing their approach to the station. Just before starting a 360-degree flip with the orbiter, a laser-guided trajectory system failed, which required his crew to take action.

"Watching these guys was really impressive," praised Gorie. "Nobody lost their cool. It might have looked liked bedlam from an outside observer but the information that was flowing to us at the flight controls was remarkable."

"It was symbolic of how they worked together and we worked like a team. I think everyone has seen our crew picture, we have our hands together and that's how we flew this whole flight, with our hands together," observed the commander.

Three members of Gorie's team made their first flight on STS-123.

"This 16-day mission was a string of a whole bunch of events that are Kodak memories in my mind," said pilot Greg "Box" Johnson, "but I remember strapping in in the White Room, getting the final preparations before going into the orbiter and I had confidence, a little intimidation and maybe a little bit of nervousness. I strapped in and then got kind of relaxed until the clock got to about one minute."

"Then I started looking and went, 'Oh, we're going to go do this!' and then I realized I was a little more intimidated than I expected. No training over the last 10 years would have really prepared me for the next moment when the solids lit and the orbiter jumped off the ground like a wild animal, but that eight and a half minutes was intense," he recalled of the launch, his first.

"I'll add my wow," said mission specialist Mike Foreman. "This is something I've wanted to do all my life, it seemed like a long wait at times. Being here in the astronaut office for almost ten years before getting a chance, I'll say right now, it was worth every minute of the wait. It was just great, fantastic."

Though training may have been unable to ready them for the launch, it had prepared them for other sights they encountered during the mission explained Bob Behnken.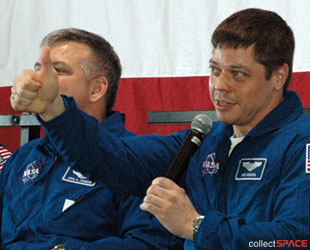 First time flyer Bob Behnken, sitting between his fellow rookies Greg Johnson and Mike Foreman, recreates the 'thumbs up' he gave during their launch.

"We were opening the hatch to go into the space station and initially taking care of all the things you need to do to make that happen just felt so familiar based on all the great training and all the great mock-ups that we actually have here at JSC and all the folks that put that together."

"It just felt like a home away from home because we had seen it so many times," said Behnken.

Now back at home, each of the crew thanked the people that made their mission a success, including their family.

"The most important are my family sitting right out front, right here," said Gorie, choking up. "We went around the planet a few times, but you're my world."

The commander also looked to his crew, crediting them for their "good work".

"In the book Ecclesiastes, chapter two, there's a verse that says, 'There's nothing better for man to do than to eat, drink and know that his work is good.' Well, I've eaten more than I wanted to of M&Ms -- I never thought I would ever say that. I've drank more bags of those little silver water and tropical fruit punches than I ever want to see in a while. But I do know that our work was good."

"And it was good because of these [six] guys on the end of this row here, and a couple that we left on the space station," stated Gorie. "They made my work, my job, so easy, the commander just gets to sit in his chair, in his little chiefdom, and just watch everybody do work. And it was incredibly awarding to watch these guys work."

© 2018 collectSPACE.com All rights reserved.
Questions? E-mail contact@collectspace.com