March 22, 2010
— Buzz Aldrin, whose footsteps 40 years ago became an iconic photograph representing mankind's first journey to another celestial body, will trade tonight his moon boots for dancing shoes as he competes on ABC's reality TV show, "Dancing with the Stars."
---


[3/23] Update: Buzz Aldrin moonwalks in "Dancing" debut




[3/30] Update: Aldrin risks elimination as score 'craters'




[3/31] Update: Space fans save Aldrin from elimination




[4/07] Update: Aldrin gets the moon-boot on "Dancing"
---
The 80-year old astronaut, who walked on the Moon during NASA's first lunar landing mission, Apollo 11, will face an eclectic mix of television and sports personalities on the dance floor. Among his competition are actresses Pamela Anderson and Shannen Doherty, Olympic figure skating champion Evan Lysacek, and reality show mother-to-eight Kate Gosselin.
That Aldrin is considerably older than his ten competitors however, doesn't mean he hasn't the 'right stuff' to dance circles -- or more appropriately, orbits -- around them.
"I wouldn't have gotten into the space program if I wasn't competitive," said Aldrin in an interview with Space.com.
But Aldrin is also aware of his limits.
"I'm not known for that agility," Aldrin said, referring to his prior dance experience of Arthur Murray classes and West Point formals in his youth. "I am one of those people who need continued exposure. Whether it's flying a spacecraft or trying something out on the dance floor, it takes a while to really get comfortable with it."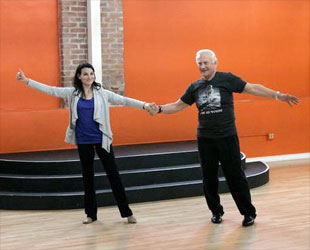 Ashly DelGrosso-Costa and Buzz Aldrin practice together for their "Dancing with the Stars" debut dance. (ABC)
"It certainly is not a piece of cake," added Aldrin during an interview with The Record, a newspaper covering northern New Jersey, including the town of Montclair where Aldrin was born. "The physical conditioning of NASA astronauts was a surprise to me in that it was not regulated, it was not real aggressive, it was just left up to the individual," Aldrin recalled. "But certainly the training for 'Dancing With the Stars' is much more precise, much more obvious, when you're receiving the instruction and learning and confidently enjoying demonstrating this to the public."
It is that confidence, said Aldrin, that he'll need to prevail.
"When I prance out there with the cha-cha step, I've got to be filled with far more confidence than I was when we began to land on the moon," Aldrin told CNN on Friday.
Odds of 'mission' success
Aldrin, who the show paired with 27-year old professional dancer Ashly DelGrosso-Costa, had the choice between the Cha Cha or Viennese Waltz for his first dance.
"It's not so easy when things are rapidly moving," Aldrin told the Associated Press. "I enjoy the slower music that I'm very familiar with the words and know what's coming next."
What's coming next for Aldrin, should he not be voted off the show, are ten weeks of ballroom dance routines set to popular music as played by a 17-piece orchestra. Each week, the show's judges Len Goodman, Bruno Tonioli and Carrie Ann Inaba will share their critiques of the dancers before viewers cast ballots for their favorite by phone, text message and the web.
So what are the odds of Aldrin winning?
The Bodog Sportsbook, a betting site, has assigned 40 to one odds that Aldrin will take the Mirror Ball Trophy, tying him with comedian Niecy Nash as the longshot. The site's favorite to win is Lysacek.
For his part, the gold-medal-winning figure skater isn't so sure people should count Aldrin out.
"This dude, for an 80 year old -- he could probably bench- press me if he wanted to," Lysacek told host Billy Bush on the television show Access Hollywood.
Lysacek's long-time figure-skating rival is also pulling for the former moonwalker.
"I'm really looking forward to Buzz Aldrin," Johnny Weir said in an interview with E! Online. "I just feel it's going to be amazing to watch his transformation from an astronaut to a dancer."
Aldrin is also the favorite of MTV, which for years has had a connection with the moonwalker through their use of his image on the Moon in advertisements and as the basis for their Video Music Award Moonman trophy.
"There's no doubt about it: We desperately want Buzz Aldrin to walk away victorious," Kyle Anderson wrote on MTV's Newsroom website. "We hope that he conquers the TV dancing world."
Even "Dancing with the Stars" host Tom Bergeron is said to be excited by the astronaut's presence on the show.
"I can't wait to meet him," he told the Seacoast Media Group. "How many times do you get to sit down next to somebody and go 'So, when you stepped on the moon...'."
Dancing his way to Mars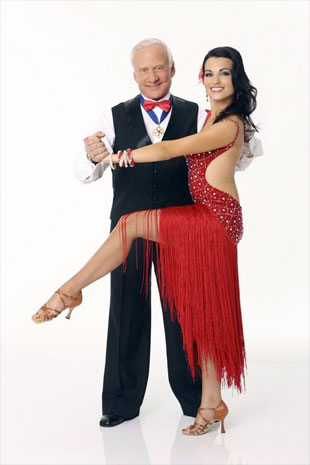 A promotional photograph captures "Dancing with the Stars" partners Buzz Aldrin and Ashly Costa mid-dance. (ABC)
Whether Aldrin lasts the full ten weeks or his first dance is also his last, he may be measuring his success differently than will the other contestants.
"Until there's a spectacular success or failure, the space program is not on everyone's lips," Aldrin told Space.com. "Dancing with the Stars" has "a very large audience of millions of followers and I felt that it would really be nice if the space program had that large an audience."
Most of Aldrin's recent efforts, from his new iPhone app to the columns he writes for the Huffington Post, have been concentrated on drawing attention to President Obama's proposal for the future of NASA and Aldrin's own ideas for how adapt that plan to sending humans to Mars and its moon Phobos.
He's even shared his vision with his dancing partner.
"I show her the latest photographs of the moon Phobos on Mars that is very, very crucial to our future as we expand outward. She's quite interested in that. That doesn't take too much time, so we move on to all of our [dancing]," he told The Record.
"Like dancing," Aldrin said in an interview with the New York Post, "there are stepping stones to space. Progress is from one step to another."
"Dancing with the Stars" two-hour premiere begins at 8pm EDT/7pm CDT March 22 on the ABC Television Network.