Astronaut Young signs with Novaspace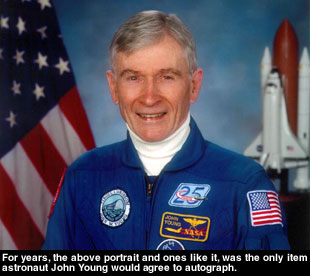 March 20, 2005 -- Apollo 16 moonwalker John Young, who also flew on the maiden Gemini and Space Shuttle missions, is set to participate in his first commercial autograph signing.

That may not sound like headline news to most, but for astronaut autograph collectors its an event that has been highly anticipated.

Long after Young's fellow Mercury, Gemini and Apollo astronauts had retired from NASA, freeing them to sign for collectors and dealers for a fee, the six-time, seven- launch veteran remained a civil servant employed by the space agency.

Astronauts, as with all federal employees, are precluded from using their position to fundraise or otherwise profit.

Perhaps extending this code of conduct, Young replied to the many who asked for his autograph that NASA did not allow him to sign. Instead, he would suggest they write to his office at Johnson Space Center and in return he would sometimes reply with a copy of his most recent astronaut portrait, personalized and inscribed.

For many years since his last flight in 1983, Young would only sign that portrait, refusing to autograph more famous shots of himself, such as an iconic photograph of him on the Moon, jumping and saluting the flag at the same time.

As a result, the demand and the prices commanded by Gemini 3, Gemini 10, Apollo 10, Apollo 16 and even STS- 1 signed photographs signed early in Young's astronaut career surpassed those autographed by his crewmates. At times, the fee paid third parties for Young's signature could rival all others.

For example, at an auction held last October in California, a signed Apollo 10 portrait and letter framed together sold for over $1400. A similar presentation of an autographed photo and letter from the flight's Lunar Module Pilot Gene Cernan sold for less than $200.

The relative high prices and the limited opportunities to obtain a free autograph left many collectors with a Young- sized hole in their collections.

Then, in December 2004, John Young retired from NASA.

Almost immediately upon hearing the news, collectors began debating if Young would sign, and if so, when and how much would he charge.

The answers came today, with the announcement from space art dealer Novaspace Galleries that they would be organizing Young's first memorabilia signing for early May and would charge a base fee of $495.

The Novaspace offer, which invites collectors to mail in photographs, books and other material for Young to sign, is the latest of similar events hosted by the Tucson, AZ, galleries. Prior astronauts to sign for Novaspace include Apollo 13's James Lovell, Apollo 17's Harrison Schmitt, Young's Gemini 10 pilot Michael Collins and his Apollo 10 LMP Cernan.

To participate in the Young signing, collectors must be invited by Novaspace by first joining their e-mail mailing list. Then, they need to download a PDF-order form that will accompany their memorabilia. All items to be signed must be received in Tucson by April 30.

The base fee of $495 will rise by $100 for items such as astronaut Alan Bean's art prints, postal covers, baseballs and for those already signed by his Gemini crewmates. The price rises by $200 for items signed by the two other astronauts on either of Young's Apollo missions. The fee drops to $395 for collectors sending books to be signed.

Other fees will be applied for inscription requests, for use of a silver or gold pen, and to have Young photographed while signing an item. Personalizations, such as "To Ben" are free of charge.

Though the actual signing at Novaspace is closed to the public, plans are in place to auction a single opportunity to spend the day with Young, with proceeds to benefit a charity. A similar, prior auction, hosted by Novaspace on their website Astro-Auction.com netted $2255 for a day with Michael Collins.

Young's achievements during his 42-year career at NASA are unmatched. He was the first human to fly in space six times and launch seven times, six times from Earth and once from the Moon. He is the only astronaut to pilot four different types of spacecraft, flying in the Gemini, Apollo and Space Shuttle programs. He was the longest serving astronaut in history.

© 2022 collectSPACE.com All rights reserved.
Questions? E-mail contact@collectspace.com