March 18, 2015
— It lasted just 12 minutes, but history's first-ever spacewalk – 50 years ago today – took the first steps towards shaping the future of space exploration.

On March 18, 1965 at 4:35 a.m. EDT (0835 GMT), Soviet-era cosmonaut Alexei Leonov became the first person to leave the confines of his spacecraft while in orbit and float in the vacuum of space. Leonov, who with Pavel Belyayev was flying onboard the former-Soviet Union's Voskhod 2, accomplished the first extra-vehicular activity – EVA, or spacewalk – on what was only the 12th piloted spaceflight in history.

"What remain etched in my memory was the extraordinary silence, my heart beating, and difficulty I had breathing," Leonov recalled five decades later in an interview with the Fédération Aéronautique Internationale (FAI). The FAI was then, and remains today, the governing body that certifies world aviation and space records.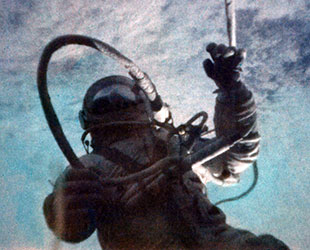 First spacewalker Alexei Leonov was attached to his Voskhod 2 spacecraft by an 18-foot-long umbilical cable.
(FAI)
Leonov's EVA did nothing more than demonstrate, barely, that such a feat was possible, but the future spacewalks it inspired — starting with the first American EVA by Edward White three months later — blazed the path for humans to walk on the moon, build and maintain space stations and service satellites and space telescopes.

Report versus reality

In his 1965 official report to the FAI, Leonov described his spacewalk to qualify for the world record.

"While performing the experiment of leaving the space-craft, working in outer space and retuning back as well as in the following flight I felt fine. I was completely sure of spacesuit high quality and had no doubt about instruments and life support systems reliability," Leonov wrote.

But what he attested was only partly true. As was learned later, Leonov's EVA began well enough but almost ended with him stranded outside his spacecraft.

"After 8 minutes of free floating I clearly felt the volume of my spacesuit changed," Leonov described, remembering the events of 50 years ago. "My fingers' tips no longer felt the glove tips, my feet were floating in my boots, but the main thing was, I was unable to reach the shutter release on my camera."

Leonov's spacesuit ballooned and stiffened, leaving him with a quandary. To re-enter Voskhod 2, he would need to gather the umbilical connecting him to the spacecraft and maneuver through the inflatable airlock extending from its hatch, an activity requiring some dexterity.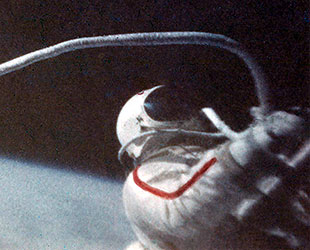 After 8 minutes floating outside Voskhod 2, Alexei Leonov began having difficulty moving as his Berkut spacesuit ballooned.
(FAI)
"How was I going to coil 5.5 meters [18 feet] of rope, one handed, with these gloves?" he thought.

As Voskhod 2 approached an orbital sunset, which would leave him in the pitch black of the Earth's shadow, Leonov made the decision to lower the pressure in his spacesuit, beyond what was considered a safe level.

"After calculating the amount of time in light and oxygen supply left, I decided to drop the pressure inside the suit ... knowing all the while that I would reach the threshold of nitrogen boiling in my blood, but I had no choice," Leonov told an FAI interviewer.

At the time, no one but Leonov knew he was letting air out of his spacesuit. He had been instructed to inform mission control outside of Moscow about his every move, but he wanted to avoid a panic and resolved that "nobody could have helped me in that situation."

The drop in pressure relieved Leonov's stress, but he still had to find his way back inside the capsule.

"Getting into the airlock was more complicated," Leonov said. "I had to turn about to be able to control locking the hatch. Performing these operations I kept constant eye on my camera to ensure it didn't exit the airlock."

Sights on a spacewalk

Leonov's full 12 minutes and 9 seconds on the first EVA was not all as tense as its final few minutes. When he first exited the airlock, Leonov was presented with a view that, up until that point in time, no other person in the world had experienced.

"The Earth is round!" Leonov exclaimed. "I saw at once the Black Sea and the Crimea Peninsula, then I turned my head to the left and saw Romania, Bulgaria and on the end I saw the boot of Italy."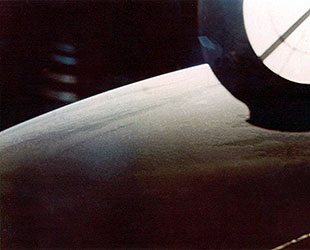 After 8 minutes floating outside Voskhod 2, Alexei Leonov began having difficulty moving as his Berkut spacesuit ballooned.
(FAI)
Leonov exited Voskhod 2 as it was beginning to fly over north-central Africa. By the time he re-entered the airlock, he was over eastern Siberia.

"By raising my head," Leonov recounted, "I saw the Baltic Sea and Kaliningrad bay, familiar to me from childhood."

All that separated Leonov's eyes from outer space was his spacesuit helmet's glass faceplate and a tinted visor.

"Stars were to my left, right, above and below me," he told the FAI. "The light of the sun, was very intense, and I felt its warmth on the part of my face that was not protected by a filter."

"The sky was black and the silence was extraordinary."

Two cameras recorded Leonov's outing. Early in the EVA, he mounted a 16mm movie camera on the airlock to film his excursion and he had a hand-held camera (which, as stated, he had difficultly operating after his suit ballooned).

Souvenirs of a spacewalk

Leonov and Belyayev returned to Earth on March 19, just about 15 minutes shy of a full day since Leonov ended his spacewalk.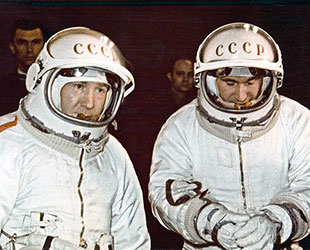 Alexei Leonov (left) and Pavel Belyayev as seen before boarding Voskhod 2 to embark on their two-day historic mission.
(FAI)
Due to difficulties getting reseated and manually initiating a retrofire burn, the cosmonauts' return was delayed by 46 seconds, which resulted in their touching down 240 miles (386 kilometers) from their intended landing site. The two therefore, had to spend the night braving frigid conditions as they waited for recovery forces to reach them.

That aside, the Voskhod 2 mission, and its history-making spacewalk, were celebrated as a success. Leonov, in his 1965 FAI report, attested that "leaving the spacecraft into outer space is quite possible and is no longer mysterious to a man."

Belyayev died five years later in January 1970, the result of complications from surgery for a stomach ulcer. He was 44.

Leonov, who was 30 at the time of the EVA, flew again as commander of the Soviet side of the 1975 Apollo-Soyuz Test Project, the first joint mission between the U.S. and Russia. Leonov retired from the Russian space program in 1982 after serving as chief of the cosmonaut corps.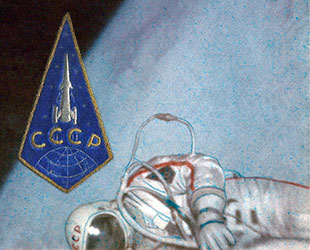 Alexei Leonov's Berkut spacesuit was adorned with the first-ever patch to be sewn to the outside of a suit.
(FAI/Spacepatches.nl)
The "Berkut" spacesuit that Leonov wore for his 12 minute spacewalk is exhibited at the museum of its manufacturer, Zvezda, near Moscow. Similarly, the Voskhod 2 capsule (with a replica of the jettisoned "Volga" airlock) is today on display at the Rocket and Space Corp. Energia's museum also in Russia.

A spacesuit and airlock that Leonov used to train for his EVA is on exhibition at the Smithsonian's National Air and Space Museum in Washington, DC. Other mockups and training suits are in museums in the U.S. and Russia.

The FAI retains the original record file prepared by Russia to certify the world's first spacewalk.

This article has been updated to correct the reason for the off-course landing of Voskhod 2.