NASA challenges kids to make space flag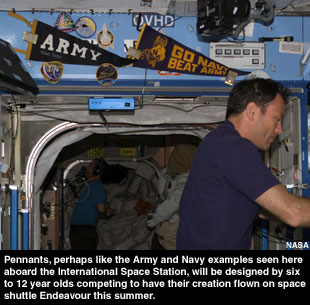 March 15, 2007 — Adorning the entranceway to the U.S. Destiny Laboratory on the International Space Station have been two pennants: one for the Army and one that reads "Go Navy, Beat Army." The pair are not the first pennants to fly in space: hundreds of flags and banners championing colleges, societies and even sports teams have been carried to orbit by the space shuttle.

Now, NASA wants a pennant of its own and is turning to grade school students to design it.

In partnership with Mad Science and AOL's Kids Service KOL, NASA is hosting a contest for 6 to 12 year olds to create pennants that celebrate either of two themes: the upcoming STS-118 shuttle mission including the flight of the first educator astronaut Barbara Morgan or the Vision for Space Exploration, NASA's plans to send humans to the Moon, Mars and beyond.

The winning design will fly with Morgan on-board shuttle Endeavour when she launches this summer. The winner will be awarded a trip to the STS-118 launch with his/her parent or guardian, while runner-ups will receive a signed picture of the STS-118 shuttle crew and an online NASA game will use their pennant design.

A Space Day, featuring a NASA speaker, will be held at the finalists' schools, which will also receive educational resources, including seeds that have flown in space. All student designers will receive certificates of participation.

According to NASA, students need more than a creative design for their pennants. They must research their topic, apply what they learn, and write an explanation of their design and how the pennant incorporates their knowledge about STS-118 or the Vision for Space Exploration.

Entries may be submitted online or through the mail but must be received by Tuesday, April 10. Ten semifinalists will be chosen in three age groups: 6-8, 9-10 and 11-12. Judges from NASA, KOL and Mad Science will then select two finalists from each group. On May 3, those six finalists will be announced, and one overall winner will be selected through online voting.

Space shuttle Endeavour's STS-118 mission is the 22nd shuttle flight to the International Space Station. It will continue space station construction by delivering a third starboard truss segment. Currently targeted for July, the mission's crew includes Barbara Morgan, the former back up to Teacher-in-Space Christa McAuliffe and the first educator mission specialist.

Announced by President Bush on January 14, 2004, the Vision for Space Exploration directs NASA to complete assembly of the International Space Station and then to refocus on sending astronauts beyond low Earth orbit to the Moon and eventually to Mars. To accomplish this, a new crew exploration vehicle, Orion is planned to replace the space shuttle after its retirement in 2010.

For more details about NASA's pennant design challenge visit the website for AOL's KOL Expeditions.

© 2021 collectSPACE.com All rights reserved.
Questions? E-mail contact@collectspace.com