March 7, 2016
— Almost 40 years after it gave chase to the space shuttle Enterprise, a NASA jet is about to catch up with the prototype winged orbiter at a museum in New York City.

The two-seat, supersonic T-38 Talon jet, tail number 913, is set to land on the flight deck of the Intrepid Sea, Air and Space Museum, a converted aircraft carrier berthed on the west side of Manhattan, in early April. Enterprise has been on display at the Intrepid since 2012.

"This is the perfect airplane to enhance Enterprise's story," said Eric Boehm, the curator of aviation at the Intrepid, in an exclusive interview with collectSPACE.

The no. 913 T-38 was one of several such jets that flew as the chase planes for NASA's 1977 Approach and Landing Test (ALT) program. Carried piggyback and released from atop a modified Boeing 747 jet, the Enterprise proved that the space shuttle orbiter could safely land as a glider.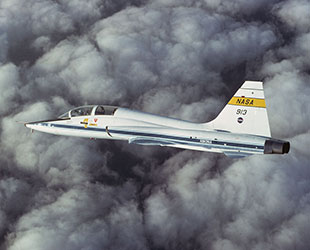 NASA T-38 jet, tail number 913, captured in flight.
(Story Musgrave)
"It was an amazing test program that had to happen before the other orbiters flew in space," said Boehm.

After the ALT program, T-38 913 (N913NA) was used as a training jet, flown by astronauts to gain experience working in a high-pressure environment and to keep up their flight proficiency. Built by Northrop (now Northrop Grumman) in 1965 and delivered to NASA in 1969, T-38 913 flew for 38 years in support of the space program.

Landing 913

Boehm knew that he wanted a T-38 from the ALT program since Enterprise arrived at the Intrepid and took its place in its Space Shuttle Pavilion.

"We have always had space exhibits here with the Intrepid having recovered Mercury and Gemini missions. But with Enterprise here, now we have this whole new tangent," he said.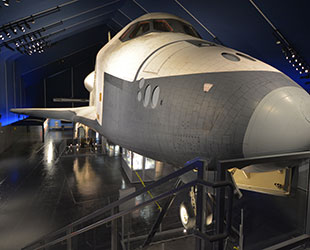 Space shuttle Enterprise as seen on display at the Intrepid Sea, Air and Space Museum in New York City.
(collectSPACE)
Hearing that NASA was surplusing part of the fleet, Boehm watched the listings of the General Services Administration (GSA) until he spotted a plane that matched his criteria.

"I had four tail numbers I could for sure say were there for the 1977 ALT program and I just started stalking them," he said. "If I recall, there were five states' historic preservation offices that were vying for this plane. I thought we were a shoo-in given the tie to Enterprise and it turned out that we were, because we got it."

Boehm recruited Whisler Aviation, a company specializing in the disassembly and transportation of aircraft, to pick up T-38 913 from NASA's depot in El Paso, Texas and deliver it the Intrepid in New York City. But first, it needed a paint job.

Going retro

"It is very important to us to tell the Enterprise's story with this airplane," Boehm explained. "So we're backdating the paint scheme to its 1977 livery."

Although NASA's T-38 jets have always been mostly white with two-tone blue stripes running down the sides, their tail markings have changed over the past four decades. When it was retired, 913's vertical stabilizer displayed the current livery featuring a basic version of NASA's vector logo. But at the time it accompanied Enterprise in flight, its tail was different.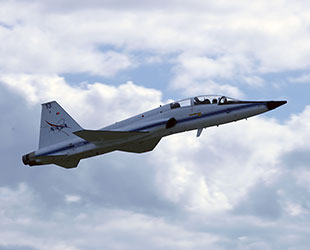 NASA T-38 jet, number 913, seen on its final flight.
(Story Musgrave)
"It had a raw yellow band with black cheat lines on either side of the yellow and 'NASA' in black italicized," described Boehm. "For the most part, it had a similar paint scheme [to the modern livery], it just didn't have the NASA swoop."

Fortunately for Boehm, Whisler Aviation also had a paint shop that could do the job at its fixed-based operation in Seward, Nebraska. But the Intrepid did not have the funds to underwrite the livery-change.

Enter Charles de Gunzburg, the former co-chairman and a current trustee at the Intrepid, with his wife Nathalie.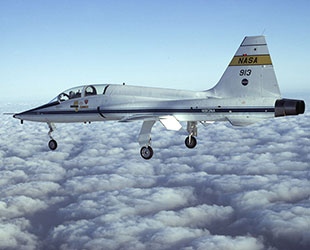 T-38 913 with its livery as flown during the Approach and Landing Tests with space shuttle Enterprise in 1977.
(Story Musgrave)
"We were able to afford to move this airplane from Texas to New York, but I really wanted that paint job and Charles stepped right up," Boehm said. "Charles has been a great friend of this museum. An aviation enthusiast, Charles has donated for our education programs, he's donated for our aircraft programs and with this airplane."

"We owe Charles a great debt of gratitude for helping us acquire this airplane," Boehm said.

On approach

T-38 913 is scheduled to arrive at the Intrepid by way of a Whisler Aviation truck from Nebraska in early April.

"It is not an oversize load, so it will come over the George Washington Bridge," Boehm said. "We will reassemble the aircraft and it will be here for a day and a half to two days before its lifted by crane onto the flight deck."

No longer flightworthy – NASA removed the engines and most of the cockpit instruments to be used as spares for its active T-38 fleet — the Intrepid will need to fabricate some replacement panels and a landing gear door to complete 913's display. The museum will also prepare the jet for its outdoor exhibit.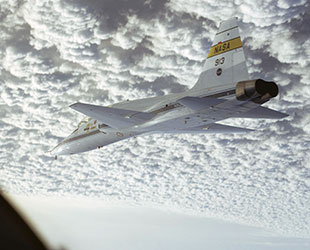 NASA T-38 jet, tail number 913, captured in flight.
(Story Musgrave)
"Since we are an outdoor museum hanging out over a salt-water environment, we do some further sealing and protect the cockpit by putting a coating on the canopy," explained Boehm. "It makes it look like a big model airplane, but it is more important to keep UV [light] out of the cockpit and the coating can be pulled off quite easily if needed.

"We will also spray the inside with a preservative to inhibit any corrosion," he said.

The Intrepid is planning to celebrate 913's "landing" with a member event and activities for its student visitors (date to be announced). Invitations are also being sent to some of the NASA astronauts who flew the jet, including Karol "Bo" Bobko, who was prime chase pilot for the ALT program.

Although its exact placement is still to be determined, T-38 913 will be displayed near the Space Shuttle Pavilion that houses Enterprise.

"It is going to be a jewel on the flight deck," Boehm said.

Photographs credited to Story Musgrave reprinted from his book, "The NASA Northrop T-38: Photograhic Art From An Astronaut Pilot." Used with permission.