May 10, 2011
— The U.S. Astronaut Hall of Fame added two more to its ranks Saturday, inducting a space shuttle commander who flew two orbiters' maiden flights and a spacewalker who set a duration record working outside the International Space Station (ISS).

Karol "Bo" Bobko and Lt. Gen. Susan Helms were the guests of honor at the induction ceremony held at NASA's Kennedy Space Center Visitor Complex in Florida, home to the Astronaut Hall of Fame. The event brought together more than 15 of the Hall's 77 previous inductees, including Mercury astronaut Scott Carpenter, moonwalkers Charles Duke and Edgar Mitchell, and first space shuttle pilot Bob Crippen.

Setting the standard — and record — for spacewalks

"It is an incredible honor for me this afternoon to introduce you one of my heroes, Lt. General Susan J. Helms," said NASA Administrator Charles Bolden, who as also a former astronaut was inducted into the Hall in 2006. Helms was the first U.S. military woman to fly in space and recently was appointed the first woman to command Vandenberg Air Force Base in California.

"Her incredible talent and leadership ability became quite evident to me during her first flight, STS-54 on which she served as an IV or intravehicular crew member with the responsibility for overseeing the conduct of the spacewalk on that flight," Bolden recounted for Helms' family, fellow astronauts and the public guests attending the ceremony. "Having trained as an IV crewman myself, I watched in awe as she set the standard for IV crew members by the manor in which she perfectly and deftly choreographed the spacewalk."

"Under her direction, we learned many lessons that would prove key to the construction of the International Space Station," said Bolden.

Four space shuttle missions later, Helms became the first woman to live aboard the station. During her 163 days as a member of the ISS Expedition 2 in 2001, she and fellow NASA astronaut Jim Voss set a world record, making the longest spacewalk to date. For 8 hours and 56 minutes, Helms and Voss worked to install hardware on the outside of the U.S. Destiny laboratory.

Commander was 'cool under pressure'

Like Helms, Bobko also set Air Force records, becoming the first graduate of the Air Force Academy to be selected to train as an astronaut and to fly in space. Chosen for the Air Force's Manned Orbiting Laboratory, he transferred to NASA's astronaut corps in 1969 after the military space station program was canceled.

Ultimately, Bobko had to wait 14 years to make his first of three spaceflights.

"Bo loved spaceflight. He wanted everyone working with him to enjoy it as much as he did and he knew from experience that despite delays, a first flight is worth waiting for," said 2007 inductee Jeffrey Hoffman. Hoffman flew with Bobko on STS-51D, between Bobko's two other space shuttle missions, the first flights of Challenger and Atlantis.

"Bo is cool under pressure, and I saw this on numerous occasions, the first of which was right after main engine cutoff," said Hoffman, recounting a hydrogen fuel dump procedure that Bobko and his STS-51D pilot Don Williams were tasked with performing after space shuttle Discovery reached orbit.

The dump immediately caused the orbiter to roll about 90 degrees out of attitude and led to almost constant firing of its control jets. "People who have experienced these know how loud they are," said Hoffman. "I mean I was a rookie down on the middeck and I thought I was in the middle of an artillery barrage."

"Don's voice from up on the flight deck seemed about an octave higher as he asked Bo quickly 'Should we shut the valves!?!' Bo just said, perfectly calmly, 'Nah, let's leave them open and see what happens.'"

"Of course we survived," said Hoffman, "and I think we succeeded in demonstrating that this was maybe not an optimum technique for dumping the hydrogen."

Five questions for the two astronauts

collectSPACE spoke with Bobko and Helms following the ceremony that honored them as the 10th class of shuttle astronauts to join the Astronaut Hall of Fame.

collectSPACE (cS): What does it mean to you personally to be inducted into the Astronaut Hall of Fame?

Susan Helms: "To me, it means an extremely humbling honor to be brought in to august group of real space heroes. It is quite difficult for me to take in and assimilate what this means in the big scheme of things because the people who I am standing by have been my heroes for so very long."

Bo Bobko: "You look through the Astronaut Hall of Fame and there are a lot of people who have contributed an awful lot to the space program. It is an honor to be doing that and it's an honor to have people recognize that I have been of some importance to the space program and I am worthy of being a member of this."

cS: One of the traditions that comes with being inducted is for astronauts to donate or loan artifacts or memorabilia from their careers to be displayed in the Hall of Fame. Have you an idea as to what you want to offer?

Helms: "I haven't even thought of it. I didn't even know that was one of the things they would ask us." (laughs)

Bobko: "I thought of it and I have just a few things and I just haven't had a chance to talk with the Hall of Fame people about it... like cue cards and things like that that have been flown on a mission.

cS: Your portraits and patches are already on display in the Hall. What do you hope visitors — and in particular, children — take away from your experience after seeing you as a Hall of Fame astronaut?

Helms: "Well, I think probably one of the big messages is you don't get on top of the mountain by falling down from above. You basically get on top of the mountain by climbing up. So it's a lot of hard work but it's well worth the climb in order to get up to that peak and look back and see all of that you've accomplished in the process."

Bobko: "You just have to keep your eye on the goal because there are going to be hard times. Climbing isn't always easy."

cS: Even though both of you are retired from the astronaut corps, you are both still involved in shaping the nation's space efforts (Helms as commander of Vandenberg Air Force Base; Bobko as manager of the flight simulators at NASA's Ames Research Center). As you're now among them, what can you say about the thousands of people working behind the scenes that make astronauts' flights — like your own — possible?

Bobko: "We couldn't be where we are without hundreds of thousands of people behind us in the NASA community, and even outside. In my case, I had a teacher in the eighth grade that made sure I got into a technical school. My life would have probably been completely different if it hadn't been for her."

Helms: "I'm with Bo, it is the same thing. Neither of us would be here if it weren't for the fact that thousands of people were working to make us successful. We would not have been successful if it weren't for those thousands of people. It is just a hard fact."

cS: With that said, are there (now fellow) members of the Astronaut Hall of Fame that served as your role model or hero before you became an astronaut or flew in space?

Bobko: "I can't say that I had one particular hero but there is certainly a number of them [I] admire and recognize for what they have done. And as we've said, it takes a lot of people to be able to get us into space."

Helms: "I think in my case, it is pretty obvious. Sally Ride was clearly someone I admired before I became an astronaut. And I got a chance to meet her in the 80s after her second flight. She had a hand of course in shaping my view about what an amazing career this could be."

Read more about Bobko's and Helms' astronaut careers in our January 2011 article about their induction.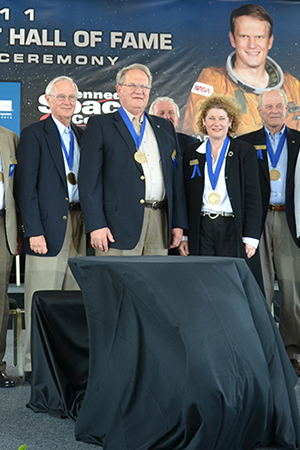 Karol "Bo" Bobko and Lt. Gen. Susan Helms are flanked by their fellow Hall of Fame astronauts at their induction. (collectSPACE)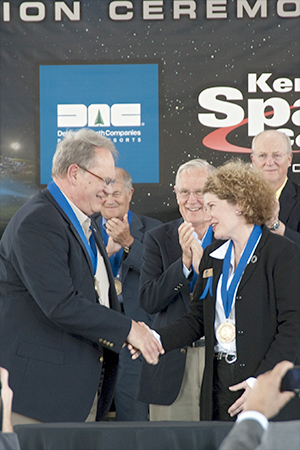 Karol "Bo" Bobko and Lt. Gen. Susan Helms congratulate each other after being inducted into the Astronaut Hall of Fame. (NASA)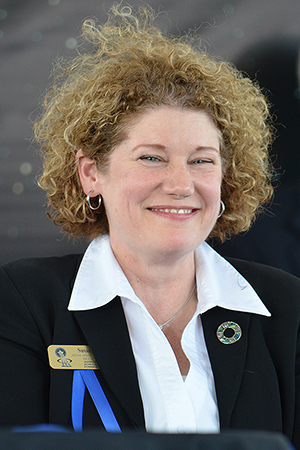 Lt. Gen. Susan Helms was the first U.S. military woman in space and the first woman ISS crew member. (collectSPACE)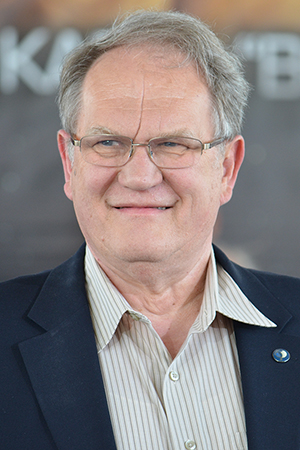 Karol "Bo" Bobko waited 14 years for his first spaceflight and then flew Challenger's and Atlantis' first flights. (collectSPACE)