March 5, 2023
— A new line of limited edition nail polishes aims at putting some of NASA's greatest missions not only at, but on your fingertips.

ORLY, a Los Angeles-based nail care brand, has introduced a new collection of space-themed lacquers and wrap sets that celebrate the past, present and future of space exploration.

"Welcoming the launch of the NASA Collection, an out-of-this-world combination of stardust-infused lacquers and stellar sticker nail art!" ORLY announced on its social media channels on Wednesday (March 1). "All inspired by NASA's famous forays into the cosmos, this collection features real images from the Hubble Space Telescope and four new shades."

The polishes, which follow a trajectory from the moon to beyond our solar system, are each priced at $11.99 or $47.96 for the bundle of four.

"Spirit of Peace" features a moon rock-inspired white and gold confetti topper in celebration of the 50th anniversary of NASA's last moon landing, Apollo 17.

"As we leave the moon at Taurus-Littrow, we leave as we came and, God willing, as we shall return: with peace and hope for all mankind," said Gene Cernan, the last astronaut to walk on the moon in December 1972.

ORLY's Spirit of Peace also looks to the future, with a bottle decorated with the mission patch for Artemis I, NASA's first step to returning astronauts to the moon, which flew without a crew out beyond the moon from November to December 2022. Artemis II, targeted for launch in 2024, will send for crew members around the moon, followed by Artemis III, which has the goal of landing the first woman and next American on the lunar surface.

The "View from L2" references the Earth-Sun stable orbit at Lagrange Point 2 (L2), where the James Webb Space Telescope (JWST) was deployed in January 2022. Described by ORLY as a "deep galactic holo jelly," the View from L2 has a shimmery black base with holographic glitter. The result is a nail polish that mimics the look of Webb's Deep Field, a photo that captured a spacescape teeming with thousands of galaxies, including the faintest objects ever observed in the infrared.

The View from L2 bottle is decorated with an illustration of JWST's 18 hexagonal-shaped mirror segments backdropped by Earth.

"Perseverance" gets its name and shade from NASA's most recently-landed Mars rover, which is exploring the Red Planet's Jezero crater while caching soil for a future sample return mission.

ORLY's Perseverance features the six-wheeled rover on its bottle and replicates the look of Mars with a dusky red shimmer lacquer.

Lastly is a polish that shines like the discs mounted to the Voyager interplanetary probes, which are now traversing the space beyond the influence of our Sun. ORLY's "Golden Record" evokes the gold-plated phonograph records that hold the sounds and images of Earth should an extraterrestrial intelligent life form come across the two spacecraft in the eons to come.

In addition to the four lacquers, ORLY's NASA collection also includes four nail sticker sets with corresponding themes, including James Webb Space Telescope, Hubble Space Telescope, Voyager and Artemis I. Each $11.99 set comes with 22 long-lasting stickers that feature imagery from NASA's orbiting observatories.

Paired with their matching polish, each sticker set bundle is $23.98, or $47.98 for the four sets with polishes. An "Ultimate Explorer" bundle with all four lacquers and four sticker packages is also available for $95.92.

ORLY is offering a 15 percent discount on the bundles with code "LIFTOFF" on its website. The ORLY x NASA collection is also available at Ulta Beauty stores and on the Ulta website.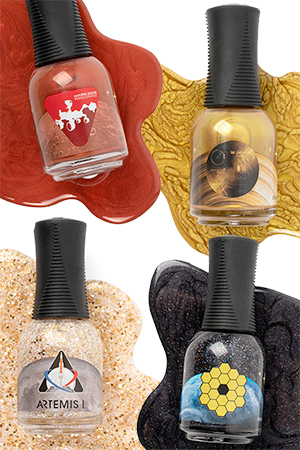 ORLY's limited edition collection of NASA-themed nail polishes and wrap sets celebrates the past and future of exploration. (ORLY)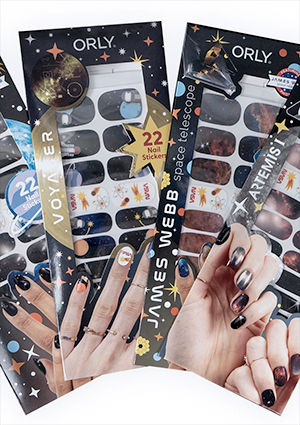 The ORLY x NASA collection also includes four sets of nail stickers feature real imagery from Webb and Hubble observatories. (ORLY)