March 1, 2017
— A private effort to recruit Germany's first woman to launch into space has narrowed its choice to six candidates, including a veteran astronaut's daughter.

"Die Astronautin" (Female Astronaut), which was launched by the aerospace recruitment agency HE Space in March 2016, announced the six finalists — including Insa Thiele-Eich, the daughter of German astronaut Gerhard Thiele — at an event in Bremen on Wednesday (March 1). From the six, HE Space will choose two women to begin training for a privately-funded flight to the International Space Station.

The potential future German astronaut and her backup will be announced on April 19.

"We have shown that Germany's women have the skills to fly into space," said Claudia Kessler, CEO of HE Space, in a press statement. "Now we have to prove that the people of Germany believe in the candidates."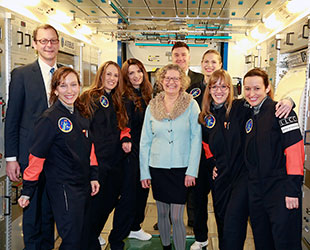 The 'Die Astronautin' finalists with HE Space CEO Claudia Kessler (center) and Martin Günthner, Bremen Minister of Economic Affairs and Oliver Juckenhoefel with Airbus.
(Die Astronautin/Klampäckel)
Selected out of an initial pool of more than 400 applicants, the six candidates were chosen from a group of 80 highly-qualified women who underwent medical screening by the German space agency, DLR.

"Within the framework of the selection process, DLR was able to obtain unique psychological and medical data from women in connection with a flight in space." Claudia Stern, of the DLR Institute for Aerospace Medicine, said. "During the research carried out in cooperation with HE Space, the finalists' professional attitude demonstrated that they have the psychological abilities and medical health to train for a flight into space."

To be eligible for Die Astronautin, women were required to be German nationals between the ages of 27 and 37, with a degree in engineering or science (or equivalent military credentials). Applicants needed to be in good physical and psychological shape and have a professional or personal interest in aerospace or aviation.

Thiele-Eich said that her father, who flew on NASA's space shuttle Endeavour in 2000 as a part of a NASA-DLR radar topography mission, played no part in her application.

The only advice that astronaut Gerhard Thiele provided his daughter was to "stay calm and have fun," the 33-year-old Thiele-Eich, a meteorologist and science coordinator at the Meteorological Institute of the University of Bonn, stated in an interview with collectSPACE.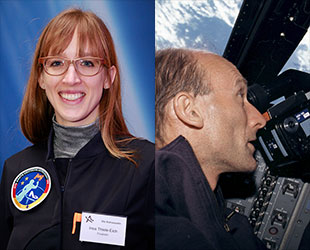 Die Astronautin finalist Insa Thiele-Eich is the daughter of German astronaut Gerhard Thiele, pictured here at right on board the space shuttle Endeavour in 2000.
(Die Astronautin/Klampäckel / NASA)
Another of the finalists, 37-year-old Suzanna Randall, first applied to be a European Space Agency (ESA) astronaut, making it to the second stage of the selection for the 2009 class. An astrophysicist, she studies stellar evolution at the European Southern Observatory in Garching near Munich.

Nicola Baumann, 31, was already "mentally preparing" her application for the next ESA astronaut group when the Die Astronautin search was announced. As a fighter pilot with the Bundeswehr, the unified armed forces of Germany, in Nörvenich, near Cologne, she sees being an astronaut as a career move and has ambitions to fly beyond Earth orbit.

Baumann said she is "very excited" about the opportunities that commercial companies, such as SpaceX and Boeing, are creating now for a new generation of astronauts. She said she is particularly interested to "learn, understand and actually fly a spacecraft."

Magdalena Pree, an Austrian with German nationality, is a ground operations engineer at DLR's control center for the Galileo GPS satellite system near Munich. The 28-year-old earned her private pilot's license while still in her teens as the first step in a long-term astronaut career path.

Lisa Marie Haas, 33, is the only finalist who does not have a professional background in aerospace. A development engineer and part-project manager at Robert Bosch GmbH in Reutlingen, she works on the sensors used in consumer electronics, such as mobile phones, video game consoles, wearables and drones

Haas said that she has two young children and, if selected, would be interested in developing a scientific program that reaches out to students to demonstrate physics in orbit.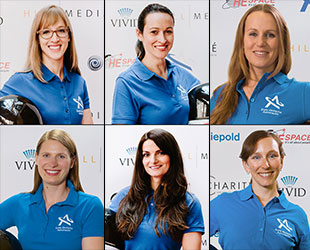 The six 'Die Astronautin' finalists competing to be the first German woman to fly in space: Insa Thiele-Eich, Nicola Baumann, Susanne Peters, Lisa Marie Haas, Magdalena Pree and Suzanna Randall, as photographed for their reveal.
(Die Astronautin/Juliana Socher)
The sixth finalist, Susanne Peters, 31, works as a research associate with the astronautics department at Bundeswehr University Munich.

HE Space is seeking the money it will need to train its two candidates and to launch one to the space station prior to 2020 from sponsors and a crowdfunding campaign on the Startnext website that launched on Wednesday.

"We would like to finance some of the training through the crowdfunding campaign," said Kessler. "We hope to [raise] far more than the minimum target of 50,000 euros."

Ultimately, HE Space hopes a Die Astronautin mission into space will inspire women and girls to pursue and enter the technical professions and study the natural sciences. The program also intends to conduct experiments on board the space station to further investigations into how the female body reacts in microgravity.