Feb. 27, 2017
— SpaceX intends to launch two privately-funded passengers on a flight around the moon by the end of next year — a mission that could coincide with the 50th anniversary of Apollo 8, the first crewed circumlunar flight.

"We've been approached to do a crewed mission beyond the moon from some private individuals, and they are very serious about it," said Elon Musk, SpaceX's CEO and chief technical officer, during a media call on Monday (Feb. 27). "I think this should be a very exciting mission that gets the world really excited about sending people into deep space again."

"This should be super inspirational," said Musk.

The week-long mission will fly the passengers on a voyage 300,000 to 400,000 miles (480,000 to 640,000 kilometers) into space.

"This would do a long loop around the moon. It would skim the surface of the moon and go quite a bit further into deep space, and then loop back to Earth," said Musk.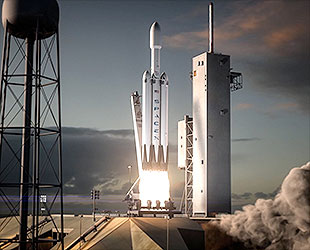 Artist's rendering of a SpaceX Falcon Heavy launch from Pad 39A at NASA's Kennedy Space Center in Florida.
(SpaceX)
Declining to name the passengers, other than to note that they know each other, Musk said that more details about the moon-bound passengers would be made known in the months to come. He said he could not disclose the cost of the mission.

"I also can't say the exact amount, that's confidential. But it would be comparable to a little more than what the cost of a crewed mission to the space station would be," he said. Musk added that the clients have already paid a significant deposit to do the moon mission.

SpaceX has a contract with NASA to fly astronauts atop its Falcon 9 rockets to the International Space Station, which it plans to start doing by mid-2018. The company is slated to launch its first uncrewed test flight of its Dragon 2 man-rated spacecraft on a mission to the station by the end of this year.

The lunar mission would use a similar Dragon 2 capsule, modified for communication from deep space, launched on SpaceX's Falcon Heavy — essentially, a Falcon 9 with two other Falcon 9 boosters mounted to its side. The company is targeting its first Falcon Heavy launch for this summer.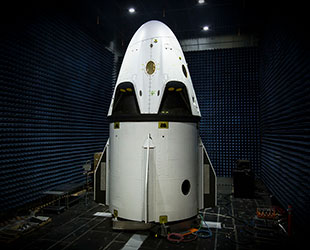 SpaceX's Dragon spacecraft will fly crews to the space station and beyond. Pictured here, a test version of the vehicle.
(SpaceX)
"Dragon 2 has been designed to a very high standard, so it is capable of taking a re-entry from a lunar-return velocity," stated Musk. "We're confident this will be a good vehicle to fly on."

NASA recently announced it own internal study to consider adding a crew to the first flight of its Space Launch System (SLS) heavy-lift rocket and Orion exploration spacecraft on a circumlunar mission to possibly lift off in 2019.

"We are generally encouraging of anything that advances the cause of space exploration," commented Musk. "I think this Orion mission would [also] be exciting."

That being said, Musk explained that if NASA desired to fly its own astronauts on SpaceX's first flight to the moon, the space agency would have priority.

"I want to be really clear," stated Musk. "If NASA decides to have a mission of this nature be a NASA mission, then, of course, NASA would take priority."

"That's possible; I don't know if it will occur, but, possible," Musk said.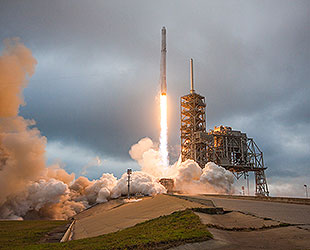 A SpaceX Falcon 9 rocket lifts off of Pad 39A at the Kennedy Space Center, the same site where the Apollo 8 mission began.
(SpaceX)
"NASA commends its industry partners for reaching higher. We will work closely with SpaceX to ensure it safely meets the contractual obligations," NASA said in a statement.

On Dec. 21, 1968, NASA launched the first humans to fly to the moon. Apollo 8 astronauts Frank Borman, Jim Lovell and Bill Anders entered lunar orbit on Christmas Eve and circled the moon 10 times before returning safely to Earth.

SpaceX will launch its private circumlunar mission from the same site that Apollo 8 left the planet, Launch Pad 39A at NASA's Kennedy Space Center in Florida.

"Like the Apollo astronauts before them, these individuals will travel into space carrying the hopes and dreams of all humankind," SpaceX stated on its website.