advertisements

One last blast: Final firing for space shuttle solid rocket ground tests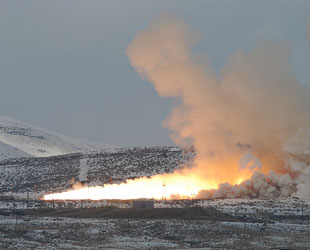 The final space shuttle solid rocket booster ground test fires on Thursday, Feb. 25, 2010 in Promontory, Utah.
(collectSPACE)
February 25, 2010
— The thunderous roar from a space shuttle solid rocket booster reverberating and rebounding off the mountains of northern Utah was heard for the final time Thursday, as NASA and Alliant Techsystems (ATK) ignited their last ground test after three decades of static firings.

The 52nd reusable solid rocket motor (RSRM) ground test since the first was fired July 18, 1977, the two minute and three second horizontal "launch" was performed in support of NASA's remaining four shuttle missions before the fleet is retired later this year.


---
Photo Gallery: One Last Blast
---

"That was probably the safest solid rocket motor ever test fired here," commented Steve Cash, NASA's manager for the shuttle propulsion office. "I have a lot of comfort about this coming next [four] launches because of the test firing today."

"This is really the celebration of 33 years," added David Beaman, NASA's manager for the RSRM office. "We have been testing since July 1977 here. This was the 52nd test and the reason we test is to make sure we are safe."


A total of 43 design objectives were measured during the test, including ensuring that the final shuttle motors were safe to launch astronauts and qualifying the performance of minor upgrades to materials, according to ATK, NASA's prime contractor for the solid rocket boosters.

"I would like to report that initial test data is looking really good," Charlie Precourt, ATK's vice president and general manager for space launch systems, told the media soon after the test was completed.

The data collected from the four-segment booster test will also aid in the continued development of the five-segment booster that was to fly as the first stage for Ares, NASA's planned replacement for the shuttle. Despite being called for cancellation by President Obama earlier this month as part of the space agency's Constellation program to return astronauts to the Moon, the second five-segment Ares I ground test is still scheduled for September.

Foggy firing

Thursday's final shuttle test attracted an estimated 5,000 public spectators, more than twice the audience for earlier firings. In addition to children from local schools, the test also drew in officials from across NASA's shuttle program, including a handful of former and current astronauts who rode the solid rocket boosters to space.

"Riding on [the space shuttle] is fun, it's exciting," shared Kent Rominger, a five-flight shuttle commander who now serves as ATK Space Systems Group's vice president for test and research operations. "When you watch a shuttle launch, to me it's always been an emotional experience."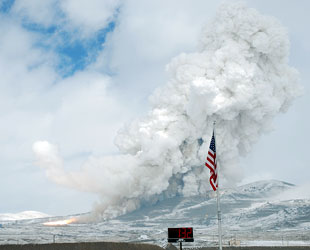 "'Cause hopefully nothing goes into the air other than the exhaust plume..." — Kent Rominger.
(collectSPACE)
"Here it is different, 'cause hopefully nothing goes into the air other than the exhaust plume but you're actually closer to it," he told collectSPACE. "You get to see it, then hear it, so you get a sense what the speed of sound does for you and then the noise is obviously very pronounced and again it's an exciting, kind of a 'gee whiz' sort of moment. So that's a pretty amazing three million pounds of thrust we watch for a couple of minutes."

For most of the morning, it appeared as though the view Rominger described would remain mostly hidden behind a dense fog that rolled in over the snow-covered mountains surrounding the test area in Promontory, Utah. By 11:50 a.m. MST, when the countdown reached zero however most of the fog had lifted, giving the spectators a show.

A bittersweet end

"This is a little bit bittersweet," reflected Beaman referring to the test, "but sometimes the celebration in completing something, in flying out a mission, that is really something we don't appreciate or understand until we are near the end of the program."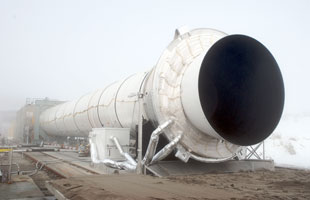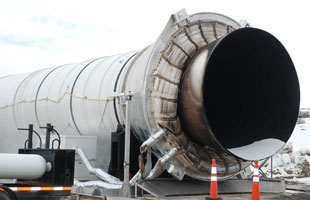 Before and after: Flight Support Motor-17 (FSM-17) as it was seen before and after the test firing.
(collectSPACE)
Since being redesigned after the Challenger accident and returning the shuttle to flight for the first time in 1988, 210 solid motors have flown with 105 shuttles. Thirty-four (34) ground tests were conducted in the same period, enabling ATK to optimize the RSRM before integrating the changes with flight hardware.

"A lot of us went through Challenger, we made changes there," said Cash. "We continued to improve the safety of this solid rocket motor over the last 30 years, and seeing that culminate in this final test was a happy time and also a little bit of a sad time."

I am not going to kid you. I walked away saying 'Boy, I'm sure going to miss this testing,'" he admitted during the post-test press conference.

The loss of space shuttle Columbia in 2003 resulted in the decision to retire the shuttle system after completing the International Space Station (ISS) in 2010.

"People have dedicated their entire lives to this program. There's a lot of people who have in essence grown up and grown old in this program. It is bittersweet. It's nice to be able to say that we've gotten to a point where we are going to complete something," reflected Beaman.

"It is bittersweet thinking about the program ending."

© 2022 collectSPACE.com All rights reserved.


Feedback: Messages




FSM-17 Case History




The final space shuttle solid rocket motor ground test, referred to as Flight Support Motor-17 (FSM-17), was built from cases launched on 38 shuttle missions and eight prior static tests. Here is FSM-17's case history, from top to bottom:



Forward Dome:
STS-113

Cylinder:
STS-5, STS-51C, TEM-10

Capture Feature Cylinder:
STS-57, 71, 82, 96, 113, 123

Cylinder:
TEM-9, STS-72, 90, 104, 124

Capture Feature Cylinder:
STS-110, 120

Cylinder:
TEM-6, STS-51, 69, 94, 101, FVM-1, STS-124

Capture Feature Cylinder:
STS-33, 45, 59, 81, 96, 113, FSM-11, STS-124

Capture Feature Cylinder:
STS-33, 45, 59, 81, 96, 113, FSM-11, STS-124

ET Attach:
TEM-4, STS-37, 54, 67, 82, 97

Stiffener:
STS-35, 47, 68, 79, 99, FVM-2

Stiffener:
NEW

Aft Dome:
STS-7, STS-51D, TEM-5, STS-44, 58, 77, 95, 109, 124

QM - Qualification Motor
TEM - Technical Evaluation Motor