Feb. 20, 2018
— The company behind the first and only inflatable module added to the International Space Station, will soon be ready to expand its commercial operations in Earth orbit — if there is a market to do so.

Bigelow Aerospace, which in 2016 deployed the Bigelow Expandable Activity Module or BEAM at the space station, announced on Tuesday (Feb. 20) that it has formed a new company to operate its orbital platforms and has partnered with the manager of the U.S. National Laboratory on board the International Space Station.

"Bigelow Aerospace is a manufacturing company," Robert Bigelow, the hotel magnate, real estate tycoon and founder of Bigelow Aerospace, said in a media call on Tuesday. "It doesn't sell anything, it doesn't operate anything, it doesn't do anything with customer service, and that is the function of Bigelow Space Operations."

"Space operations is probably going to be the most difficult challenge for us," he said.

Bigelow Aerospace is the process of building two inflatable modules that it expects to have ready for launch by 2021. Each B330 module offers 330 cubic meters (11,650 cubic feet) of internal volume and can support a six-person crew. Fully inflated, the B330 is 55 feet long (17 m) and 22 feet (7 m) wide. At liftoff though, it measures just one-third that size.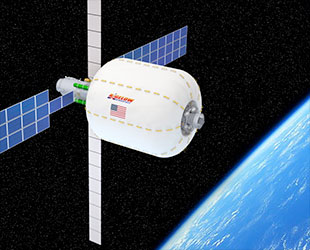 Artist rendering of Bigelow 330 space station.
(Bigelow Aerospace)
"Each of our B330s are a standalone space station, and if we aggregate two or more, it becomes a station complex," explained Bigelow.

But all of that space is useless if there are no customers to utilize it. To define the demand, Bigelow Space Operations (BSO) will quantify the global market for orbiting stations.

"We intend to spend millions of dollars this year in drilling down, hopefully to a conclusion one way or the other, as to what the global market is going to look like," said Bigelow, adding that he expects they will finish their investigation by the end of the year.

Science and non-science

In addition to sizing up the future market for low Earth orbit operations, BSO also plans to get involved in current on-orbit activities through a new partnership with CASIS, the Center for the Advancement of Science in Space, which manages the U.S. National Lab on the International Space Station.

"We are interested in being a customer for some of the hardware that [CASIS] has flown," Bigelow said. "We also want to gain the experience of being a payload integrator."

Through this experience, BSO hopes to gain knowledge of current and future customer needs as they pertain to larger scale operations that are science and non-science related that cannot be handled by the space station.

"CASIS has had restrictions on it all of this time, and those restrictions could change, but they have to have payloads that have a science application to it. There are all kinds of other interests, people who want to do things that have no bearing upon a science application. We think all of those diverse areas are much more voluminous than the science area," Bigelow told collectSPACE in reply to a question.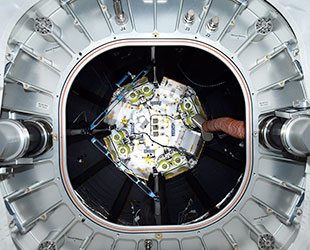 View looking into the Bigelow Expandable Activity Module (BEAM) from aboard the International Space Station.
(NASA)
The limits on CASIS' activities, along with NASA concerns, may also limit how Bigelow can expand use of the BEAM. After two years, the prototype inflatable room has passed its initial trial on the station and is now starting to be used as a storage closet.

Bigelow would like to use BEAM from commercial activities beyond science, but is restricted by what NASA will allow.

"There are some payloads that we want to fly, which are in the best interest of our company and NASA, and they are of a science nature," said Bigelow of potential future uses for BEAM. "So as badly as we'd like to open a Budweiser still on orbit, I think that is going to have to be deferred to a private-sector operated station."

Ex-astronauts wanted

Bigelow said that BSO was founded about a year ago, but did not begin hiring until January. Presently, the company has about a half a dozen employees, with another 30 to 40 hires expected to be added this year.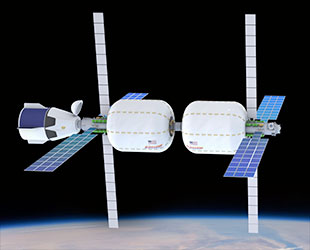 Artist rendering of dual Bigelow Aerospace B330 space stations in Earth orbit.
(Bigelow Space Operations)
By the time BSO is fully operational, managing stations in orbit, Bigelow expects the firm to number between 400 and 500 people.

On its new website that debuted Tuesday, BSO lists jobs in on-orbit operations, crew systems, payload specialists and sales. And then there are the astronauts.

"Bigelow Space Operations has permanent positions and consultant positions open for experienced astronauts," the company states.

According to BSO, former space travelers are needed to advise on the proper function of a commercial station from the astronaut's perspective, including on-orbit and ground activities. BSO is also recruiting astronauts to help develop crew systems.