May 25, 2016
— NASA's plan to expand an experimental inflatable module on board the International Space Station this week has given rise to a new "space-craft."

The space agency has created "origaBEAMi," a print, fold and inflate-it-yourself miniature paper model of the Bigelow Expandable Activity Module (BEAM). The real BEAM was launched aboard a SpaceX Dragon capsule in April and is scheduled to be deployed to its full-size Thursday morning (May 26).

Aboard the orbiting outpost, NASA astronaut Jeff Williams will lead the operations to inflate BEAM, initially introducing air, very slowly, through a small manual valve feeding from the supply in the Tranquility node to which the expandable module is attached.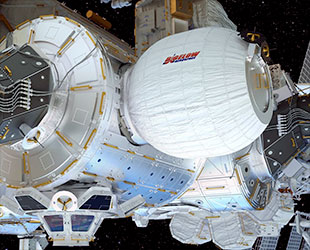 Artist's rendering of the BEAM inflatable module fully expanded on the International Space Station.
(Bigelow Aerospace)
Compacted for its launch to a size of just 7.75 feet (2.4 m) in diameter and 7.09 feet (2.2 m) in length, BEAM will grow to nearly five times its size before its own air tanks will be used to match the pressurization of the space station. The expansion will take a few hours to complete, assuming the process goes as planned.

Like the real module, the paper model begins in a compact state and then is inflated. The origaBEAMi though, takes a lot less time to take shape and requires just your mouth to expand.

"Place open spout against lips and blow a good firm puff of air inside to expand the BEAM module," reads the "Ground Crew Procedures," or assembly instructions, which can be downloaded from NASA's website.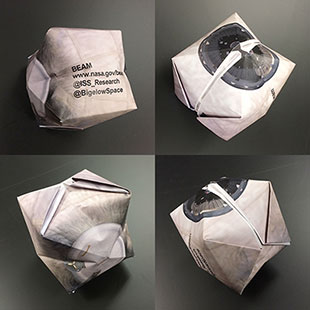 origaBEAMi paper model seen inflated after being folded.
(NASA)
First though, the origami model needs to be folded using a two-sided template that reproduces the exterior look of the fabric BEAM. The illustrated crew procedures guide those building the model through each of the two dozen folds.

"Fold with precision and accuracy," NASA instructs, "or risk a leak in your habitation module. Safety first."

The agency also posted a five-minute video that shows the origaBEAMi being shaped and expanded.

"Have fun and be sure to learn more about BEAM and ISS research and technology!" promotes NASA on its website.


Aboard the space station, Williams and his crewmates are scheduled to enter the BEAM for the first time on Thursday (June 2). The outpost's residents are slated to re-enter the module several during the next two years to collect sensor data and assess the conditions inside the expanded room. Otherwise, the hatches between the Tranquility node and BEAM will remain closed for the duration of the trial period.

According to NASA, this first test of an expandable module will gauge how well the habitat performs and specifically, how well it protects against solar radiation, debris and the temperature extremes of space. Future inflatable modules, such as those now being designed by Bigelow Aerospace, could be used to establish standalone space stations and habitats for deep space vehicles.