February 18, 2011
— A former space shuttle worker was arrested in Brevard County, Florida last week for allegedly stealing heat shield tiles and then selling them for $12,000 online.
David Abbey, 50, was arrested Feb. 10 and charged with grand theft and dealing in stolen property, according to the Brevard County Sheriff's Office. The charges — third and second degree felonies — carry punishments of 5 and 15 years in prison respectively.
Abbey is accused of taking eleven of the black and white tiles from NASA's Kennedy Space Center during his hire with United Space Alliance, working as a tile technician in one of the shuttle's orbiter processing facilities. He left the company in May 2009.
NASA's space shuttles are each covered by about 34,000 separate thermal protection system tiles. Thirty to 100 of the tiles are replaced on an orbiter after each mission.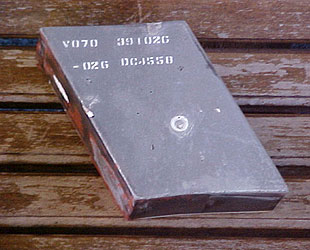 David Abbey admitted to investigators that he put "up for bid" shuttle tiles, including this one, that he took from work. (eBay)
The dozen tiles Abbey sold, which flew in space and were removed from the shuttle due to being damaged, had been marked for disposal through NASA's property system.
As with the majority of spent tiles, they were to be buried in a landfill due to health and legal concerns. Instead, as Abbey told investigators, he took them home.
"I'd just put it in my bag and walk out with it," Abbey said, according to an arrest affidavit obtained by collectSPACE.
Abbey listed the tiles, as well as one other he received as a souvenir from a co-worker, on the auction website eBay, netting between $500 and $900 each.
Up for bid
According to the affidavit, Abbey advertised and sold the tiles between 2009 and January of this year.
In one such sale, since removed by eBay from its site but archived by collectSPACE, Abbey described the tile as "a great addition to your space collection."
The tile, which eBay listed as sold on Dec. 28, 2010, went for $655.50. Abbey advertised it, in part, as follows:
"Up for bid is a Space Shuttle Flown Tile. What you see is what you get. It is 100% the real thing and has flown, on one of the Space Shuttles. I don't know witch [sic] one. Has a few small chips and damages, probably why it was scraped. [sic] Overall it is in very nice collectable shape."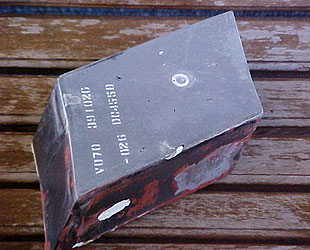 Abbey wrote on eBay of this tile, "I think this is a lower surface [of the orbiter] tile, because it is thick and black." (eBay)
Investigators later researched that same tile's history and found it had been installed on shuttle Atlantis on its nose landing gear door. It had been removed from the orbiter in March 2001 and routed for disposal but never reached the property office.
It was another buyer's similar inquiry that first brought the sales to NASA's attention.
Curious about the flight history behind the tile that he had won from Abbey for $921.99, a winning bidder from Texas filed with NASA a Freedom of Information Act request.
The resulting search, according to the affidavit, found that the tile had been "bagged, tagged and routed to logistics on 2/6/07 for disposition" but was never received by the space agency's property disposal office.
Following that discovery, NASA agents examined Abbey's eBay sale history as well as arranged to bid on and win a tile that Abbey was then selling.
Everybody wants some souvenirs
Based on the information they obtained from eBay and the tile they had purchased, investigators executed a search warrant for Abbey's home on Feb. 1, seeking documents that were related to the advertisement, sale and shipment of the tiles.
They also interviewed Abbey, who admitted to taking the eleven tiles, on separate occasions, from Kennedy Space Center. According to the affidavit, he told the investigators that he knew was not supposed to take the tiles from the facility.
"We knew it was wrong, but... we didn't think it was [a] big deal because... everybody wants some souvenirs," Abbey told the agents.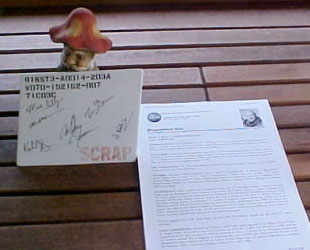 One of four tiles that Abbey had signed by astronauts, this one by the STS-124 crew, including commander Mark Kelly. (eBay)
Among the shuttle tiles Abbey said he took and later sold, were four he personally had astronauts sign as they came through the tile shop where he worked. According to eBay, these tiles included signatures by crew members who flew the STS-114, STS-120, STS-122 and STS-124 missions.
"Up for bid is a Space Shuttle Tile Hand Signed by the Crew of STS-124. Signed by seven Astronauts!!!!" Abbey wrote as his description for one of the four autographed thermal tiles. "This is a 100% real and Original Whole and complete Space Shuttle Tile that was scraped [sic] for some reason, then signed when the Astronauts came to KSC."
Abbey told the agents that while he hadn't personally seen others take tiles, he considered it common based on what he heard other of his co-workers talk about throughout his years with United Space Alliance.
Export controls
Of the dozen tiles he sold, Abbey shipped seven of them to buyers outside the United States, in violation of State Department export regulations.
According to NASA's process and procedures plan for the disposition of shuttle tiles, the shuttle and its subsystems — including its thermal protection system — is controlled for export purposes under the International Traffic in Arms Regulations (ITAR). A license from the State Department is required to transfer the tiles to a foreign person either inside or outside the country.
Abbey, according to the affidavit, told investigators he did not remember learning that during United Space Alliance's export training, although he had a signed document that he had received the training.
Abbey has not been charged for the export violation. In an interview with collectSPACE, agent Jennifer Straight, who handled the investigation for the Brevard County Sheriff's Office, explained her federal counterparts decided not to charge Abbey and would not be going after foreign buyers as they were unaware the tiles had been stolen.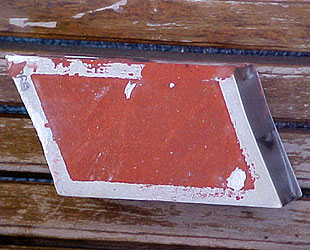 The reverse side of one Abbey's sold tiles, showing the red RTV silicone used to attach it to the space shuttle. (eBay)
On Thursday, Feb. 10, Abbey posted a $10,000 bond and was released from the Brevard County Detention Center.
According to the Brevard court clerk's office, the schedule for Abbey's trial has not yet been set.
Since his arrest, eBay has closed Abbey's account, which he had since 1999. Other than the dozen tiles, Abbey had used the auction website to sell NASA trinkets and gun components, among other items.
NASA's disposal plan for shuttle tiles says it reviewed the option of selling them, but found that it was preferable to dispose of the tiles through other manners. In addition to the concerns over their export, the space agency feared it could be exposed to possible litigation if personal injuries resulted from mishandling or abusing tiles.
NASA has however offered tiles to museums and schools for the occasional display and more commonly, interactive demonstration. In December 2010, NASA
started offering
7,000 unflown tiles to U.S. schools.