February 16, 2018
— A private effort to launch the first German woman into space has a new potential candidate.

Suzanna Randall, an astronomer with ESO, the European Southern Observatory in Garching, was announced as the new trainee for Die Astronautin (The Female Astronaut) on Friday (Feb. 16), replacing a fighter pilot who dropped out of the privately-run program in December. Randall will now compete with meteorologist Insa Thiele-Eich, the daughter of veteran German astronaut Gerhard Thiele, for a chance to become the first woman from Germany to launch to the International Space Station on a privately-funded mission.

"I want to show that it is possible for ordinary women to develop the necessary knowledge and skills to become an astronaut," said Randall in a statement.

After the U.S. and Russia, Germany is tied with China for having sent more of its citizens into orbit than astronauts from any other country, a total of eleven since 1978. All of the German space travelers, and a twelfth now in training, have been men.

"And I think it is important that women are represented at all levels of society. It should go without saying that women work in space," said Randall.

Die Astronautin was launched almost two years ago by the aerospace recruitment agency HE Space to inspire young women in Germany to take up careers in space, science, mathematics and technology, as well as to launch the first female German astronaut into space. From an initial pool of 400 applicants, six semi-finalists were chosen, including Randall.

Thiele-Eich and Nicola Baumann were named as the Die Astronautin finalists in April 2017. Eight months later, after both women had begun training activities, Baumann chose to resign.

"I want to continue to be an astronaut, but this way is just not right for me," Baumann told the weekly German news magazine Der Spiegel in an interview. "The initiative and I do not go together."

Claudia Kessler, the CEO of HE Space and founder of Die Astronautin, said at the time one of the other semi-finalists would take Baumann's place, as has become the case.

"We regret the departure of Ms. Baumann, understand her motives and wish her all the best," said Kessler.

"We are pleased Suzanna Randall can jump directly into training with her previous knowledge as an astrophysicist," she added in a statement released Friday.

Born in Cologne, Randall studied astronomy in the United Kingdom before graduating from the University of Montreal in Canada with a doctorate in astrophysics.

Randall began her career at ESO as a fellow and is now involved with the Atacama Large Millimeter Array (ALMA), a global partnership that operates the world's largest radio telescope in the Chilean Atacama desert. ALMA comprises 66 giant antennas observing millimeter and sub-millimeter wavelengths and is the most powerful observatory for the study of the cool and the distant universe.

The 38-year-old astronomer also focuses studies on the evolution of pulsating, blue sub-dwarf stars. She has been an avid paraglider, is a trained yoga instructor and enjoys winter sports, according to an ESO profile.

Over the next two years, Randall will compete against 34-year-old Thiele-Eich for a single seat on a space mission. Their training will include becoming familiar with systems aboard the space station, as well as taking part in "zero-g" parabolic flights, survival, flight and robotics training.

The ongoing training activities are funded in part by Airbus. Die Astronautin has yet to raise the 50 million euros (about $62 million) required for the mission to the space station, nor has it publicly identified the type of spacecraft it plans to use to launch Thiele-Eich or Randall into orbit.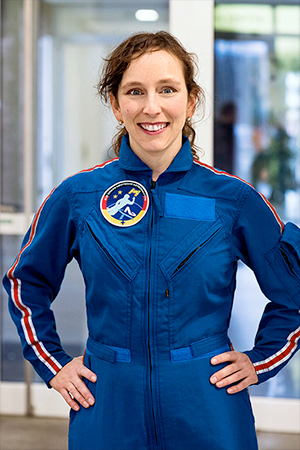 Suzanna Randall, a European Southern Observatory astronomer, has been chosen as a new trainee of the initiative Die Astronautin, which aims to train the first female German astronaut and send her on a research mission to the International Space Station. (ESO)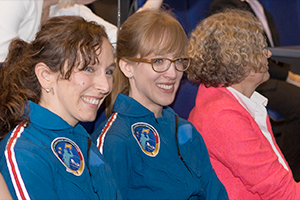 Suzanna Randall (at left) and Insa Thiele-Eich will compete for the chance to be the first German woman in space. (ESO/M. Zamani)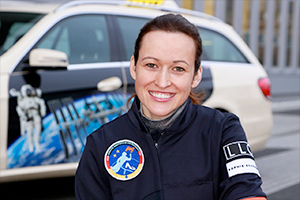 Former Die Astronautin finalist Nicola Baumann. (Die Astronautin)