February 16, 2017
— Two U.S. lawmakers have authored new legislation to name the first of NASA's Space Launch System (SLS) heavy-lift rockets after the last man to leave footprints on the moon.

Congressmen John Culberson (R-TX) and Robert Aderholt (R-AL) introduced a resolution on Wednesday (Feb. 15) to christen the first launch of the SLS the "Cernan 1 rocket" in honor of Apollo 17 astronaut Eugene Cernan, who died on Jan. 16 at age 82.

"Cernan was devoted to making America's space program the best in the world," Culberson said. "I cannot think of a more fitting way to honor his legacy than the first launch of the Space Launch System carrying Capt. Cernan's name."

Culberson and Aderholt introduced their bill in the House of Representatives on the same day that NASA said it was initiating a study to look at flying astronauts on its maiden SLS flight, presently known as Exploration Mission-1 (EM-1). The flight, which is currently scheduled for late 2018 as an uncrewed mission to orbit the moon, is likely to "require a different launch date" if flown with astronauts on board, according to NASA's acting administrator Robert Lightfoot, who acknowledged the additional work needed to fly safely with a crew in a memo to the agency's employees.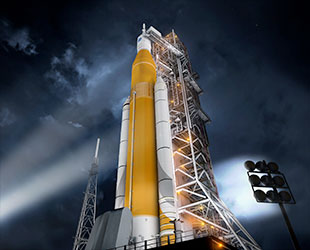 Artist's rendering NASA's Space Launch System (SLS).
(NASA)
NASA is building the SLS and the Orion crew spacecraft to launch U.S. astronauts on missions beyond Earth orbit, to the vicinity of the moon and ultimately to Mars.

"The [SLS] represents an opportunity to forge forward with Captain Cernan's vision to push the boundaries of human space exploration," said Culberson.

In addition to leading the final mission to land on the moon in 1972, Cernan became the second American to perform a spacewalk during NASA's Gemini 9 mission in 1966, and was lunar module pilot on Apollo 10, the "dress rehearsal" for the first manned moon landing, in 1969. He was one of only three astronauts to fly to the moon twice.

After retiring from NASA, Cernan became an advocate for expanding human space exploration beyond Earth orbit. In 2010, he joined fellow Apollo astronauts Jim Lovell and the late Neil Armstrong to deliver testimony before Congress in of support returning astronauts to the moon.

"It is quite an honor to partner with astronaut greats, Neil Armstrong and Eugene Cernan, in fighting to preserve our nation's phenomenal space program," stated Aderholt after meeting with the first and last moonwalkers at the time.

Although Cernan titled his memoir and documentary "The Last Man on the Moon," it was not a distinction he desired.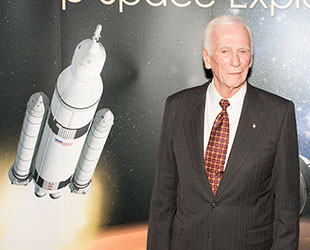 Astronaut Eugene Cernan poses next to graphic of NASA's Space Launch System (SLS) at a Washington, D.C. screening of "The Last Man on the Moon" in February 2016.
(Griffin Communications)
"America's challenge of today has forged man's destiny of tomorrow," said Cernan before he returned home to Earth for a final time. "As we leave the moon and Taurus-Littrow, we leave as we came and God willing, we shall return, with peace and hope for all mankind."

In 2015, the House of Representatives approved a bill that included a provision to rename the SLS through a student competition, but it did not become law.

If Culberson's and Aderholt's resolution passes the House and Senate and is signed by the President, the "Cernan 1" would become the latest U.S. rocket to bear an astronaut's name. Blue Origin, the Seattle-based spaceflight company founded by Amazon CEO Jeff Bezos, named its suborbital and orbital vehicles the New Shepard and New Glenn after original Mercury astronauts Alan Shepard and John Glenn, respectively.

Orbital ATK, which has a NASA contract to deliver supplies to the International Space Station, has christened its cargo spacecraft after late U.S. astronauts, including David Low, C. Gordon Fullerton, Janice Voss, Rick Husband and Alan Poindexter.

"I'm proud to introduce this resolution," said Culberson, "to ensure Cernan's role in making America's space program the best in the world is never forgotten."