Feb. 12, 2015
— That's no Star Wars poster. It's a space station... crew.

NASA on Thursday (Feb. 12) revealed the official poster for the International Space Station Expedition 45 crew and let's just say, the Force is strong with them.

The six astronauts and cosmonauts, who will begin their residency on the orbital outpost beginning this September, traded their blue NASA flight suits for brown Jedi robes at the photo shoot.

Entitled "International Space Station Expedition XLV: The Science Continues," the poster features the station's first year-long mission crew Scott Kelly and Mikhail Kornienko (right, bottom and middle), together with NASA astronaut Kjell Lindgren (left, bottom), Russian cosmonauts Sergei Volkov and Oleg Kononenko (right, top and left, top) and Kimiya Yui with the Japan Aerospace Exploration Agency.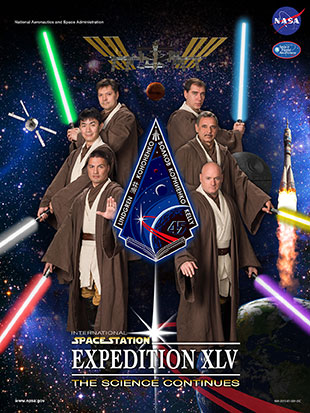 "Expedition XLV: The Science Continues" crew poster.
(NASA)
The poster includes the crew's official mission patch at its center (which may or may not be coincidentally the same shape as an Imperial Star Destroyer), flanked on its sides by a Russian Soyuz rocket like the type the crew will ride to orbit and a European Automated Transfer Vehicle (ATV) with its distinctive "X-wing" solar panels. The station itself is depicted above the crew.

(Look carefully and you might spot another space station — or is that a moon? — hiding in the shadows.)

The poster's theme and layout was reportedly the idea of Lindgren, who will be making his first trip into space with this mission. NASA photographers and graphic artists at the Johnson Space Center in Houston brought the poster together, digitally adding the lightsabers and background.

The Star Wars-infused crew poster is the latest in a series of NASA posters spoofing movie and other entertainment one-sheets. Past releases have parodied Pirates of the Caribbean, Tron, The Beatles, Star Trek and Harry Potter. The station's current Expedition 42 crew drew inspiration from their mission's numerical designation to recreate the movie poster for "The Hitchhiker's Guide to the Galaxy."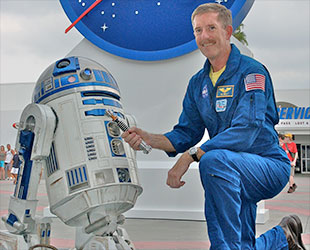 Former NASA astronaut James Reilly, holding the prop lightsaber that flew onboard the space shuttle, poses with R2-D2.
(NASA)
The Expedition 45 crew poster is not the first time NASA and Star Wars have combined.

In 2007, the space agency flew the prop Luke Skywalker lightsaber from "Star Wars Episode VI: Return of the Jedi" aboard space shuttle Discovery's STS-120 mission to the space station.

As scheduled, Expedition 45 will come to an end in early November, just one month before Disney is set to release "Star Wars Episode VII: The Force Awakens," the highly-anticipated seventh movie in the franchise directed by J.J. Abrams.

Click here to download the Expedition 45 "Star Wars" crew poster as a print-quality PDF (67 mb).