February 4, 2010
— Twenty-five lapel pins, each bearing the logo of NASA's now-canceled Constellation program to return astronauts to the Moon, are packed and poised to launch next week on space shuttle Endeavour for a round trip mission to the International Space Station (ISS).
The one-inch, red, white and blue triangular pins appear on the list of
several hundred mementos
launching inside the STS-130 Official Flight Kit (OFK), a duffle bag-size stash of souvenirs flown on every shuttle mission at the request of the space agency, its partners and the astronaut crew. The contents are distributed post-flight as a small token of thanks to those who supported NASA and the mission.
The kit's contents were approved on Feb. 1, the same day that President Barack Obama
released his budget
request for NASA, calling for Constellation to be canceled in favor of extending the ISS and launching astronauts on a new fleet of commercially-provided spacecraft. The new plan, which first needs Congressional approval, would also fund technology research and development efforts to ultimately send astronauts to multiple destinations beyond low Earth orbit.
Endeavour, which is scheduled to liftoff at 4:39 a.m. EST (0939 GMT) Sunday, is not the first to fly mementos from the Constellation program. Similar logo pins, patches and even Constellation ornaments have flown aboard the past nine shuttle missions since 2008.
Bringing the Moon to the space station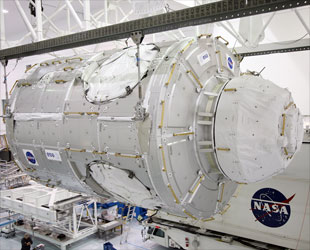 The Tranquility Node 3 module with attached Cupola. (NASA)
The Constellation lapel pins aren't STS-130's only onboard reminder of NASA's now-in-flux lunar plans: Endeavour's primary payload, the European-built, U.S.-funded Node 3 space station connecting
module was named
"Tranquility" after the site on the moon where Neil Armstrong and Buzz Aldrin landed Apollo 11's lunar module in 1969.
"I think the name for our module is very appropriate. Of course it means a lot more than the word itself," STS-130 pilot Terry Virts told collectSPACE.com during a pre-flight interview. "There is also the history between the Sea of Tranquility on the Moon and the module."
Virts, who served in the same fighter squadron that Aldrin flew with 40 years earlier, invited the moonwalker to watch Tranquility's launch.
"I had not actually made that connection myself, between Buzz and the name of our module, but I'll have to bring that up to him the next time I talk to him," he said.
Virts has another connection with Aldrin onboard, a small set of moon rocks collected from Tranquility Base. Before their launch to orbit, the
lunar pebbles were carried
to the top of Mt. Everest by former astronaut Scott Parazynski.
Together with a piece of Everest's summit, also retrieved by Parazynski, the plaque-mounted moon rocks will be displayed inside Tranquility's new seven-windowed Cupola to inspire the astronauts working there.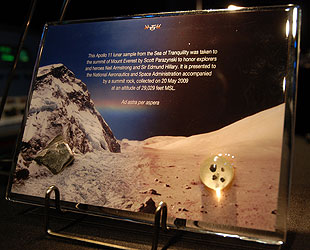 This plaque, with its Moon and Mount Everest rock samples attached, will be flown to the space station. (collectSPACE)
"Imagine being in the Cupola and looking out this huge series of windows and looking at the Moon and having a piece of the Moon right next to you. What's that going to be like? I have no idea. I'll come back and tell you," said STS-130 mission specialist Stephen Robinson.
Robinson had a role in including aboard the flight another, albeit subtle, nod to NASA's lunar exploration history in the form of his and his crewmates' mission patch.
The six-sided emblem, which was shaped to resemble the Cupola viewing port attached to Tranquility's side, depicts the Earth as it was first seen in a photograph taken from the Moon by Lunar Orbiter I.
Robinson came up with the idea for the patch as he was working in mission control the day after being assigned to Endeavour's crew.
"I'd seen that first photograph of the
Earth from the Moon
, taken in 1966 and I'm one of those guys who remembers 1966 and being excited about things made by humans going to the Moon and maybe people would someday go there," he recalled. "So that was an exciting photograph to me."
Robinson used software from his seat in mission control to simulate the view looking out from the Cupola, took a screenshot, printed and then cut it out.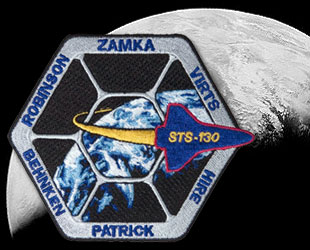 STS-130 mission patch set against the Lunar Orbiter I photo of Earth from the Moon that inspired it. (NASA/LOIRP)
"All on console I am doing this... I have this idea burning in my head! So I cut out the Cupola from the screenshot printout and cut the little windows out -- and I'm talking to the [station] crew between doing all of this stuff -- and laid it on top of a printout of that picture of the Earth."
"I showed it to the flight director and said, 'That will be our patch,'" recounted Robinson.
And so it was; in addition to the patches that the crew will wear, the mission's OFK is packed with nearly 700 of the four-inch embroidered badges.
Closer to home
Of course, most of the mementos stowed in the OFK are not moon-related. Each member of the crew was able to offer organizations who they support, or who've supported them, a chance to fly an item.
"The OFK, a lot of it has to do with my association with the Marine Corps," said STS-130 commander and USMC Colonel George Zamka. "I am going to be flying up some patches and some other unit memorabilia, not only for the flying units but also the ground units in the Marine Corps."
He is also flying some flags.
"America will be represented, of course, but also for my association with Colombia, I'll also have some Colombian flags along as well as some flags from Poland, which is my father's side [of the family]."
Spacewalker Nick Patrick has a couple of items "that are of great significance" to him. In addition to flying a rugby shirt for his school in London, England and a Boy Scouts' neck scarf in recognition of his son who's a Cub Scout, he also has a replica flag from the ship that gave Endeavour its name.
"I'm flying a reproduction of the red ensign that flew on the HM Bark Endeavour, which was Captain Cook's ship of discovery that he took to the Pacific. The ship he sailed when he discovered Hawaii," said Patrick.
STS-130 is space shuttle Endeavour's penultimate flight.
Bob Behnken, who with Patrick will conduct the STS-130 mission's three spacewalks, used some of his OFK slots to recognize an organization he thought was important.
"I contacted the National Park Service in Washington, DC, the headquarters and they put me in contact with several National Parks that I visited over the years and really had a good experience with," said Behnken.
Flying aboard Endeavour are patches for Yellowstone, Big Bend, Arches and Zion National Parks.
"I am going to try to take photos of those parks while I am in low Earth orbit," shared Benhken.
For mission specialist Kay Hire, the OFK provided her the chance to tell a story from her past, even though it wasn't planned out that way.
A captain in the U.S. Navy Reserve, Hire was friends and graduated the Naval Academy with Wendy Lawrence, who also went on to become an astronaut. Lawrence's father, Vice Admiral William P. Lawrence is being posthumously honored with a guided missile destroyer in his name, so Hire is flying a patch from the USS William P. Lawrence.
Hire also has a patch from the USS George H.W. Bush in recognition of another friend from the Naval Academy who is now the commanding officer of that aircraft carrier.
"Once I had gotten these items and I got them into the Official Flight Kit, all of sudden it occurred to me that both of these men were on the stage and shook my hand as I graduated from the Naval Academy. At the time in 1981, George H.W. Bush was the Vice President of the United States and he was our commencement speaker and Vice Admiral William P. Lawrence was the Superintendent of the Naval Academy," said Hire.
"It's just kind of a coincidence but I think it is pretty neat."