February 2, 2021
— A NASA mathematician whose calculations helped send the first American into orbit is being honored as the namesake for a resupply craft that will support the astronauts circling Earth today.

Should schedules hold, the S.S. Katherine Johnson, a Northrop Grumman Cygnus cargo ship, will launch to the International Space Station on Feb. 20 — 59 years to the day after Johnson's work made John Glenn's Mercury mission a possible.

"In celebration of Black History Month, Northrop Grumman announced the name of our NG-15 Cygnus spacecraft in honor of Katherine Johnson, a NASA mathematician who overcame barriers of race and gender," the company wrote in a Feb. 1 press release. "It is the company's tradition to name each Cygnus spacecraft after an individual who has played a pivotal role in human spaceflight."

Johnson, who died at age of 101 on Feb. 24, 2020, was among a pool of African-American women whose role it was to be the human "computers" for the National Advisory Committee for Aeronautics, the predecessor agency to NASA. Johnson and her colleagues performed the mathematical work needed by the engineers to advance their aeronautical work.

After NASA was founded in 1958, Johnson transitioned to the Space Task Group at Langley Research Center in Virginia, calculating the suborbital and orbital trajectories for the early U.S. human spaceflights. As part of her work, Johnson became the first woman in NASA's flight research division to be credited as the author of a report.

Years later, after Johnson retired and a book and a movie brought her and her fellow "Hidden Figures" stories to the public's attention, Johnson's contributions to NASA were further recognized with the Presidential Medal of Freedom and the Congressional Gold Medal, as well as the naming of NASA's Computational Research Facility and the roadway in front of NASA's Headquarters building in Washington, DC. Mattel also modeled a Barbie doll after Johnson's appearance.

The NG-15 Cygnus is the first spacecraft to fly under Johnson's name.

"Her work at NASA quite literally launched Americans into space and her legacy continues to inspire young black women every day. Northrop Grumman is proud to celebrate the life of Katherine Johnson and her endlessly perseverant spirit," the company said.

The S.S. Katherine Johnson will launch atop a Northrop Grumman Antares rocket from the Mid-Atlantic Regional Spaceport at NASA's Wallops Flight Facility on Wallops Island in Virginia. The uncrewed capsule will deliver approximately 8,200 pounds (3,720 kg) of science experiments, supplies and hardware for the space station's Expedition 64 crew.

After about two months berthed to the station, the Katherine Johnson will depart and deploy a number of CubeSats — including 42 ThinSats as part of an outreach program for students by the Virginia Commercial Space Flight Authority — before performing a destructive re-entry into Earth's atmosphere.

The S.S. Katherine Johnson is the second Cygnus to be named for a Black space pioneer. The S.S. Robert Lawrence was named for the first African American to be selected as an astronaut when it launched in February 2020.

Other Cygnus spacecraft namesakes have included former company executive J.R. Thompson and NASA astronauts David Low, Gordon Fullerton, Janice Voss, Deke Slayton, Rick Husband, Alan Poindexter, John Glenn, Gene Cernan, John Young, Roger Chaffee and Alan Bean. The most recent Cygnus, which launched in October 2020 and departed the space station in January, was named the S.S. Kalpana Chawla after the first Indian-born woman to enter space.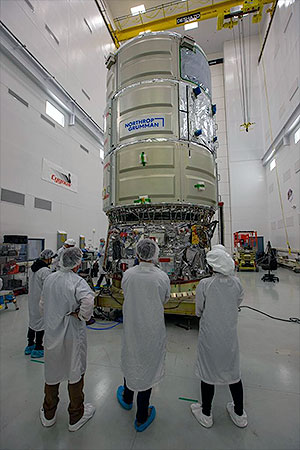 Northrop Grumman's NG-15 Cygnus cargo ship, named the "S.S. Katherine Johnson" in honor of the NASA mathematician, is seen being prepared for its launch to the International Space Station at NASA's Wallops Flight Facility in Virginia. (Northrop Grumman)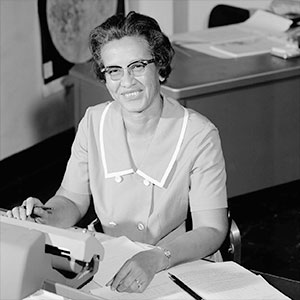 Mathematician Katherine Johnson, seen here in 1966, worked as a "human computer" at NASA's Langley Research Center in Virginia, helping to calculate astronat trajectories. Johnson, died on Feb. 24, 2020, at the age of 101. (NASA)