February 1, 2018
— Fifteen years after the space shuttle Columbia and its crew of seven were lost returning home from a 16-day mission, pieces of the winged orbiter are still being found and the debris is now being used by NASA to educate and inspire a new generation of space workers.

On Feb. 1, 2003, Columbia broke apart during its re-entry into Earth's atmosphere after sustaining damage during its launch. A strike from a piece of insulating foam that fell off the shuttle's external fuel tank left a hole in the orbiter's left wing leading edge that went unaddressed during the flight. On Columbia's return, hot plasma entered through the hole and tore the wing apart. The resulting loss of control led to Columbia's disintegration over the state of Texas.

The tragedy claimed the seven lives of the STS-107 crew, including commander Rick Husband, pilot William McCool, mission specialists David Brown, Kalpana Chawla, Laurel Clark and Michael Anderson and Israeli payload specialist Ilan Ramon.

To learn what happened, NASA joined with other federal agencies, as well as state, county and local authorities, for what became the largest ground search in United States history. After recovering the astronauts' remains, attention turned to the melted and mangled fragments of the orbiter that were strewn over miles of forest- and swamp-covered land.

Some 84,500 pieces of Columbia were located, identified and ultimately delivered to NASA's Kennedy Space Center in Florida, where they were first used in a reconstruction of the vehicle to help investigators determine the cause of the disaster. They were then moved into an archive located on the 16th floor of the Vehicle Assembly Building (VAB), the same facility where Columbia had been prepared for its 28 launches.

From the day it was founded, the Columbia Research and Preservation Office was established to conserve the debris and support loans of the material to government, academic and scientific organizations to further the research on how to build safer components for future spacecraft and further knowledge about the effects of re-entry.

But it was only in the last couple of years that the program has grown to fulfill another mission — to teach and inspire.

Lessons learned

"It's a brand new program," said Michael Ciannilli, who has served for years as the project manager for the Columbia Research and Preservation Office and now leads the new Apollo, Challenger, Columbia Lessons Learned Program, or ACCLLP. "The program's mission is to innovatively and effectively share the lessons of the past to make the future more successful."

The ACCLLP encompasses NASA's lessons learned from Columbia with those from its earlier spaceflight disasters: the Apollo 1 launch pad fire that claimed three astronauts' lives in 1967 and the 1986 loss of the shuttle Challenger with seven STS-51L crew members 73 seconds into flight. The new program also looks at the agency's near losses, like Apollo 13, and some of its successes, like STS-1, the first launch of the space shuttle in 1981.

"The world is so different than it was 15 years ago, and so we are trying to take those lessons before they are lost to history and say, 'here is the mistakes we made in the past, here's what we learned from those, here's the great things we did in the past, you may want to share some of those with your workforce to build upon, and together we will be more successful.' It's the mission statement for what we're trying to do," Ciannilli told collectSPACE in an interview.

In addition to the ACCLLP organizing periodic panels and discussions about the fallen missions, the program is also expanding the prior Columbia office to become a place for learning.

"One aspect of it is greatly increasing the tours inside the Columbia room," Ciannilli said. "Where before employees might tour the artifacts for 20 minutes, now it is a full hour or longer discussion, getting deep into Columbia."

And where before the room had a somewhat clinical look, with tile floors and metal racks, renovations are making the space more conducive to learning, with wooden floors and furniture, museum-like pedestals and multimedia displays.

"It's going to have much more of a learning center feel. Still with Columbia and the artifacts, but they will be shown with reverence, respect and with a strong sense of feeling for a learning center," Ciannilli explained.

Though the room is closed to the general public and media (press were only allowed in once, on Feb. 1, 2004, when it formally opened), expanded access is being made to more than just NASA employees.

"We've been reaching out to NASA folks, contractor folks, having SpaceX and Blue Origin, and the other [commercial spaceflight] companies come over, getting their teams over to see and hear the stories of our lessons," said Ciannilli. "We are also reaching out to academia with MIT, Columbia University and others, bringing their students down."

Active archive

Though the Columbia Research and Preservation Office is no longer an independent entity within NASA, having been folded into the ACCLLP, it is still being called upon to serve its original purpose.

"One was delivered last week," said Ciannilli of a possible piece of Columbia.

"A suspected piece, right, so that's a piece of inquiry, so to speak. It has to go through testing to see if it is or not."

Ciannilli estimates that there have been a couple hundred pieces of Columbia turned in since the investigation ended in August 2003. The largest piece was a round aluminum tank that held cryogenic hydrogen for Columbia's fuel cells that was discovered in 2011 when a drought exposed it on the bed of Lake Nacogdoches in Texas.

The most recent confirmed piece of Columbia was found in spring 2017. Ciannilli fields about two to three reports each month, but many of those turn out to be something other than debris.

Research is also continuing. To date, NASA has made 63 loans of Columbia material for studies into boundary-layer effects and to improve re-entry and spacecraft technology. A 64th loan, to the U.S. Air Force, is currently in work.

"We have actually got the largest loan in the history of the program that is out right now," Ciannilli told collectSPACE. "It's still in progress at the University of Texas El Paso, and one of our former astronauts still is involved with that. He's one of the key researchers in it and it's actually over half a ton of material, so it's our largest loan."

To date, three graduate students have based dissertations on subjects related to the debris, using Columbia as their research vehicle to earn their Ph.D.

Leading a bright path forward

"There are some beautiful rays of light that have come out of it. To see now Columbia educating a new generation of young people, people getting advanced degrees because of Columbia, advancing science because of Columbia, that is what really inspires," said Ciannilli.

When I see NASCAR drivers or submarine commanders come through the room, or engineers with Blue Origin — Jeff Bezos, himself, he's been in there — when I see them impacted by Columbia, and the crew, their story can help all of us do better and be more successful."

Ciannilli said he sees this as a "beautiful new chapter" led by the STS-107 astronauts.

"I really truly mean that — they are leading — their story is leading a bright path forward, and hopefully a safer one as well," he said. "I see these folks every day coming through and I see how they're changed; when they leave the room they're slightly different."

"It's because of Columbia — and because of the crew — that leaves them a little bit different."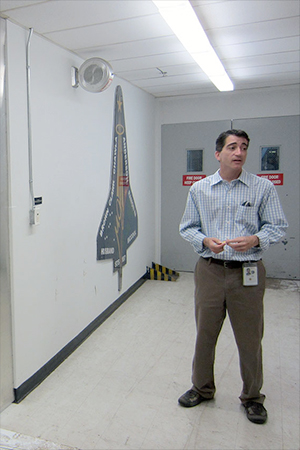 Michael Ciannilli, manager of NASA's Apollo, Challenger, Columbia Lessons Learned Program, at the Columbia Preservation Office on the 16th floor of the Vehicle Assembly Building at Kennedy Space Center in Florida. (Jonathan Ward/Bringing Columbia Home)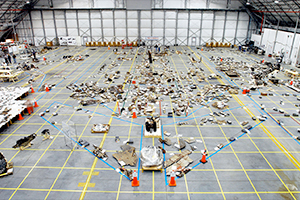 Debris from the fallen space shuttle Columbia as seen in May 2003 during a reconstruction effort as part of the accident investigation. The debris was later moved into the preservation office. (NASA)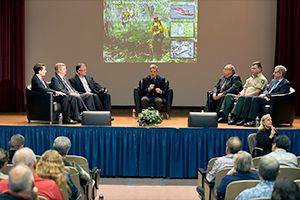 NASA Kennedy Space Center Director Bob Cabana, center, leads a panel discussion during an Apollo, Challenger, Columbia Lessons Learned Program (ACCLLP) employee event. (NASA/Kim Shiflett)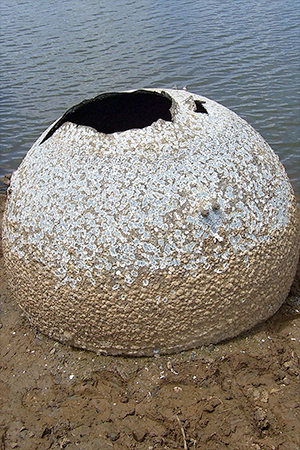 A 40-inch aluminum storage tank discovered in 2011 is the largest piece of the space shuttle Columbia found since the investigation ended in August 2003. (NASA/Nacogdoches Police Dept.)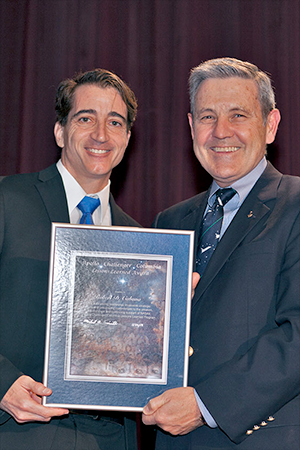 Michael Ciannilli, left, manager of the Apollo, Challenger, Columbia Lessons Learned Program, presents a certificate of appreciation to Kennedy Space Center Director Bob Cabana. (NASA/Kim Shiflett)