Mars memorial for Challenger crew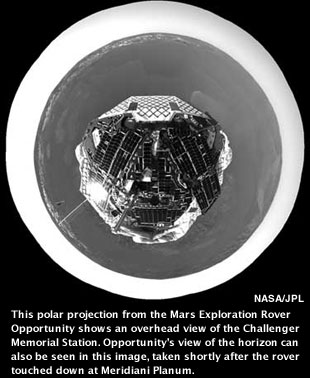 January 28, 2004 -- NASA has dedicated the landing site of its Mars Exploration Rover Opportunity in honor of the Space Shuttle Challenger's final crew. The area within Meridiani Planum where Opportunity landed will be called the Challenger Memorial Station.

The seven-member crew of Space Shuttle Challenger was lost when the orbiter suffered an in-flight breakup during launch 18 years ago today.

NASA selected Meridiani Planum because of extensive deposits of a mineral called crystalline hematite, which usually forms in the presence of liquid water. Scientists had hoped for a specific landing site where they could examine both the surface layer that's rich in hematite and an underlying geological feature of layered rock.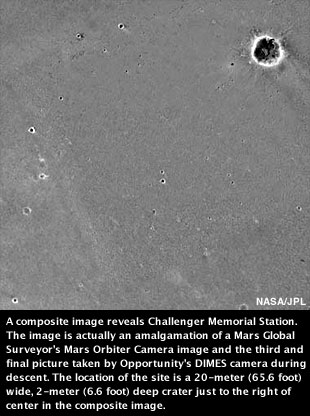 The small crater in which Opportunity landed appears to have examples of both, with soil that may be comprised of hematite and an outcropping of light-colored rock.

Challenger's 10th mission was to have been a six-day flight dedicated to research and education, as well as the deployment of the TDRS-B communications satellite.

Challenger's crew was lead by commander Francis R. "Dick" Scobee and pilot Michael J. Smith. Rounding out the compliment of seven, were mission specialists Judith A. Resnik, Ellison S. Onizuka and Ronald E. McNair. The mission also carried two payload specialists, Gregory B. Jarvis and S. Christa McAuliffe, who was to be NASA's first teacher in space.

Opportunity successfully landed on Mars January 25. It will spend the next three months exploring the region surrounding Challenger Memorial Station to determine if Mars was ever watery and suitable to sustain life.

Earlier this month, NASA announced that the landing site of Opportunity's twin, Spirit, would be named for the Shuttle Columbia's final crew and yesterday the agency dedicated the hills visible on the horizon to Spirit to the crewmembers of Apollo 1.

© 2022 collectSPACE.com All rights reserved.
Questions? E-mail contact@collectspace.com