Events to honor lost Columbia crew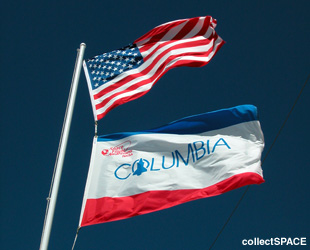 January 26, 2004 -- From the solemn to the celebratory, tributes and ceremonies are scheduled this week to mark the one year anniversary of the loss of Shuttle Columbia and the STS-107 crew.

January 27 - February 1, Seattle, Washington
The Museum of Flight will host Astronaut Remembrance Week, with exhibits that highlight the lives of astronauts who gave their lives in the pursuit of space exploration. Personal memorabilia from Willie McCool, STS-107 pilot will be on display. Journals will be available for visitors to record their thoughts about the fallen heroes.

January 29 - February 2, Washington, DC
Day of Remembrance for crew members lost during the Apollo, Challenger, and Columbia accidents. For this year only, flags at NASA Headquarters will be flown half-staff until sundown on February 2 for the Day of Remembrance and the first anniversary of the Columbia accident.

January 30, Houston, Texas
At 8:16am, NASA's Johnson Space Center will ring a bell seven times and the names of the seven crew members will be read during a ceremony for employees. A moment of silence will be followed by a T-38 missing-man flyover. Afterwards, an auditorium will be open to employees for quiet contemplation with video images of the crew running continuously.

January 31, Seattle, Washington
Apollo 7 astronaut Walt Cunningham and former mission controllers Jerry Bostick and Sy Liebergot will participate in a panel discussion culminating the Museum of Flight's weeklong remembrance of astronauts. G. Scott Hubbard, Deputy Center Director at NASA Ames Research Center and a Columbia Accident Investigation Board member will join the panel live via satellite. The event will be followed by a book signing.

February 1, Kennedy Space Center, Florida
Kennedy Space Center Director James Kennedy and former Space Shuttle astronaut and Executive Director of the Florida Space Authority, Captain Winston Scott, USN (Ret.) will speak and place a wreath at the Space Mirror Memorial at the Kennedy Space Center Visitor Complex during a public ceremony beginning at 9:00am EST. The Visitor Complex will hand out flowers to all guests to place at the memorial throughout the day. In addition, the IMAX film "Hail Columbia!" will be screened.

February 1, Houston, Texas
Singer Josh Groban will honor Columbia's crew with a performance of "You Raise Me Up" from his CD "Closer" at Super Bowl XXXVIII at Reliant Stadium. Groban, who will be accompanied by an 80 person choir, will perform as part of the pregame show prior to the National Anthem. Crew members from the next Space Shuttle STS-114 will join Groban on the field as part of a salute to NASA.

Prior to the broadcast of the pregame show, CBS will air a tour of Johnson Space Center with the band Aerosmith.

February 2, Washington, DC
NASA Headquarters will observe a moment of silence at 9:16am EST.

February 2, Arlington, Virginia
NASA Administrator Sean O'Keefe will preside over a dedication of the Columbia crew's memorial at Arlington National Cemetery. The event begins at approximately 3:00pm. The ceremony is closed except for family members and invited guests. The memorial site will be open to the public after the event. Due to weather and family member considerations, the ceremony will be inside a tent at the cemetery. NASA TV will provide live television coverage.

Additional events will be added to this page as they are announced.

© 2022 collectSPACE.com All rights reserved.
Questions? E-mail contact@collectspace.com