January 25, 2017
— When people think of the equipment astronauts take to space, clean white spacesuits, technical checklists and science apparatus may come to mind.

But what they probably don't think of are bagpipes, quilting kits and colorful space garments hand-painted by pediatric cancer patients. All of those however, were launched into space and are now the focus of a museum exhibit curated by a former NASA astronaut-turned-artist.

"Space for Art," which debuted Tuesday (Jan. 25) at Space Center Houston, the visitor center for the Johnson Space Center in Texas, highlights the connection between artistry and spaceflight, and how those two disciplines blend within one community.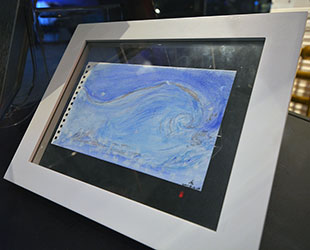 Astronaut Nicole Stott's original watercolor that she painted on the space station in 2009, as part of "Space for Art."
(collectSPACE)
"The exhibit is really about bringing together a local space community to present both the science and the art of that community — and I think in a unique way," said astronaut Nicole Stott, who not only organized "Space for Art," but is also exhibiting some of her own pieces, including the first-ever watercolor to be painted in space. "We're going to the people who we we normally consider to be our scientists, our engineers, our astronauts, and presenting their artistic side as well."

The temporary exhibit pulls from the largely-unknown art talents of the Johnson Space Center workforce. In addition to the art pieces flown, or in a few cases, created in space, there are also paintings, photographs, sculptures and even handcrafted longboards created by those who contribute to the space program from the ground.

"I am hoping people who come to Space Center Houston see that the artistic side of the astronauts, scientists and engineers is a really good thing," Stott told collectSPACE. "It can help us communicate about our space program and about the space station that is on orbit that I honestly think is a piece of art itself."

Stott lived for 90 days on the International Space Station in 2009 on the first of her two space missions. While on orbit, she became the first person to paint while in space using a small watercolor kit she brought and left aboard the space station. In 2015, after 27 years with the program, Stott left NASA to pursue a career as a professional artist.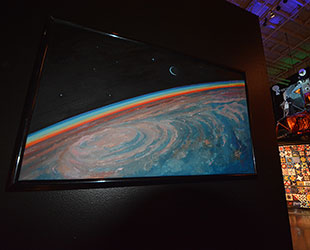 A painting by the first spacewalker, cosmonaut Alexei Leonov, and a quilt featuring a square sewn in orbit by astronaut Karen Nyberg are both on display as part of "Space for Art.
(collectSPACE)
Among the artworks on display as part of "Space for Art" is a painting by cosmonaut Alexei Leonov, the first person to walk in space in 1965; star trail photos by NASA astronaut Don Pettit; a toy dinosaur that Karen Nyberg created using fabric scraps she found on the International Space Station; and a flute played by Johnson Space Center director Ellen Ochoa while aboard the space shuttle.

Alongside those pieces, are paintings by space artists Ron Woods and Pat Rawlings; sketches by the late Paul Calle, one of the first eight artists chosen by NASA to document the program; intricate styrofoam coffee cups decorated by engineer Jennifer Grassman; a fondant cake sculpted by Ginger Kerrick, the first woman to lead Mission Control as a flight director; and skateboards handcrafted by astronaut countermeasures trainer Bob Tweedy, among others.

"I think the public will be surprised by the biographies and statements we had the artists provide that speaks to their personal stories of how science and art comes together for them," said Stott.

Also featured in "Space for Art" are two spacesuits like no others on Earth — and the image of a third that is now on board the space station.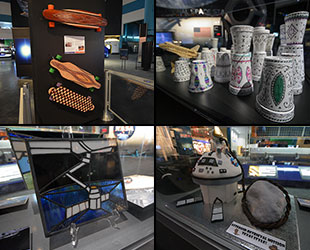 Longboards, coffee cups, stained glass and a sculpted cake are on display in "Space for Art" at Space Center Houston.
(collectSPACE)
"Hope" and "Unity," created as part of The Space Suit Art Project, were painted by pediatric patients at the University of Texas MD Anderson Children's Cancer Hospital and by children from around the world. The third suit, "Courage," debuted on board the space station in September and was originally planned to make its post-flight premiere as part of the exhibit — were it not for a launch delay.

"'Courage' is still on the station," said Stott. "It scheduled to come back on SpaceX's next Dragon return vehicle, which is probably, sadly, just after we close out this exhibit — but we might have to do something special after it returns."

"Space for Art" will be on exhibit at Space Center Houston through March 19.