January 23, 2017
— A football field used by the schools surrounding NASA Johnson Space Center in Houston will take on a new name later this week in commemoration of the Apollo astronauts who died in a fire on the launch pad 50 years ago.

The field at Challenger Columbia Stadium in League City, Texas, will be known as "Apollo Field" for a period of one year beginning Thursday (Jan. 26), during which time the Clear Creek Independent School District (CCISD), working with NASA, will remember the tragedy through events and special features.

"Though the 50th anniversary is a solemn one, we want to help our NASA neighbors and friends celebrate the lives and extraordinary spirit of the Apollo 1 astronauts," Laura DuPont, CCISD board president, said in a statement. "It's important to demonstrate that not only are these heroes not forgotten, but they continue to serve as an inspiration for our children."


The football field at the Clear Creek Independent School District's Challenger Columbia Stadium has been named Apollo Field for the 50th anniversary of the Jan. 27, 1967 Apollo 1 fire.
(CCISD)
The field's renaming is among a number of local, national and extraterrestrial memorials to the fallen crew members, who perished on Jan. 27, 1967.

Rest in peace

Virgil "Gus" Grissom, Edward White and Roger Chaffee were taking part in a routine "plugs out" test atop a Saturn IB rocket at Cape Canaveral's Launch Complex 34 when a spark caused by a short circuit set off a flash fire inside the pure oxygen environment of the Apollo command module. Unable to open the hatch due to its design and increasing pressure within the capsule, the astronauts died within 30 seconds of the blaze erupting due to smoke inhalation and thermal burns.

Although other astronauts had been killed in earlier aircraft crashes, the Apollo 1 fire marked the first time that a crew died inside a spacecraft. In the wake of the tragedy, NASA and its contractors redesigned the Apollo spacecraft, such that it would safely fly astronauts to the moon in the years that followed.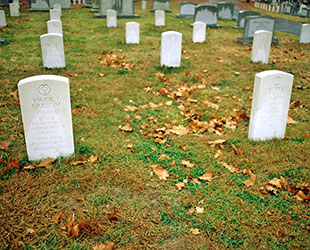 Gravestones of Virgil "Gus" Grissom and Roger Chaffee, as seen at Arlington National Cemetery.
(J.L. Pickering/Retro Space Images)
Grissom, who was one of the original Mercury astronauts, and Chaffee were buried at Arlington National Cemetery in Virginia. White, who during his first spaceflight became the first American to walk in space, was interred at West Point Cemetery, on the grounds of the U.S. Military Academy in New York.

An effort by members of Congress to recognize the 50th anniversary of the fire by establishing a monument for the Apollo 1 crew at Arlington never reached a vote last year, but other memorials to Grissom, White and Chaffee stand in their memory.

Abandon in place

The launch of Apollo 7 in October 1968 marked NASA's return to flight after the Apollo 1 fire. It was also the last use of Pad 34, which was decommissioned soon after the mission. The launch complex's tower and service structure were removed but its concrete platform, marked "Abandon in Place," still stands 50 years later as a memorial to the fallen astronauts.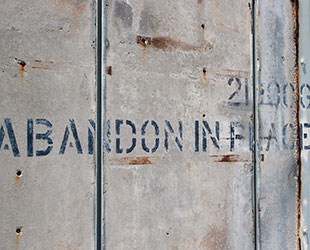 "Abandon In Place" is stenciled onto the side of the launch stand at Complex 34, signifying its status as a memorial.
(collectSPACE)
"Dedicated to the living memory of the crew of the Apollo 1," reads one of two commemorative plaques mounted to the Pad 34 launch stand. "They gave their lives in service to their country in the ongoing exploration of humankind's final frontier. Remember them not for how they died but for those ideals for which they lived."

Nearby, at NASA's Kennedy Space Center, the names of all three men are engraved alongside other astronauts lost in the line of duty on the Space Mirror Memorial, a black granite monument designated by Congress as a National Memorial in 1991.

Grissom's, White's and Chaffee's names were also etched on a small plaque that was left on the moon by the Apollo 15 crew in 1971. The rectangular metal plate, which listed 14 fallen astronauts and cosmonauts, was accompanied by a 3-inch (8.5-cm) sculpture representing a spacesuited figure.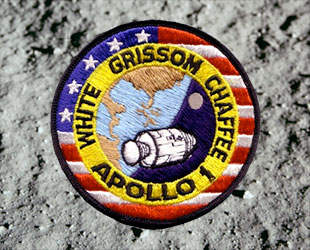 The Apollo 11 crew left an Apollo 1 mission patch, as seen here, on the surface of the moon in July 1969.
(NASA/CrewPatches.com)
Neil Armstrong and Buzz Aldrin paid tribute to the Apollo 1 crew in a similar fashion. Rather than a plaque though, the Apollo 11 moonwalkers left an embroidered patch bearing the same design as the mission insignia Grissom, White and Chaffee would have worn to space and were wearing on their spacesuits when they died.

Navi, Dnoces and Regor

In 1970, the International Astronomical Union (IAU) named craters on the far side of the moon for Grissom, White and Chaffee. Thirty-four years later in 2004, NASA honored the Apollo 1 crew by dedicating the hills located in the vicinity of the landing site of its "Spirit" Mars Exploration Rover for the astronauts.

"Explorers have had both the honor and responsibility of naming significant landmarks," Sean O'Keefe, then NASA Administrator, stated. "Gus, Ed and Roger's contributions, as much as their sacrifice, helped make our giant leap for mankind possible."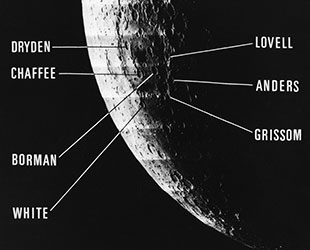 The moon's far side, with labels identifying craters named by the IAU in honor of the Apollo 1 and Apollo 8 crews.
(NASA)
Although unofficial, three stars also came to memorialize the crew, as colloquially used by their fellow astronauts.

"These three Apollo navigation stars, 'Navi,' 'Dnoces,' and 'Regor,' were named in 1967 during an astronomy training session," explained Apollo 15 commander David Scott in an email to the editors of the Apollo Lunar Surface Journal in 2016. "This was in admiration, respect, and memory of three wonderful teammates who contributed all they had to the human exploration of the moon."

Navi, officially referred to as Gamma Cassiopeia, is "Ivan" spelled backwards, in honor of Virgil Ivan "Gus" Grissom. Dnoces (Iota Ursa Majoris) and Regor (Gamma Velorum) are "Second" and "Roger" spelled in reverse, respectively (White was Edward H. White, II — the second).

Lasting landmarks

Back on Earth, schools and streets have been named for the crew. Three trees, planted in the Apollo 1 astronauts' honor, stand as part of memorial grove at NASA's Johnson Space Center in Houston.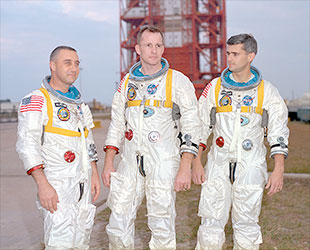 Apollo 1 astronauts Gus Grissom, Ed White and Roger Chaffee, as seen at Cape Canaveral's Complex 34 in January 1967.
(NASA)
Three parks in Fullerton, California, were each named for Grissom, Chaffee and White. The parks are located near a former Hughes development facility, which provided parts for the Apollo program.

Three man-made islands off the coast of Long Beach also bear the astronauts' names.

The artificial land masses, known as the Astronaut Islands, were built in 1965 from boulders and sand to support oil drilling rigs. The islands Grissom, White and Chaffee (and a fourth honoring fallen astronaut Theodore Freeman, who was killed in a 1964 jet crash) were named in 1968.