advertisements

LEGO scrubs fan-created Saturn V launch tower, space shuttle in review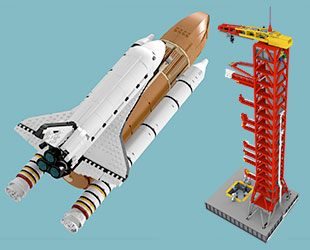 Fan-designed models of NASA's Saturn V launch tower and space shuttle will not become official LEGO sets.
(LEGO Ideas)
Jan. 22, 2018
— LEGO won't be launching a fan's model of the space shuttle, nor will it be offering a launch pad for its popular Saturn V rocket set after rejecting both during a recent review.

The toy company on Monday (Jan. 22) announced it was passing on the space-themed projects as it reported on its review of sets that recruited 10,000 votes of support on the LEGO Ideas website between May and September 2017.

"Today we must unfortunately share the difficult news that, following the thorough LEGO Ideas Review, none of the 6 projects in review have been selected," wrote LEGO Ideas community specialist Hasan Jensen in a blog entry posted to the website. "We understand that the news comes as a disappointment to project creators, who put in a big effort in creating and promoting [their projects], but also for the many passionate fans who helped bring the projects to the 10K milestone."

As a matter of course, LEGO does not share specifics as to why each project was not approved. Some of the factors considered by the review include production capacity, build quality, playability, expected demand and brand fit.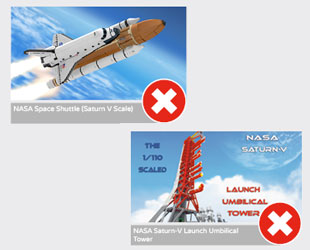 "NASA Space Shuttle (Saturn V Scale)" by Andrew Harkins and the "NASA Saturn-V Launch Umbilical Tower" by Emmanuel Urquieta and Valerie Roche were rejected by the LEGO review.
(LEGO Ideas)
Of the six projects set aside on Monday, two were themed around historic space hardware and both had a connection to a model of NASA's moon rocket released in 2017.

The "NASA Saturn-V Launch Umbilical Tower," created by Valerie Roche and Emmanuel Urquieta, from Paris, France and Houston, Texas, respectively, was based on the 398-foot-tall (121-meter) gantry that supported the Saturn V on the launch pad. Their set as proposed included the mobile launcher platform on which the rocket stood, and featured movable umbilical swing arms, elevator and crane.

Andrew Harkins' "NASA Space Shuttle (Saturn V Scale)" recreated the winged spacecraft last launched in 2011. It was sized to match LEGO's NASA Apollo Saturn V set co-created by Roche. The 3.28-foot-tall (1-meter), 1,969 piece Saturn V rocket is about 1:111 the scale of the real booster that flew astronauts to the moon almost 50 years ago.

Harkins' space shuttle qualified with 10,000 votes on Aug. 28, 2017; Roche and Urquieta's tower followed on Sept. 3, just a day before the deadline for projects to qualify for the now-completed review.

The two sets were not necessarily in competition with each other. LEGO's review board evaluates projects separately. Past reviews have chosen one, two or, as with this case, none of the projects to be offered for sale.

The other sets rejected included a scale model of the NF-15B research jet aircraft, a "Star Wars" themed diorama, a project celebrating the "Wonders of Peru" and a model of Luke's Diner from the television show "Gilmore Girls."

Of the seven projects that qualified for a review between September 2017 and January 2018, none were spaceflight related.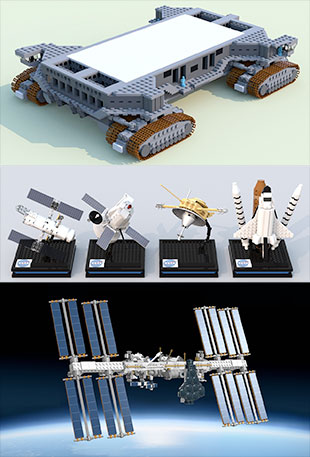 Fan-created models of NASA's crawler-transporter, spacecraft and the International Space Station are in the top 40 on LEGO Ideas as of January 2017.
(LEGO Ideas)
Currently, there are three NASA-themed sets among the top 40 projects pursuing 10,000 votes on LEGO Ideas:
LEGO is also running a space-themed contest for a small to mid-size space-related model to possibly become a "gift with purchase" promotional set in 2019. The "Moments in Space" contest is open for submissions through Feb. 9.

© 2022 collectSPACE.com All rights reserved.


Feedback: Messages





LEGO Ideas: Second 2017 Review Results
Video credit: LEGO


Click here to enlarge and view video in a new, pop-up window.